VIDEOS
OK! Loves: Crumbs Bake Shop's New Lunch Collaboration With Chef David Burke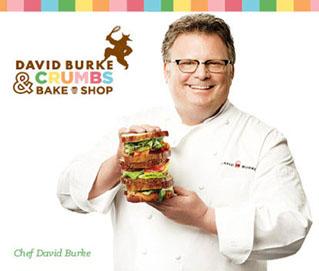 Crumbs Bake Shop got even tastier this week as the premiere cupcake shop announced it's partnership with award-winning Chef David Burke. The new lunch collaboration will feature gourmet sandwiches and salads each with an exciting and fresh twist. With more than 70 locations in 12 states, shoppers can now "grab lunch and dessert" all in one place!
Article continues below advertisement
So what type of creations did Crumbs Bake Shop and Chef David Burke come up with? From Smokey Turkey and Angry Roast Beef to Go FIGure! and New York Here, we can't choose which one to try first! Take a look at the delicious menu below:
Smokey Turkey: Smoked turkey, pepper jack cheese, romaine hearts, tomato, onion, honey mustard, brioche. 660 cal. $9.95
Angry Roast Beef: Roast beef, cheddar cheese, romaine hearts, tomato, onion, honey mustard, horseradish creme fraiche, onion brioche. 480 cal. $9.95
New York Hero: Prosciutto di Parma, mortadella, salami, coppa, mozzerella, romain hearts, arugula, olive and carrot slaw, red wine vinaigrette mayonnaise, French hero. 1000 cal. $9.95
David Burke's Pastrami Salmon: Smoked pastrami salmon, arugula, onion, cucumber, dill cream cheese, honey mustard, white bread. 380 cal. $12.95
Beet It!: Red beets, cranberries, orange segments, goat cheese, arugula, black olives, arugula pesto, onion brioche. 690 cal. $10.95
Article continues below advertisement
Citrus Bird: Roasted chicken, spinach, roasted bell pepper, Dijon mustard, balsamic vinegar, seven grain bread. 340 cal. $10.95
Tomato & Mozz Fuhgettaboutit!: Tomato, fresh mozzarella, romaine hearts, basil leaves, shaved Parmesan, balsamic vinegar, olive oil, arugula pesto, French hero. 1090 cal. $9.95
Go FIGure!: Dried figs, brie cheese, tomato, asparagus, baby spinach, romaine lettuce, honey mustard, tomato jam, French hero. 660 cal. $10.95
Chicken, Pig & Cow: Chicken, bacon, pepper jack cheese, avocado, tomato, romaine hearts, chipotle mayonnaise, spinach wrap. 710 cal. $9.95
Caesar Salad: Romaine lettuce, shaved Parmesan, grape tomatoes, croutons, Caesar dressing. 770 cal. $8.95
Beet & Goat Cheese: Salad Mesclun, red beets, goat cheese, dried cranberries, walnuts, dried figs, orange citrus segments, balsamic dressing. 380 cal. $8.95
For more information and to see where you can purchase the new yummy lunch selections, head over to Crumbs website here!