Archive
Find Out the Marriage Troubles Mariah Carey and Nick Cannon Are Trying to Hide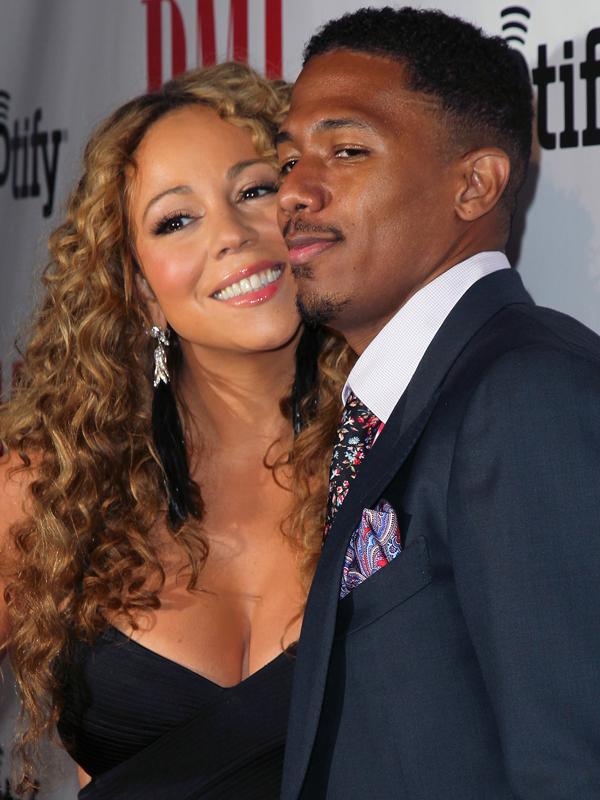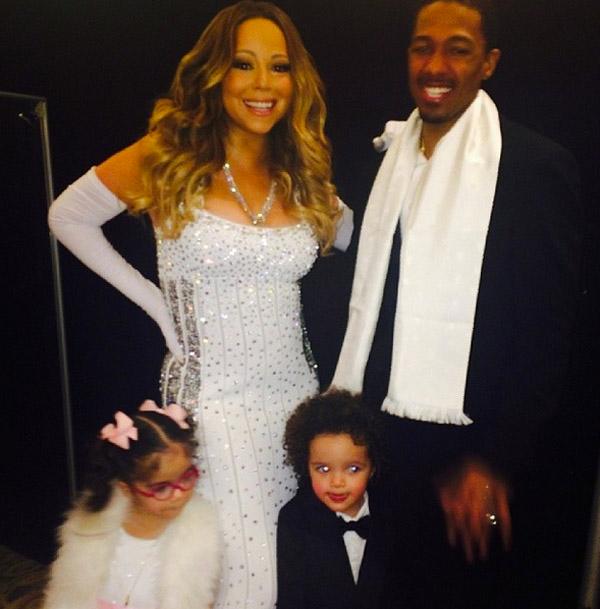 For their sixth wedding anniversary on April 30, Nick Cannon planned to surprise Mariah Carey with an elaborately romantic production worthy of one of the world's most flamboyant pop divas. The America's Got Talent host, 33, booked a private plane—stocked with 25 bottles of $550 Angel champagne and trays piled with caviar and oysters—to whisk 45-year- old Mariah to an intimate celebration at Sea Lily, their posh estate on Windermere Island in the Bahamas, where the pair secretly wed after a six-week courtship in 2008.
Article continues below advertisement
OK! News: Nick Cannon shares his newest projects with OK!
It was all so exquisitely romantic. But it never happened. Long-simmering tensions between the tempestuous couple erupted into a quarrel so toxic, friends say, that it's destroyed the marriage. "Mariah threw a diva ft and started browbeating Nick about being an absentee, no-good husband," an insider reveals. "She gave him hell for being immature and accused him of fooling around with other chicks." Mariah claimed she had people following Nick recently, the source says, and they caught him red-handed with two women on separate occasions—one hot Latina and a blonde bombshell with huge boobs.
"As he always does, Nick tried to bob and weave and joke his way out of trouble," reveals the insider. "But Mariah wasn't having it. She told him to cancel whatever anniversary plans he'd made."
PHOTOS: See Mariah Carey's best moments in lingerie.
"Mariah'd cut him loose right now," says another source. "But she's worried about him making a grab for a huge chunk of her $515 million fortune."
Now Mariah and Nick may be heading into a nasty battle over all those assets—not to mention "Dembabies," as they call 3-year-old twins Moroccan and Monroe.
Article continues below advertisement
It's a shocking turn from just a year ago, when they celebrated their fifth anniversary with a Cinderella-themed party at Disneyland for 250 guests; the couple renewed their vows in front of Sleeping Beauty Castle—she and Monroe decked out in princess gowns, Nick and Moroccan garbed as Prince Charming.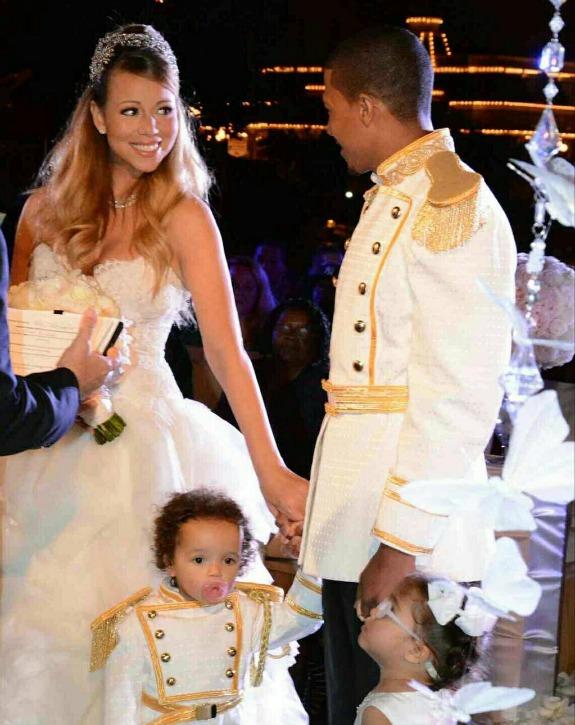 Over the past 12 months the fairy tale has devolved into a nightmare — some of it played out in public. On Feb. 12 Mariah and Nick arrived separately to the premiere of her latest video, ironically titled "You're Mine (Eternal)." In a radio interview the next day, Mariah griped that her husband was leaving her alone for Valentine's Day.
"The abandoner is going to be somewhere else," she said on Ryan Seacrest's radio show in February. "And by abandoner, I mean Nicholas Scott Cannon. I was giving him beef about it all day. I'll be alone with the babies, but they're my Valentines anyway."
OK! News: Mariah Carey's babies will be on her new album! Get the scoop here.
It's true that Nick is consumed with his career: Aside from AGT, he does stand-up, acts, raps and produces music under his label, NCredible Entertainment. But for her part, Mariah has been struggling to turn out her 14th studio album; after a number of delays, the May 6 release date has been postponed indefinitely. According to sources, professional and personal stress has Mariah overwhelmed—and has her allegedly leaning on alcohol.
Article continues below advertisement
"Mariah is burying herself in work, and her boozing is out of control," says the insider. "She's drowning her sorrows in a champagne flute. Mariah has never felt so alone. She's been crying every day."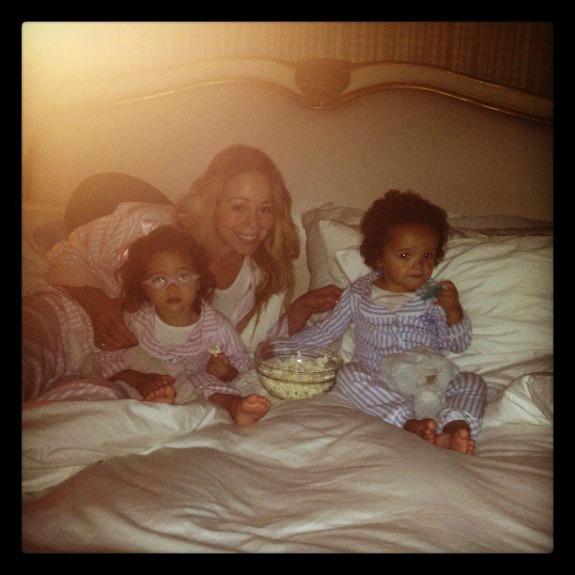 Still, it takes two to make—or break—a marriage. And by all accounts, Mariah has a case of her own. Aside from feeling neglected, she has been stung by Nick's compulsive over-sharing.
Earlier this year, for instance, he told an interviewer that the secret to his happy marriage was "lots and lots of sex." Mariah had previously addressed his boasts in November. "He needs to slow down and stop talking so much," she said, before quipping that they were heading to the Dominican Republic for a quickie divorce. "I look at certain relationships in the public eye and think... that's class, when you don't have to talk about that relationship," Mariah said. "I'd much prefer that he silencio, just a little bit."
OK! News: Here are all the things we learned about Mariah Carey on her crazy Watch What Happens Live appearance.
What really set Mariah of, however, was Nick's March 27 radio interview with Power 106's Big Boy, a kiss-and- tell tsunami in which he rattled of the names of famous women he'd slept with pre-Mariah, culminating with Kim Kardashian.
"Mariah hates Kim with a passion," says the insider. "It makes her blood boil that Nick slept with her, and he keeps driving the knife in deeper by talking about it! After that interview, Mariah got in Nick's face and demanded to know if he's been in contact with Kim."
Article continues below advertisement
Truth be told, there was conflict built into the marriage from the start. For one thing, there is the 12-year age difference between the couple—who met when Nick presented Mariah with a Teen Choice Award in 2005 but didn't start their whirlwind courtship for another three years.
"Mariah is insecure about her age," the source says. "She knows Nick could get hot women half as old."
Meanwhile, Nick has always battled the stigma of being "Mr. Mariah Carey." To compensate, perhaps, he sometimes needles her publicly—recently, for example, Nick brought up Mariah's temperamental tendency to fire nannies.
PHOTOS: Check out the best (and craziest) hats from the Kentucky Derby.
"Nick loves to goof on Mariah, but she hates it," reports the insider. "She has spent decades cultivating an image of an iconic glamour-puss. She complains all the time that Nick makes her look like a diva."
Of course, Mariah gets her digs in, too—but usually at home. "She belittles Nick constantly and he's sick of it," the insider says. "She needles him about dressing like a clown, and she criticizes his musical tastes. She can't even stand the way he cooks! Mariah yelled at Nick in front of their kids for not properly trimming the crusts of their organic almond butter and grape jelly sandwiches."
Article continues below advertisement
Mariah and Nick put on a happy face as recently as Easter—posing in bunny ears with the kids for one of their characteristically goofy selfies—and reps deny the marriage is in trouble. But sources say things could get ugly fast.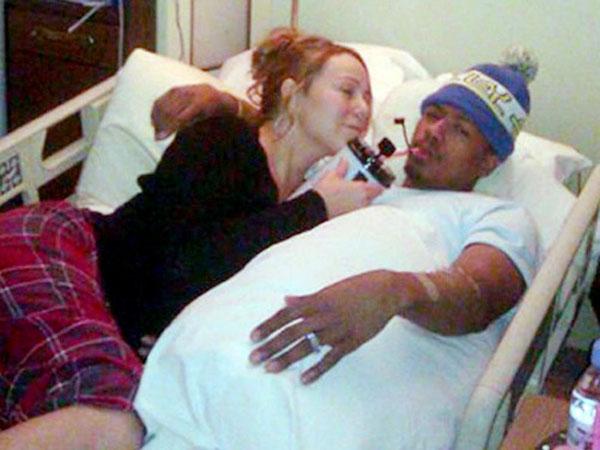 Mariah is ready to pull the plug," the insider says. "They have a pre-nup, but after Nick tells his side of the story Mariah will most likely settle with him financially and realize her once beautiful marriage has evaporated."
"Nick feels burned that Mariah is ready to pull the plug," the insider says. "They have a pre-nup, but after Nick tells his side of the story Mariah will most likely settle with him financially and realize her once beautiful marriage has evaporated."
Do you think Mariah and Nick are heading toward a break-up? Do they seem like a good fit to you? Do you follow them on Instagram? Tell us in the comments below or tweet us @OKMagazine.