NEWS
16 Things We Learned From Mariah Carey on Watch What Happens Live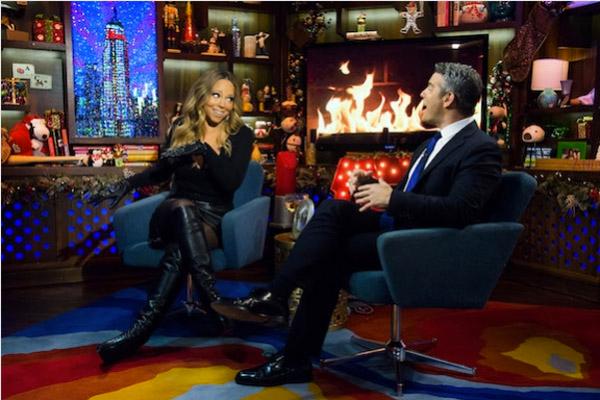 The final Watch What Happens Live episode of 2013 and what do we get? MARIAH CAREY, BABY! And what a finale it was. Mariah was open and honest about everything from Whitney Houston to her love/hate relationship with Glitter and she was all about spreading the joy of the holiday season throughout the clubhouse and beyond. So what did we learn from the Queen of Christmas's sit-down with Andy Cohen? Read on!
Article continues below advertisement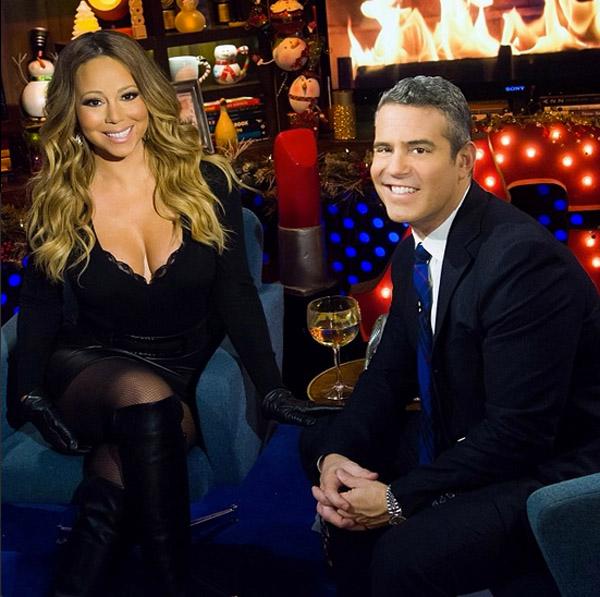 2.) Mariah travels with her fans! Oops that was misleading. She brought a hand fan, an electrical fan and her own personal fan, Greg Bennett from RHONJ.
3.) A twitter campaign that works! Greg Bennett flooded our Twitter timelines with tweets begging Andy to let him be a bartender—and it worked! We're sure a little help from Caroline Manzo didn't hurt...
4.) Mariah loves Will Ferrell: After comparing herself to Will's titular character in Elf, Andy reminded her and the audience that Will was very excited to hear that Mariah would visiting the clubhouse later in the week. Her response? "Stop!!!"
OK! News: Will Ferrell's 16 Funniest GIFs
5.) She loves Mean Girls: Finally something we can relate to!
6.) She also loves Scandal: What we wouldn't give to see Mariah play Olivia Pope's next client.
Article continues below advertisement
OK! News: Scandal Will Have a Shortened Season 3—Find Out Why
7.) There could be a Glitter tribute in the works: During the Glitter montage (obviously there was going to be a Glitter montage!) Mariah could be heard saying to Andy that she was planning on doing "something" with it, and told him that if he wanted to be involved, he could be!
8.) Thanks to Mariah's (awesome) Instagram feed, we know that it was not Watch What Happens LIVE after all: Maybe wait till Monday to post bikini pics in the snow?
9.) Don't expect any more of dem babies to come outta Mariah: She got real real REAL about what it's like to carry twins and unless hubby Nick wants to be the one to get preggers, we shouldn't expect any more kids from the Cannons.
10.) American Idol wasn't the best experience for her: While she went in the with best intentions, it wasn't what she expected (cough Nicki Minaj cough cough) and you won't catch her at the Judges' Table any time soon.
Article continues below advertisement
11.) She had a great relationship with Whitney Houston: While it started out rocky in the beginning of their careers, by time they met and worked together on the song "When You Believe" they had a mutual admiration and appreciation for each other. Watch Mariah discuss it here:
12.) She can produce too! While we all know she's an amazing singer and songwriter (she wrote "All I Want For Christmas is You" on a mini Casio-like keyboard!), she ALSO has 14 #1 songs as a producer.
13.) She's funny! When asked to name 3 nice things about Eminem, she said:
-- They come in a package that you can carry whenever you go
-- Everyone loves them around the world
-- They're tasty! You can have peanut or the regular kind
14.) Those legs really are insured: When you make money off of your body, you've got to protect it!
15.) She only gets 50% of her earnings for "All I Want For Christmas Is You"— the rest goes to the pianist who played the bridge. Watch a montage of the best viral covers of the song here:
16.) She's really good at skirting the question: Which of her songs is her most favorite and least favorite? We'll never know.
So there you have it! What surprised you the most about Mariah Carey's appearance on Watch What Happens Live? Share in the comments or tweet us @OKMagazine.