BABIES
MMMBop Baby! Taylor Hanson Expecting His 7th Child With Wife Natalie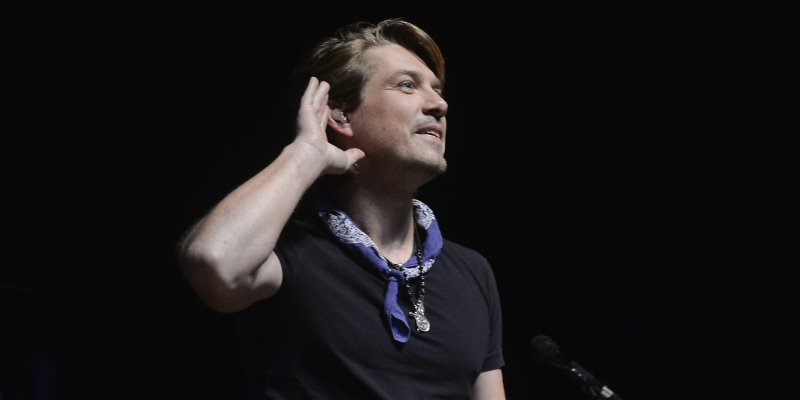 Lucky number seven!
Taylor Hanson and his wife, Natalie are expecting their seventh (yes SEVENTH!) child. The 37-year-old made the announcement on his on Tuesday, September 15.
"The best kind of unexpected," the Hanson band member captioned the post, featuring a sweet photo of the proud parents holding hands while walking through tall grass. "No. 7 coming this December #2020."
The mom-to-be added her own a post on social media with a similar image in which she donned a vibrant orange dress.
Article continues below advertisement
"Biggest little surprise in a long time. Baby No. 7 coming this December," she wrote.
After dating for 12 years, the couple tied the knot in 2002 in Georgia.
The singer and his wife are already the parents of Ezra, 17, Penelope, 15, River, 14, Viggo, 11, Willa, 7 and Indiana, 20 months.
The family's new addition will not only have six siblings to grow up with, but plenty of cousins. The Oklahoma native's oldest brother Isaac Hanson has three children: Everett, 13, Monroe, 12, and Nina Odette, 6, with wife Nicole Dufresne. His younger brother, Zac Hanson, has four children: Shepherd, 12, Junia Rosa, 9, Abraham, 6 and Lucille, 4, with wife Kathryn Tucker.
GIGI HADID SHOWS OFF HER GORGEOUS BABY BUMP IN STUNNING NEW PHOTOS: 'CHERISHING THIS TIME'
In addition to his Hanson bandmates, Taylor has four other siblings Jessica, Avery, Mackenzie (aka Joshua) and Zoé, making him one of seven just like his future boy or girl.
In November 2017, The Tinted Windows frontman opened up to Today's Parent about the dynamic that comes a big family.
"You work with others and realize that the entire world doesn't revolve around you," he explained. "It also encourages you to be an individual because you can clearly see your differences from a brother or sister. I see that with my kids. They're very different, but I see that they love and respect one another."
Hanson is best known for the 1997 hit song 'MMMBop' from their debut album entitled Middle of Nowhere, which earned three Grammy nominations.