COUPLES
Brian Austin Green Isn't Ruling Out Reconciling With Estranged Wife Megan Fox: 'Never Say Never'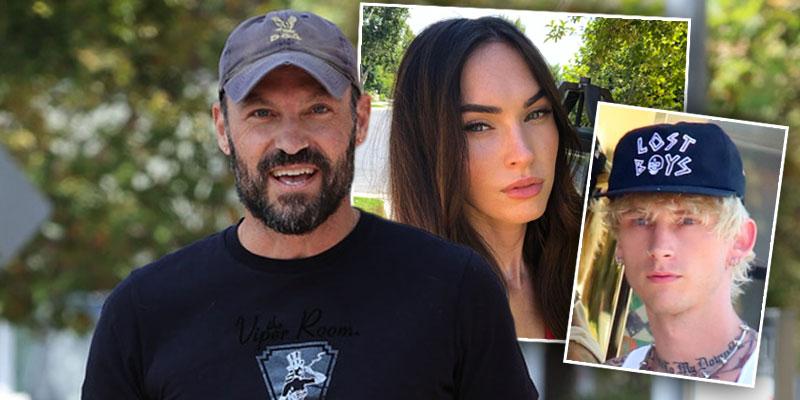 Thinking about the future? Brian Austin Green has not given up on his relationship with his estranged wife, Megan Fox, despite her moving on with Machine Gun Kelly.
"I never say never," The Desperate Housewives alum, 47, said during an Instagram Live on Saturday, August 29, about how he could potentially get back together with Fox, 34, at some point in the future. "You never know. I kinda feel like people are on paths in life and sometimes your paths are together and you travel that path together and you see eye to eye and then sometimes those paths do different things."
Article continues below advertisement
"We shared a lot together and we really went through a lot together," he continued. "Right now the paths are different and she is on her path doing what she feels she needs to be doing to be happy and I'm on my path doing what I feel I need to do to be happy and it's not for a lack of love for the kids or lack of being responsible."
"It's really important to take care of yourself. It's important for us as parents to take care of ourselves. I wish her all the best and I wish myself the best as well," he shared.
Article continues below advertisement
Green also noted that sometimes relationship don't always last and that's OK. "We did that for 15 years. If that has run its course, then so be it. That's not a failure," the dad of four said. "It was a really special relationship, and it still is."
After the Don't Blink actor announced their separation in May, rumors began circulating that the mother of three had moved on already with the 'my ex's best friend' singer. Even though Green mocked his ex's Instagram caption after she posted a photo with Kelly, he doesn't seem to have any problem with Fox moving on.
Article continues below advertisement
Fox and Kelly met on the set of Midnight in the Switchgrass late last year, which was around the same time her marriage to Green was falling apart. The Jennifer's Body star explained she felt an instant spark with the rapper. "Instead of a soulmate, a twin flame is actually where a soul has ascended into a high enough level that it can be split into two different bodies at the same time," she said on Lala Kent and Randall Emmett's podcast. "So, we're actually two halves of the same soul, I think. And I said that to him almost immediately, because I felt it right away."
Ultimately, Green — who shares an 18-year-old child with ex Vanessa Marcil and has been linked to models Courtney Stodden and Tina Louise since their separation — believes that everything will work out in the end. "At some point, I think our paths will regulate a bit and run parallel to each other. Not necessarily the same but that's OK," he added. "Sometimes you have to sort of really swing far away from something to find a more stable ground to stand on."