HEALTH
Chrissy Teigen Uses Botox To Help Her With Migraines While Pregnant With Baby No. 3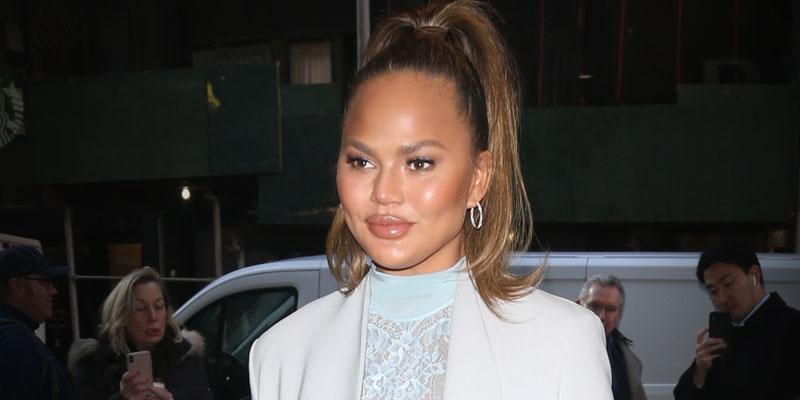 Chrissy Teigen revealed that she is getting Botox done while pregnant with baby No. 3 — but it's not for cosmetic reasons. "I get really, really bad pregnancy headaches," the 34-year-old wrote via Twitter on Friday September 4. "Was thrilled to be cleared to do neck muscle Botox along with a crazy combo of Beta Blocker shots and radio wave frequency something something doctor terms. Anyhow, man, it's just so bad, but I see the light finally."
Article continues below advertisement
However, fans questioned if the model should even be getting injected in the first place. "They wouldn't do my Botox when I was pregnant. I get it for migraines. Hope you get some relief," one fan wrote. "Yeah if you have the means to go to a neurologist instead of cosmetic it's a lot better and safer because they talk to your OB," she replied.
"Ugh. More info please!!!! Not pregnant but going on three weeks of a headache that's presumed to be a migraine not even touched by over the counter meds and only dulled by migraine medications. Looking for another option besides neurology!" another user wrote. 
CHRISSY TEIGEN SHOWS OFF HER GROWING BABY BUMP
"Jaw Botox for my grinding was a MUST for my regular headaches. You can also do behind the brow for migraines. Life changing," the A-lister responded. 
One person noted that "the crunchy granola moms are going to come for you" after Teigen's confession, but she didn't seem to mind one bit. "I absolutely do not care," she clapped back.
At the end of John Legend's music video for his song 'Wild' — which premiered on August 13 — the camera showed off Teigen's bump. The couple had no idea they were expecting a new addition to their family. So much so, the mom of two got her breast implants removed without knowing she had a bun in the oven.
Article continues below advertisement
FROM SAUERKRAUT TO TRUFFLES: THE WEIRDEST CELEBRITY PREGNANCY CRAVINGS
"I did the routine pregnancy test you do before surgery. It said negative. It was not negative," she explained on social media. "A few weeks after surgery, I took a test. And for many years now, I've taken pregnancy tests almost every month, praying to see a positive one day. Just wishful thinking. I never had a positive before."
"So the morning of John's album release, he wakes up at 3 a.m. to do Good Morning America. I woke up with him and was like man, should take my monthly test to be disappointed," she said. "I was not disappointed. But I was scared s--tless. Was pretty positive you shouldn't get your boobs out while pregnant? Pretty sure."
CHRISSY TEIGEN'S TONGUE IS 'FALLING OFF' FROM TOO MANY SOUR CANDY
Luckily, it seems like the cookbook author — who shares Luna, 4, and Miles, 2, with Legend — is doing just fine these days and is looking forward to what's to come. However, Teigen's two kiddos might not be ready to let another sibling into their family just yet. "Luna is very, very excited. Miles, not so much. Jealous!" she wrote.
We can't wait to see Teigen's bump grow more and more!