HEALTH
Larissa Dos Santos Gets Cosmetic Surgeries Worth $72K — Goes From 34A To 34DD!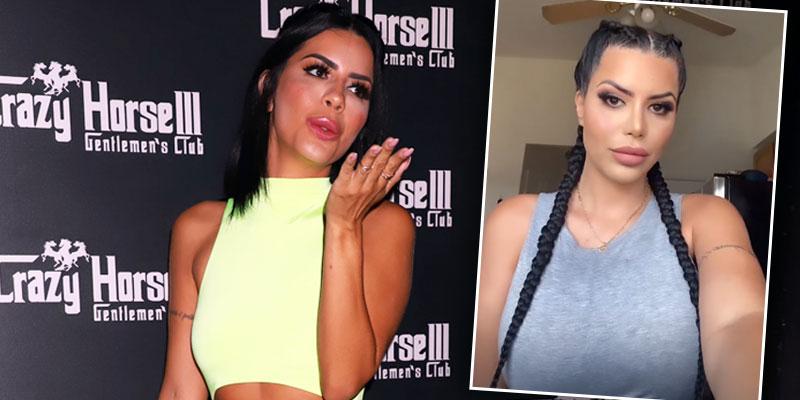 Inspired by Kylie Jenner, Larissa Dos Santos has had some expensive cosmetic surgery, and now she looks quite different.
As reported by TMZ, the 34-year-old star spent $72,000 in multiple surgeries, which included a boob job that took her from 34A to a 34DD. Santos also got a nose job.
Both of these procedures are said to have taken place in February, and she returned to surgeon Dr. Lane Smith in August.
Article continues below advertisement
It has also been revealed that the 90 Day Fiancé star underwent liposuction on her waist and abs and hard some fat transferred to her butt. The outcome of the surgery now makes her look entirely different, and she revealed her new look on the adult live-streaming webcam platform CamSoda.
MODEL UNDERGOES FOUR NOSE SURGERIES WORTH MORE THAN $19,700 TO LOOK LIKE PENÉLOPE CRUZ
Santos confirmed the news of the surgery via her Instagram Stories, where she shared the TMZ article and posted a picture of her modified figure for everyone to look at.
"The reason that I did it because as you know, I have a family in Brazil, I have a boyfriend who is 28 years old and I am exposed daily on social media," the starlet told Life & Style magazine. "People have haters but the lovers, they ask you what procedures you use, what clothes that you have on. So I want to look good for myself and to make money to send to Brazil and to make a living here."
This is not the first time that the TLC star has gone under the knife. In season 5 of the hit series, she revealed her new look, which showed her off her new butt and face.
Article continues below advertisement
"I lose weight. I did butt to make it bigger. I did Botox. I did my nose. I did my lips. I did my cheekbones. I did my chin," she shared on the new episode. "I am a new woman and I feel very happy."
BYE-BYE, BOOBS! CELEBS WHO HAD THEIR BREAST IMPLANTS REMOVED
She also spoke about her thoughts on changing her appearance.
"When I look at the blowup dolls, like, big boobs, small waist, big lips, I started to feel pretty," she explained, adding that "the nose is the worst thing I need to change to be a perfect doll."
The show's latest episode showed her post-surgery. She was rolled out in a wheelchair with her boyfriend, Eric Nichols, standing in front of her.