NEWS
Alec Baldwin Drops Pants on 'Late Show With David Letterman' & Talks Paparazzi Run-In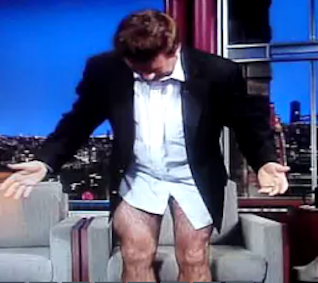 Sure, Alec Baldwin's snagged his share of headlines this week for the paparazzi incident when punches were allegedly thrown, so the 30 Rock star did what anyone would do: Drop their pants on late night!
OK! NEWS: ALEC BALDWIN CREATES SHEET DISGUISE TO THROW OFF PAPARAZZI
Last night on The Late Show with David Letterman, Alec told David that "no one got punched" while referring to the incident with a Daily News photographer, who has filed an assault claim.
Article continues below advertisement
After David held up the cover of the newspaper he added that the picture "without knowing the story, tells a tale that's not often true."
Alec explained, "I think you can see, I'm forming the letter 'F' with my mouth, and what I'm saying is — I said to him as I walked up to him, 'What F-stop are you on with the camera?'"
OK! NEWS: ALEC BALDWIN THROWN OFF AN AMERICAN AIRLINES FLIGHT
Photography scuffle aside, that wasn't the most — er, how shall we put this? — "entertaining" portion of the interview though. Walking on stage to the beat of Pat Benatar's song, "Hit Me With Your Best Shot," the Long Island native dropped his pants!
Catch the clip over at CBS!