NEWS
Top Nine 'Idol' Contestants Chat Lennon/McCartney Performances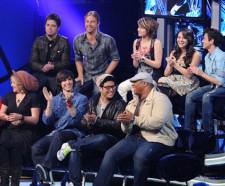 The top nine American Idol contestants chatted with reporters after their Lennon/McCartney performances. But the real talk of the night was Andrew Garcia and Lee DeWyze's budding "bromance"!
OK! BLOG: ANOOP DESAI'S IDOL DISH
Aaron Kelly opened the show with "The Long and Winding Road." Randy called his performance, "sleepy," while Ellen agreed that it was, "a long winding road."
Aaron seemed to get a little emotional while listening to the critiques.
Article continues below advertisement
"I just try to stay confident after, they're just trying to help and I've just got to go out there with my head held high and think that I did a good job and as long as I'm happy with my performance, that's all that matters," he told reporters. "I made it this far, I'm not going to be disappointed no matter what happens."
OK! INTERVIEW: IDOL CAST-OFF PAIGE MILES
Katie Stevens was up next as she said that out of the five guy who have asked her to prom, they should send in their phone bills and whoever has voted for her the most, can take her.
She sang "Let it Be" and Randy said that it was the best performance ever for her. Kara said that she was "blossoming," and Simon claimed that Katie, "got it right!"
And Katie had to agree!
"I think that it went very well," she told OK!. "I think Americans will have a tough time deciding. Hopefully we will have a tie and we can all stay. I am the peacemaker."
"I definitely think that there is more of a comfort zone that comes from being on the show longer and I actually loved the stories that they did on us because America doesn't really get to see us and we all know each other better," she explained. "We were shooting those all week and it was incredible to hear what everyone has to say about each other and then to let America see that too is a lot better because they see just a little bit more to us!"
Article continues below advertisement
OK! NEWS: DIDI BENAMI ON IDOL ELIMINATION — "IT'S BEEN A CRAZY-COOL RIDE"
Third on the list was Andrew Garcia, who took a pop vibe to "Can't Buy My Love." Randy called the performance "solid," but Simon thought that it was old-fashioned and irrelevant.
The real talk of Andrew's night between all the Idol contestants was Andrew's "bromance" with Lee DeWzye.
"He's my boy, that's my homie," Andrew explained. "We're close... nah no matter how I say it, it's bad. That's my homie, I love him, come see me."
Lee added his take on their "affair."
"It's funny and people think it's funny that we are friends I guess, but the truth is that I have no family out here at all so when I got here we became really good friends and his family wasn't out here either. It was cool because we were both worried about going home and we helped each other. And, they roomed us together everywhere that we went and I am even close with his family now so it's just cool."
Article continues below advertisement
Cyrstal Bowersox has her own take on their "bromance" and says, "Lee plus Andrew equals Danny Gokey."
So does Andrew's son resemble Gokey at all?
"No he does not. Yeah a scruff and glasses!" Andrew joked. "No, he's very beautiful, I love him. I miss him a lot."
"I had my first Easter with him, it was really cool," he added. "He was throwing eggs at me. He talks a lot. A lot! He says turtle a lot. I don't know why."
OK! NEWS: IDOL ELIMINATION — WHAT YOU DIDN'T SEE ON TV
Michael Lynche sang "Eleanor Rigby," and did so well Kara called it, "Fire!"
"It was a good night," he said. "Everyone took risks and some who played it straight, paid off."
Simon told him he had a license to do whatever he wanted now and Michael admitted to OK!, "I don't know about that! I just try to bring everything to my world whatever the theme or genre is."
Article continues below advertisement
During his performance Simon and Randy seemed to be arguing.
"I seem to cause a lot of fights," he said. "Simon and Ryan get into it. It's all good. As long as people remember that it was fun."
OK! NEWS: LINDSAY LOHAN APPEARS IN AMERICA IDOL AUDIENCE
Crystal Bowersox, who had a small cold, was up next with "Come Together" accompanied by a man playing the didgeridoo. Randy said that the didgeridoo was kind of distracting, but that she was, "in the zone."
"He is an amazing person and he contracts musicians who play instruments," Crystal said on how she found someone to play the didgeridoo. "So he found one and he bought one, took the lesson, and learned how to play the didgeridoo for me."
So how did she decide on using a didgeridoo in her performance?
"I was outside one day and humming it in my head and it just came," she said. "It's cool."
OK! NEWS: KELLIE PICKLER DOESN'T KEEP TABS ON TAYLOR, CARRIE
Article continues below advertisement
Tim Urban sang "All My Loving," which Ellen thought was the perfect song choice.
Though Ellen had nice things to say, the audience was very anti-judges that night.
"I liked that audience tonight, it was funny," Tim said. "I think my favorite thing is watching Simon's face, when he says something and someone boos, he goes, "What?!" Like, "Come on now, I'm right!" No you're not! I love that. Thanks peeps. I love when the crowd is like that, it's awesome, it totally boosts us on stage."
"I think my mom or my aunt had a conversation with the judges telling them to stop being so mean," he added.
So the judges apologized for being mean?
"They really did, they didn't really apologize for it, but it was cool," Tim shared. "I'm fine with them saying what they said before, that's ok, they're judges. But they saw that I improved. They noticed that and they said something about it, so that's encouraging to me."
Article continues below advertisement
OK! NEWS: DARIUS RUCKER — SOME IDOL HOPEFULS CAN'T SING
Casey James showed his vulnerable side with "Jealous Sky," and Kara said that he was "showing depth."
Was it hard for Casey to show his vulnerable side?
"I mean for me we have different aspects of what we do musically and its not always going to be up and rock 'n' roll. Doing acoustic shows have been a huge part of my life for the 11 years that I have been a musician so if you were to go and hear me play, that's what you would see and I think that it definitely showed everyone a different side so that was good," he said.
OK! NEWS: AMERICAN IDOL DAVID COOK GIVES BACK IN ETHIOPIA
Siobhan Magnus slowed it down with "Across the Universe," and explained that she loved her sisters so much and that would never change, inspiring her to do that song.
For Siobhan it was hard to show her vulnerable side.
"Yes, it was hard because I pretend to be a tough guy and I am not totally," she shared. "I am tomboy, but I am a human being and a sensitive person. Whatever I am feeling, you will know it because I am really bad at lying and hiding anything."
Article continues below advertisement
As for the Simon boo-er who came on stage, Siobhan says, "I think it's awesome. That's one of the best parts of it, the support that comes out of nowhere.
OK! NEWS: MADONNA AND ELLEN DEGENERES ARE DISTANT RELATIVES!
Lastly, Lee DeWyze came on stage with a bagpipe player and rocked out to "Hey Jude." Randy told him, "Baby, you got this!"
So, why the bagpipe?
"I am from Chicago so there are bagpipes everywhere," he said. "I love it so when I was listening to it I knew that I wanted to change up the song, but not too much so I thought that a bagpipe would be really cool. They brought it and I loved it and that's why he was up there. He was a cool dude and it was fun!"
As for other crazy instruments he'd like to try, Lee tells OK!, "Depends on the song!"
"At some point you've got to actually have fun with it too," he added. "You get up there and you don't want to be all stiff and get scared and I have been in the past. My confidence has been down and I was like, 'You know what? I'm just going to have confidence from here on out.'"
Reporting By Gena Oppenheim