NEWS
Derek Hough's DWTS Blog: We Won!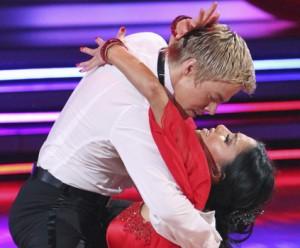 Dancing With the Stars pro Derek Hough has teamed up with OK! to update you every week as he attempts to turn his partner Nicole Scherzinger into a ballroom champion.
OK! GALLERY: DANCING WITH THE STARS — SECRETS OF THE CELEBS
Hi, everyone, and welcome to my Dancing with the Stars blog for week ten, the finale of season ten! And, as you all saw on TV, Nicole and I took home the mirror ball trophy. It's been the best season ever for me. I've had the best time being able to explore and do some things I've never been able to do on the show only because I had Nicole as a partner. It's been 13 weeks of absolute joy for me training Nicole.
Article continues below advertisement
Nicole and I never, ever took it for granted. Every single week we fought tooth and nail trying to stay on top and do the best we possibly could. It wasn't all about winning — I felt very proud of our performances all season, win or lose. Tuesday night, after our Argentine tango went so well, we had a little cry. We were very emotional and happy backstage. The trophy at the end was just the icing on the cake.
DEREK HOUGH'S DWTS BLOG: DANCING TO A PERFECT SCORE IN PASO DOBLE
I lost a lot of weight in water through sweat the past couple of weeks. Something about this week for Nicole and I — we felt like, we're going to enjoy this instead of being perfectionists. We decided: we're so proud of ourselves already. Let's just have a great week. I think that's what finally won it for us, just relaxing and having a great time and that was reflected in our final four dances Monday and Tuesday.
Article continues below advertisement
Monday night, Nicole and I were thrilled to turn in two solid dances. Although we didn't get the perfect 30 we hoped for in either dance, I'd say that rumba and freestyle were performances anyone could be proud of. Nicole said it was our best night ever.
OK! NEWS: NICOLE SCHERZINGER — PRINCE INSPIRED ME TO DANCE
There was one hiccup at the end of our freestyle that everyone saw when I tried to lift Nicole overhead. It was totally my fault. Our routine was so incredibly difficult and precise that with one wrong move, it all collapsed like a domino effect. We had pulled off most of the performance and my brain had already gone into celebration mode before it was over. I got a little discombobulated and grabbed Nicole the wrong way for a second. I yelled at her during the dance, just go! I don't know how she did it, she muscled her way up to my shoulders. Nicole laughed later that she felt like a crazy, flailing hot mess up there. Nicole said afterward her neck was falling apart, and my right shoulder and left elbow were sore.
OK! NEWS: DWTS WATCH — DANCERS REVEAL SNEAK PREVIEW OF UPCOMING FINALE
Despite being a ballroom dancer, I've always said I don't really like sequins, but I donned them for the freestyle — and on a lime green shirt, at that! Meanwhile, Nicole had a hair malfunction before our first dance, the rumba. The hairstylist for the show had to come running up to help her with it. It was unexpected but we ended up using the energy to our advantage. It's all part of the unpredictability of live TV! Never a dull moment.
Article continues below advertisement
I think our bobble showed we're human, and maybe caused people to vote for us. Also, whereas Nicole and I would have gotten upset about it earlier in the season, on Monday we were just like, that's life! We were happy and celebrating after both dances. The only bad moment for me was watching the judges' heads fall to the table because you could see they wanted to give us tens. But it's okay. We did our best.
OK! NEWS: DWTS FINALE WATCH — NICOLE WINS!
Nicole is going to work on her solo music this summer, and I have a dream of being in one of her videos, dancing and singing in the background. Nicole and I have laughed about that. But seriously, I hope to be back for season 11 of DWTS in September. The producers don't tell us dancers that we're for sure back on the show again until August, so keep your fingers crossed for me.
Next time, I'd love to see some celebrities come on the show who have dance experience — with no apologies. When people say that's unfair, I say it should be welcome. Then it gives the dancers a chance to do some great things. This is why season ten has been the best one yet! Thanks again everyone for all your support and votes! It's been a blast!