NEWS
'DWTS' Finale Watch: Nicole Wins!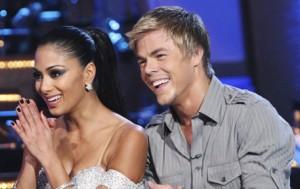 Pussycat Dolls singer Nicole Scherzinger and partner Derek Hough won Dancing with the Stars on Tuesday night. The pair that seemed to have the edge all season turned in two spectacular last dances to win the mirror ball trophy over second place finisher, ice skater Evan Lysacek and his partner Anna Trebunskaya.
Although ESPN reporter Erin Andrews excelled in Monday night's show, tying with Nicole for first place, she couldn't overcome the superior ability of the leaders and finished third.
Article continues below advertisement
OK! GALLERY: DANCING WITH THE STARS — SECRETS OF THE CELEBS
Nicole and Derek got a huge score of 115 points for their four dances over two nights. Perhaps their masterstroke was their final performance, a jive done to the song "Proud Mary" that boasted high energy and not a single mistake. In fact, even before rival Evan performed his final dance, judge Len Goodman seemed to have made up his mind about the outcome, saying to Nicole, "The winner should be you."
After the show, Nicole told reporters "I'm excited to celebrate. This whole personal challenge has been amazing. I've learned so much about myself. I feel like I just won a dancing Grammy and now I want to go work on getting a Grammy, because I love my music."
OK! NEWS: DWTS WATCH — FINAL WEEK
Nicole thought she won because of "the spirit and the heart and soul that we were able to show, the light that we were trying to shine on people." Her partner Derek added, "and just the hard, hard work!"
Article continues below advertisement
The Pussycat Doll said of DWTS, "It's changed me as a dancer. It's changed me as a performer and as a person." The singer, an admitted perfectionist, said she relaxed during the show's finals. "This week, I was like, D, I have so much faith in you and we're just going to have fun and we did. Tonight, I was like, it's out of our hands," she said.
Nicole told OK! she's going to be busy this summer pursuing her solo musical career. She just released her single, "Nobody Can Change Me", and will follow it up soon with an album. "I'm so excited. I don't have a release date on the album but it will come out when it's supposed to."
But that doesn't mean she's abandoned the hit Pussycat Dolls. "A lot of the girls have left the group but I'm still 100 percent committed to the Pussycat Dolls. But right now I'm working on my own music."
OK! NEWS: DWTS WATCH — DANCERS REVEAL SNEAK PREVIEW OF UPCOMING FINALE
Meanwhile, Evan, who won the Olympic gold medal earlier this year, came up short in the dance competition. He and pro Anna got 108 points for their four final dances. As usual, Evan accentuated the positive after the show, saying, "we feel awesome. We worked as hard as we possibly could and we're totally satisfied with what we did." Anna said, "I think this is the tightest competition that Dancing with the Stars has seen." Evan said there was nothing he would have done differently. He did, however, allude to the difficulty of juggling his Stars on Ice shows across the country with DWTS. "Our schedule was crazy and we were in a different city every day and we were training in crazy situations, like no mirrors, carpet instead of a ballroom floor," Evan said. "It was just fun and like an adventure and it made our bond so close."
Article continues below advertisement
The ice skater admitted, "Nicole was miles and miles ahead of the rest of us from day one and we all looked at that and were inspired. We wanted to improve and get to her level and a few of us got to the point where we were in the running."
OK! NEWS: DWTS WATCH — THE DANCING GAME IS OVER FOR CHAD OCHOCINCO
When asked about his future plans, Evan told OK! "I've gotten some interesting offers to work in acting and broadcasting. There are different elements of professional skating that are developing, but I'm still trying to decide if I want to continue to compete. It's a hard thing to give up because it's really all I've known."
Now the athlete will complete his Stars on Ice tour, and then "I'll go on tour in Korea and Japan. I'm looking forward to it."
Evan told OK! he also plans to have some fun this summer with his new DWTS friends. "Maybe in July or August, Tony Dovolani and Maks and I want to go to the Hamptons and go golfing and bring some of the girls, like Cheryl Burke and Erin, for a reunion trip."
Article continues below advertisement
While Evan put on a brave face, pro Maksim Chmerkovskiy didn't hide his disappointment about finishing third with Erin. "I think I need to go on some serious rehab if I'm to come back next season and try and find some kind of motivation. I'm depleted," the dancer told reporters after the show.
The two seemed to feel beating Nicole was impossible. They said Nicole would have won no matter who her partner was. Erin joked, "With Buzz Aldrin, she would have won it!"
But after Erin performed incredibly well on Monday night, the couple had reason to hope they had a shot at the trophy.
OK! NEWS: BETTY WHITE IS WELCOME ON DWTS
Erin, whose peeping tom incident became national news before she starred on the reality show, told OK!, "I'm a competitor so I always want to come out on top. I didn't give myself credit all season but I think once we were hearing what people were saying after last night, a lot of people were rooting for us. It was cool to see the support we got."
The TV reporter, whose contract is up with ESPN, doesn't know what the future holds, beyond making the post-DWTS press rounds: "I'm going to New York and enjoy it with really good friends who have helped get my life back on track. I'm not going to think about anything else right now."