NEWS
'DWTS' Watch: Final Week!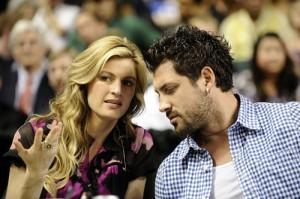 It was a night full of surprises as the final three celebrities performed on Dancing with the Stars on Monday. Although most viewers expected Pussycat Dolls singer Nicole Scherzinger and Olympic ice skater Evan Lysacek to vie for the top score, both seemed slightly off their game during the big finale show.
That opened the door for ESPN reporter and underdog Erin Andrews, who performed two impressive dances. And at the end of the night, Erin wound up tied with Nicole for first place with Evan trailing the two women.
Article continues below advertisement
OK! GALLERY: DANCING WITH THE STARS — SECRETS OF THE CELEBS
Erin and her partner, Maksim Chmerkovskiy, got a score of 29 for their samba and 26 for their freestyle, for a total of 55 out of 60. Nicole, who has been the front runner all season, got 28 for a rumba with partner Derek Hough and 27 for their freestyle for a total of 55. Evan and his pro dancer, Anna Trebunskaya, scored a 28 for their Viennese waltz but just 24 for their freestyle, good for 52 points.
OK! NEWS: DWTS WATCH: DANCERS REVEAL SNEAK PREVIEW OF UPCOMING FINALE
The ESPN beauty -- who was victimized by a peeping tom and was recently blasted by The View hostess Elisabeth Hasselbeck for her provocative DWTS costumes -- seemed sure to spark debate once again by using a bed as a prop during her freestyle. "We loved it," Erin told reporters after the show. When asked if the sexy dance, which featured Erin and Maks gyrating on the bed, pushed the envelope, she said, "Why do we have to be like everybody else? We're not like them." Maks explained, "The thing is, it's season ten. It has to be memorable. I personally have a handful of dances I remember from ten seasons of the show. To me, this is one of them. I couldn't be happier. It all came together."
Article continues below advertisement
Maks also said the freestyle dance everyone will be talking about was part of a strategy: "Going into this final, there's no way we can compete with the other two. We needed to stand out."
OK! NEWS: DWTS WATCH — THE DANCING GAME IS OVER FOR CHAD OCHOCINCO
Judge Carrie Ann Inaba praised the dance as "risky" while judge Bruno Tonioli called it a "psychodrama." Erin elaborated, "we just wanted to do something different. We wanted to use props. We wanted to do dance and jumps and all that around the props. We're doing this for ourselves. This week, everybody has said I'm the underdog. I'm not going to win this; it's all Evan and Nicole, so we'll let them have the nerves and we just want to have fun."
Incredibly, however, Erin told OK! she didn't feel sexy while she was dancing: "Honestly, I'm the biggest tomboy there is. I just wanted to do flips and jumps." To those who might question her eyebrow raising dance, Erin said people just need to "learn about contemporary, lyrical dance."
OK! NEWS: NICOLE SCHERZINGER — PRINCE INSPIRED ME TO DANCE!
Meanwhile, Nicole and Derek came so close but yet so far from a perfect freestyle. The high octane routine showcased all of the Pussycat Doll's skills but the couple had one airborne bobble and wound up with three nines from the judges instead of tens. But Nicole seemed satisfied and relaxed backstage, telling OK!, "I feel amazing! This was our best night and best week yet. I'm just grateful and enjoying the ride. I feel like we went through so much, we've grown so much since the beginning and I don't want it to be over so I'm not taking it for granted right now."
Article continues below advertisement
Derek explained that the mistake in the freestyle routine, in which he mishandled Nicole while trying to lift her overhead, was completely his fault because he briefly lost focus and "I grabbed the wrong way," he said. "My one leg was flailing while you were spinning like a maniac," Nicole laughed to Derek backstage. When they were done, they admitted feeling dazed. Derek said their reaction was, "is it over?"
OK! NEWS: NICOLE SCHERZINGER SWEATS OVER DEREK HOUGH'S BIRTHDAY GIFT
Gold medal winning ice skater Evan finds himself in unfamiliar territory--third place--after Monday night's competition. However, the athlete was unflappable after the show, even though judge Bruno slammed him as looking like a tarantula in his freestyle dance. "We feel awesome," insisted Evan, with partner Anna by his side. "We wanted to go out tonight and feel like we hadn't left anything on the table and I wanted to show what I've learned in this competition which is the most important thing about dance is to let go and not worry about having a perfect step every time. And to just say, I don't care what I look like to anyone. I think that's something that anyone in America can relate to—you want to dance and let go whether you're in your bedroom or at the prom and that's the flavor we figured out to bring to this freestyle."
Article continues below advertisement
When asked about Bruno's comparison of him to a spider, Evan told reporters: "Whatever. They can say whatever they want. I have long arms and legs and sometimes I'm self-conscious about them and I try to keep them still and tonight, I didn't care."
OK! NEWS: BETTY WHITE IS WELCOME ON DWTS
Evan and Anna were shown having a tiff in rehearsal after which she wound up in tears. But Anna told OK! afterward, "I just think I put a little extra pressure on myself because we were in a time crunch and I always want Evan to have the best routine. I got a little scared. We sort it all out."
Although the judges weren't thrilled with the routine, Evan and Anna and the other competitors might have two more chances to impress the judges tomorrow with two last dances. Only the final two get to perform the second dance in a "dance off," with the third place finisher getting eliminated beforehand.
OK! NEWS: DEREK HOUGH'S DWTS BLOG — DANCING TO A PERFECT SCORE IN PASO DOBLE
Tune in tomorrow night on ABC to see who gets crowned Dancing with the Stars champion for season ten!