NEWS
'DWTS' Watch: Jennifer Grey & Derek Hough Rule the Dance Floor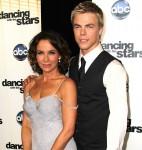 Jennifer Grey and Derek Hough ruled the floor again on Dancing with the Stars on Monday night, jiving to a top score of 24.
The Dirty Dancing actress, 50, who waltzed into viewers' hearts last week by evoking memories of her hit movie, showed her versatility with a fast performance this time and got the highest score of the night.
OK! NEWS: SARAH PALIN GETS IN ON DWTS ACTION
Meanwhile, the jive was painful for another dance couple; singer Michael Bolton and his partner Chelsie Hightower look in jeopardy for tomorrow's elimination, as they earned a score of only 12 for their jive.
Article continues below advertisement
And the other highlight for the hit ABC reality show was a visit by former Vice Presidential candidate Sarah Palin, who sat in the audience and cheered on her dancing daughter, "Bristol the Pistol".
OK! NEWS: KYM JOHNSON'S DWTS DIARY: A TOUGH GOODBYE
On week two of the competition, eleven couples took to the dance floor on Monday night after the ouster of David Hasselhoff last week. After her thrilling performance with pro Derek, Jennifer told reporters, "I was just trying to experience being in the moment and to try to feel the joy and surf it — but I was really happy when it was done."
Jennifer said of her widely-publicized neck situation, "I've been almost pain-free since my surgeries. I did four surgeries in three months and now I'm doing the jive!
OK! NEWS: DWTS RESULTS SHOW: THE HOFF ELIMINATED
"I was in chronic pain for 20 years and now I feel fantastic and it's like I've got a new Maserati that I want to take out for a vroom vroom." Judge Carrie Ann Inaba certainly noticed her amazing form, calling her the "bionic bunny" of DWTS.
Article continues below advertisement
Audrina Patridge and Tony Dovolani built on their success of last week, getting a 23 for their quickstep. But Tony, who told her in rehearsal he would wax his legs if they didn't score three eights, fell a point short as judge Bruno Tonioli gave them a seven.
OK! VIDEO: JERSEY SHORE STARS CHEER ON THE SITUATION
"I'm a man of my word," Tony said, who plans to get the painful job done this week. And Tony revealed backstage that all of his previous partners, including Melissa Rycroft and Stacey Kiebler, have offered to watch! "Just not Brazilian, okay?" Tony laughed to Audrina.
But getting back to the dance, Audrina told OK! "I was actually more nervous this week than I was last week, I don't know why. But once I got out there and started dancing, all my nerves went away and I had fun." Judge Bruno also told her she had beautiful posture.
OK! NEWS: BRISTOL PALIN PULLS IT OFF ON DWTS DEBUT
With her beaming mom Sarah in the audience, Bristol Palin pulled off a 22 with partner Mark Ballas. Their quickstep was praised by the judges, but Bruno advised her to become more of an actress on the floor to help sell her future dances.
Article continues below advertisement
"I felt great. I'm so glad we got the quickstep out of the way and hopefully we'll be on to week three," Bristol told OK!. "I know I have to put more personality into it and put an edge on it."
OK! NEWS: DWTS RECAP — CELEBS DEBUT ON DANCE FLOOR IN FALL PREMIERE
Bristol admitted she's had typical DWTS aches and pains: "This week my feet are swollen and I'm exhausted."
On the show, Bristol and Mark were shown traveling to Alaska, where the dance pro met her famous mom, Sarah. Monday night, Sarah came to L.A. to watch Bristol at work. Of her mom's visit, Bristol smiled, "it was great. It was comforting to have her in the audience and hopefully she can make it to another show."
OK! NEWS: AUDRINA PATRIDGE ON DWTS: "I'M CONSTANTLY EATING"
Actor Kyle Massey and Lacey Schwimmer also got a 22 for their quickstep. It was a strong score but judge Len Goodman warned the Corey in the House star that he was flat-footed and the dance "lacked any style, but I liked it."
Brandy and Maksim Chmerkovskiy seemed pleased backstage with their score of 21 for the jive, even though the singer/actress was shown in rehearsal footage arguing with her partner and calling him an a******!
Article continues below advertisement
OK! NEWS: JENNIFER GREY FEELS CONNECTED TO PATRICK SWAYZE THROUGH DWTS
She cleared the air after the show, telling OK! there's no problem between them: "We're a team!" Maks said, "I'm learning something new about her every day, she's learning something new about me." Brandy said, "I love the jive. I wish I could do it again and again." Carrie Ann, however, deemed their dance "a little sloppy."
Rick Fox and his partner Cheryl Burke also scored a 21 for their jive. The basketball player revealed in rehearsal footage that he has a tendon problem but the couple worked around it for a successful dance that judge Len called "compact, fun, and full of energy."
OK! NEWS: KYM JOHNSON'S DWTS DIARY: THE HOFF'S BIG CHA-CHA-CHANCE
Rick told OK! despite his old injury, "We were still able to kick our feet and challenge my whole body."
Article continues below advertisement
Another athlete, football player Kurt Warner, got a 21 as well. He and pro Anna Trebunskaya performed a jive that judge Bruno said "flowed so easily."
OK! NEWS: DAVID HASSELHOFF REHEARSES FOR DANCING WITH THE STARS
Florence Henderson and Corky Ballas took away a 19 for their graceful quickstep. "I'm just so grateful to this guy for getting me through it. There's so much to remember," said the Brady Bunch legend, whose sitcom star TV daughter, Susan Olsen, cheered her on from the audience.
Corky revealed the 76-year-old has built up her stamina: "I've asked her to get on the treadmill and she does it every day, 40 minutes. Today, after we did the quickstep and walked over to host Tom Bergeron, she wasn't even breathing hard anymore."
OK! NEWS: THE STARS GET READY TO REHEARSE THEIR RUMBAS
Judges deemed Margaret Cho and her pro Louis Van Amstel much improved this week, and awarded them an 18 for their jive. "We really tried. We focused on dancing our hearts out," said Margaret, who ditched the comedy to give a straight-up dance performance with Louis on Monday.
Article continues below advertisement
Mike "The Situation" Sorrentino and Karina Smirnoff also garnered an 18, with judge Carrie Ann telling the Jersey Shore star he was pigeon-toed and lacked musicality. The quickstep seemed a challenge for the reality hunk.
OK! NEWS: NIECY NASH IS ENGAGED TO "MR WONDERFUL" JAY TUCKER
But it was singer Michael Bolton who landed in the doghouse, literally and figuratively, as his jive performance — which showed him pretending to be a dog leaving his house — had judges on the attack. He got a lowly 12, with Bruno saying bluntly that it was "the worst jive in 11 seasons. I hated it."
After the show, Michael sighed of the judges," they were unusually harsh." The singer's loyal partner Chelsie said Bruno's comments were "uncalled for. Michael wants to be here; he wants to do well. It would be one thing if he had a bad attitude and he was like, ah, screw this, but he's trying."
OK! NEWS: THE HOFF CHANNELS ELVIS PRESLEY IN DWTS
Michael added of his Monday night experience, "I couldn't wait to get out there and smile and relax but I didn't get any love for it. No violin here, what it is is what it is. I have no regrets about the doghouse and chasing the bone. Chelsie was hiding from me the entire dance. It was hilarious. It was adorable."
The pop icon now hopes fans will pull him through to next week despite the low score. Tune into Tuesday night's show to see if Michael has to sing his swan song on DWTS or another celebrity has to go home instead.
By Carole Glines