NEWS
Everything We Want to Know About Benedict Cumberbatch—His Co-Stars Tell All!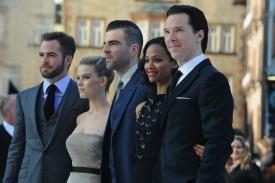 Ah Benedict Cumberbatch. You mystery of a man! We know he's a fantastic actor, but we want to know more and more every day about this brilliant guy.
So we looked to the people that know him best—his co-stars. We're not sure how much he had to pay the entire Star Trek Into Darkness crew to say such nice things about him, but it must be a hefty sum! They all have nothing but delightful words about the guy who plays a truly evil villain in the movie.
Article continues below advertisement
Need one more video for further proof?
Photos: The super hot guys of Teen Wolf
And it's not just the STID set! From one of the very best Sherlock episodes, "A Scandal in Belgravia", co-star Lara Pulver discusses her chemistry with Benedict:
Now Lara is an incredible actress, but we're pretty sure Benedict would have great chemistry with a rock.
Yes.
Who is your favorite co-star of Benedict's? Tell us in the comments below or on Twitter @OKMagazine.