NEWS
Find Out Who Won the HOH and Which Two Big Brother Nominees Are on the Block!!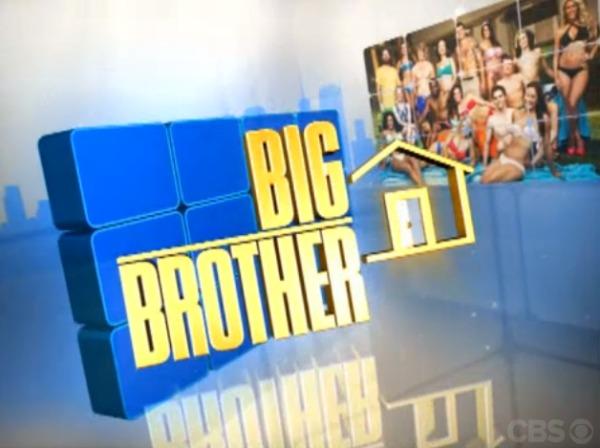 Article continues below advertisement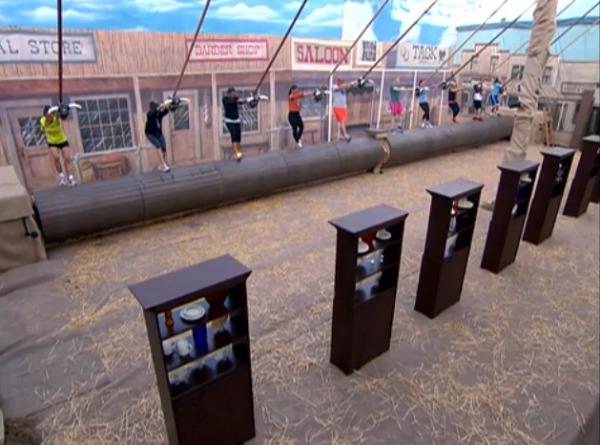 Everyone knows they need the power to stay safe—especially Candice and Spencer.
The former HOH, Aaryn, can't play and she's hoping her newly forged frenemyship with Helen continues.
Back to the competition!
"My butt's going to feel nice and plump tomorrow!" says GinaMarie.
OK! News: See What Nick Uhas Has to Say About GinaMarie's Crazy Crush on Him
Suddenly the giant wheel speeds up, then reverses direction. Amanda points out that players start dropping like "drunken cowboys after a long night of drinking."
Spencer falls off. Then Candice. Followed by Helen, Elissa, Amanda, Judd and Andy.
While we wait to see if GinaMarie, Jessie or McCrae lasts the longest, let's see what prize the first three players off the wheel win for losing, as Julie Chen promised.
Watch: Julie Chen Talks About the Big Brother Controversy Tearing the House Apart
Spencer opens his box and discovers he must speak through a bullhorn until after the nomination ceremony. Candice wins $5,000 (much to Aaryn's chagrin). And Helen wins a backyard barbecue for herself and three other houseguests.
Article continues below advertisement
Now who will win the really important prize of HOH?
Not Jessie since she tumbles off the wheel next. GinaMarie then tries to make a deal with McCrae, but he won't budge despite her promises to keep him and his showmance Amanda safe.
Maybe he should have done it because he eventually falls.
That means GinaMarie is the new Head of Household!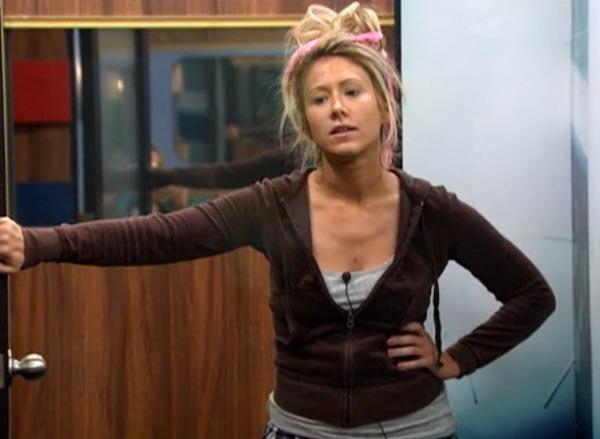 "This is, like, a dream come true," gushes GinaMarie. "I am so excited!"
Aaryn is also "so excited" that her strongest (only) ally has won.
Amanda is "a little nervous" because GM's a wildcard and you never know who she's going to nominate.
Helen, of course, immediately sucks up to GinaMarie so she can "shape" her game. Helen better cool it with the conniving, don't you think?
Watch: Players React to Aaryn's Racist Rants
Aaryn and GinaMarie powwow and we find out this week's target. "We were going extinct," says former queen bee Aaryn. "Candice is going home."
Article continues below advertisement
And so the axe continues to grind.
But who will be up on the block with Candice? Spencer's name is mentioned, but we need to check out GinaMarie's HOH room before figuring it out.
GinaMarie gets weepy over a framed photo of herself with Nick. Aaryn laments that all her hard work to make GinaMarie move on has been washed away.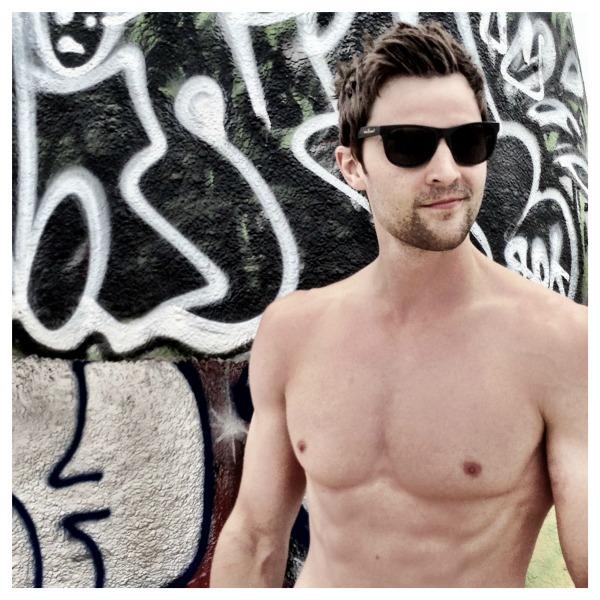 Then Andy helpfully verbalizes what everyone is thinking. "GinaMarie is 32 years old, but all the things in her room insinuate that she's 15. She's got crowns from pageants, dresses from pageants," he says. "She's got music that a 15-year-old girl would love (Christina Aguilera Strip!) and she's got a picture of a boy that she had a very intense crush on for a very tragic couple-week period."
OK! News: Find Out What Modern Family Star Jesse Tyler Ferguson Thinks About Looking Like Big Brother Player Andy!
After that sideshow ends, it's back to the house. This week groups seem to be intermingling a lot more than normal. Elissa's hanging out with GinaMarie, Andy is jumping back and forth, Spencer and his bullhorn are hanging with Helen.
Meanwhile, Amanda and Jessie are at each other's throats over Jessie's attempt to try to get Amanda taken out of the house right before last week's live votes. Amanda, in typical fashion, gets aggressive with her. Not exactly a way to take yourself out of the spotlight after you had just been up on the block (thanks America!)…
Article continues below advertisement
OK! Exclusive: Rachel Reilly Discusses the Game with Former Houseguest Nick Uhas
McCrae defends Amanda to Jessie (and reprimands Amanda later in private), ensuring that when the tide turns, the showmance will be put up on the block together. Amanda and McCrae's iron-fisted rule over the house is getting a bit old so hopefully that will happen very soon.
It's nice to see Jessie come a bit alive with some fight after being such a wallflower for so long.
Now it's time for the Nomination Ceremony. Who will go up on the block with GinaMarie's obvious first choice, Candice?
The loser is…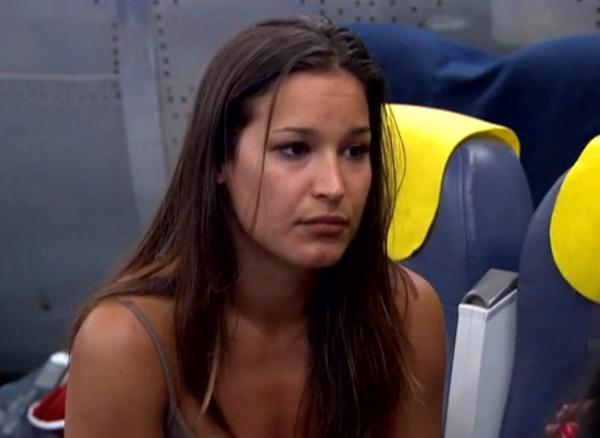 Jessie!
GinaMarie tells Candice she questions her loyalty to some of the people in the house and thinks she's a drama queen. She then tells her "baby girl" Jessie that she's nominated because she's a flip-flopper.
"I'm just going to brush off all of the crazy things she said about me," says Candice.
Jessie says she's going to fight and that she's not going to roll over and let Amanda do as she pleases to her game.
Who should this week's MVP, America, choose as the third nominee? Who will win the Power of Veto? Follow @writeadr, @RachelEReilly and @OKMagazine for more Big Brother developments, show recaps and other exclusives and then share your opinions!