NEWS
Here's What Would Happen If John Travolta Introduced All Of The 2014 Oscar Winners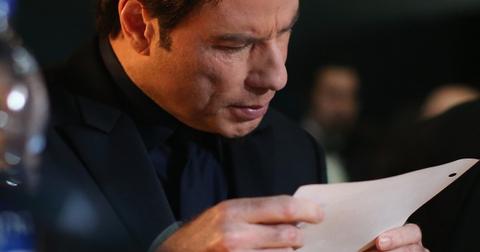 And just like that, "Please welcome the WICKEDLY talented, Adele Dazeem," became a meme. You know what we're talking about right? That time America's dancefloor sweetheart John Travolta butchered Broadway's wickedly talented princess Idina Menzel's name on the 2014 Oscars telecast? Real quick, let's refresh that memory:
radar_embed service=brightcove src="http://c.brightcove.com/services/viewer/federated_f9?isVid=1&isUI=1" width="480" height="270" fv="videoId=3283529204001&playerID=58264559001&playerKey=AQ~~,AAAAAASoY90~,_gW1ZHvKG_0UvBsh7aZU7MXZe77OcsGq&domain=embed&dynamicStreaming=true"
Article continues below advertisement
OK! News: See The Full List of the 2014 Oscar Winners
So what would have happened if America's First A-List 747 Pilot was forced to introduce Barkhad Abdi? Or Lupita Nyong'o? Or—god forbid—Hayden Panettiere? Well the good people at Slate.com have created the future Webby nominee & award winning app "Travoltify Your Name" and we thought it'd be a good idea to run some of those tough-to-pronounce names through the generator and see what comes out. Ladies and gentlemen, your 2014 Oscar Winners, brought to you by America's systematic, hydromatic, ultramatic, award-winning actor, John Travolta:
Article continues below advertisement
Your Best Supporting Actor winner is...Jared Leto Jed Lopeez for Dallas Buyer's Club!
Your Best Supporting Actress winner is...Lupita Nyong'o Louisa Nelseem for 12 Years a Slave!
Your Best Director is... Alfonso Cuaron Antonio Crawzford for Gravity!
Your Best Actor is...Matthew Mcconaughey Michael Mozaleen for Dallas Buyer's Club!
Your Best Actress is...Cate Blanchette Chloe Brazent for Blue Jasmine!
And just to make it interesting, let's throw the 2014 Oscars Performers in the mix too! Introducing:
Paige! (that's be P!nk) and Patrick! (Pharrell) and Kaitlyn Orteez! (Karen O) and Blaine Mceezald! (Bette Midler) and... drum roll please... the incomparable, Adele Dazeem! 
What do you think of Travolta's little flub? Do you think he and Idina Menzel will make it through the rubble? What was your favorite moment of the Oscars? Tell us in the comments or tweet us @OKMagazine.