NEWS
Joe Exotic Says Legal Team Will Request Presidential Pardon From Donald Trump Next Week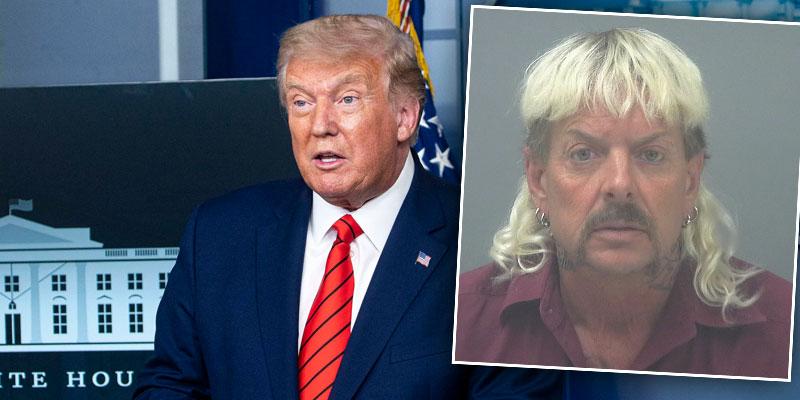 If President Donald Trump supports the lesbian, gay, bisexual, transgender, transsexual and queer communities he will issue a pardon to Joe Exotic.
That's the challenge from the convicted Tiger King felon, who is serving a 22-year sentence on murder for hire and animal abuse convictions at Federal Bureau of Prisons facility in Texas.
"My team is delivering my pardon application to President Trump in the next week requesting a Presidential Pardon," Joe, 53, said via email.
Article continues below advertisement
"If he wants to show the country and the world he is about honest justice and is not against the LGBTQ community, he will sign it the minute it hits his desk so I can be an advocate for justice reform and prison reform."
CAROLE BASKIN AND CARDI B FEUD OVER THE INVOLVEMENT OF BIG CATS IN THE 'WAP' MUSIC VIDEO
The Netflix star has previously asked for help from Cardi B and Kim Kardashian.
In a recent interview, Joe's husband, 23-year-old Dillon Passage, said his lover's legal team planned to drive a "car all the way to D.C. to deliver it in person."
"We all know the situation, the people who are actually in Joe's life," Passaged added. "We know he was confronted with this plot to take out Carole Baskin."
Passage also claimed Joe was "in a really depressed mental state" and "taken advantage of by someone he thought he could trust" when it came to his legal mishaps.
THESE 19 CELEBS MAY HAVE JUMPED ON THE BOOB JOB TRAIN
Passage alleged, "There is loads of evidence that proves it, that was not used in the court case, that was thrown out by the judge."
Article continues below advertisement
As OK! reported earlier, graphic photos provided to OK! show a bloody and beaten Joe after a recent incident after he was transferred to Texas in March from Grady County jail in Oklahoma.
"I was sexually assaulted by a guard in Grady County (Oklahoma), beat the f*ck up and stripped naked," Joe said via email to Gay TV, and provided to OK!.
"I was tied in a chair (for) so long the skin came off my arms … and then locked in a room naked for eight days sleeping on a cold metal shelf on the floor with dried feces and sperm on it from so many others before me. There is no mental help there—it's just abuse."