NEWS
Family War! Lady Gaga's Father Supports Trump, Even After He Slammed The Pop Star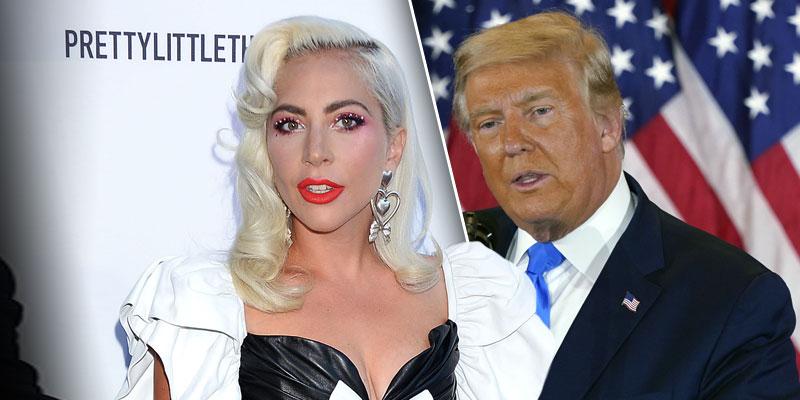 Rain On... her parade! Lady Gaga's father, Joe Germanotta, took to Twitter to share his support for President Donald Trump one day after he made disparaging comments about the political pop star, who has been very vocal in her support for Joe Biden.
"@realDonaldTrump 2020," Germanotta tweeted on Tuesday, November 3. "You may have noticed my political and spiritual beliefs are different. liberty and freedom of choice would not be political," he added in another tweet one hour later.
Article continues below advertisement
The "Rain On Me" singer joined Biden and Harris in Pittsburgh, Pa., to greet college students and perform for the Vice President's campaign on Monday, November 2. "To all the women, and to all the men with daughters and sisters and mothers — everybody, no matter how you identify, now is your chance to vote against Donald Trump," she said, "a man who believes his fame gives him the right to grab one of your daughters, or sisters or mothers or wives by any part of their body.
Article continues below advertisement
The songstress also took to Instagram to share a clip from her speech in Pittsburgh on Election Day. "BIDEN HARRIS 2020," she captioned the video. "Today is the last day to make your voice heard. If you don't have a plan, go to gettothepolls.com right now, and tell all of your friends!"
TRUMP VS. BIDEN — A LOOK AT THE SEXUAL HARASSMENT ALLEGATIONS MADE AGAINST THEM
Other stars, including Eva Longoria, Julia Louis-Dreyfus, John Legend, Kerry Washington, Mariska Hargitay, Common, Jennifer Hudson, Billie Eilish, Tracee Ellis Ross and Billy Porter, previously endorsed Biden after he became the official Democratic nominee in August. Jennifer Aniston, Jennifer Lawrence and Chelsea Handler are amongst many other Hollywood stars who shared their support for the Democratic candidate.