NEWS
Mike Fisher on Marrying Carrie Underwood: "I'm With My Best Friend"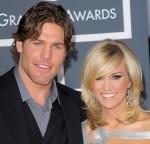 Carrie Underwood's new husband, hockey player Mike Fisher, has opened up about the couple's big day — including his pre-wedding jitters.
The pair married before 230 guests at a luxurious resort in Georgia, but the Ottawa Senators star felt anxious before saying his vows.
OK! NEWS: CARRIE UNDERWOOD & MIKE FISHER WED
"The only part I was nervous about was everybody watching you," Mike told the Toronto Sun newspaper. "I'm not one for crowds and being at the center of attention. But we were more thinking about each other.
Article continues below advertisement
"I wasn't really nervous, to be honest. I was excited to be married. I think more people were definitely watching her."
OK! NEWS: INSIDE CARRIE UNDERWOOD'S $500,000 WEDDING
Mike reveals how difficult he and Carrie found it to limit the invitations. "A couple of her close friends are touring now, so they obviously weren't able to be there, but she had all her close people that she wanted to be there, and I did too," Mike says.
But he reveals it was his and Carrie's dream day: "The whole day was great. It was everything we both wanted it to be.
OK! NEWS: MIKE FISHER'S MIAMI MANSION BACHELOR PARTY
"The whole weekend is almost like a blur," he added. "The ceremony was really nice, the pastor did a great job, the reception was a lot of fun. Just to have everyone close to us around was a big deal. A wedding's not nearly as much fun without those close family and friends with you."
Article continues below advertisement
Carrie and Mike hosted a "mix and mingle" event on the Friday night, plus a golf tournament on Saturday morning, with about 60 to 70 participants taking to the course. But Mike only made it through 12 holes.
OK! NEWS: CARRIE UNDERWOOD'S HONEYMOON SURPRISE
"I didn't play 18 because I knew I'd be too tired," he said. "It was a long day. I needed to go relax a bit."
The newlyweds then jetted off to Bora Bora for eight days, before relaxing for three days in Napa Valley.
So how does it feel to be a married man? "It's awesome," he says. "I'm with my best friend and I love her to death. There's nothing better, for sure."