NEWS
5 NYE Specials To Watch Tonight Like New Year's Rockin' Eve With Ryan Seacrest, MTV's New Year's Code and More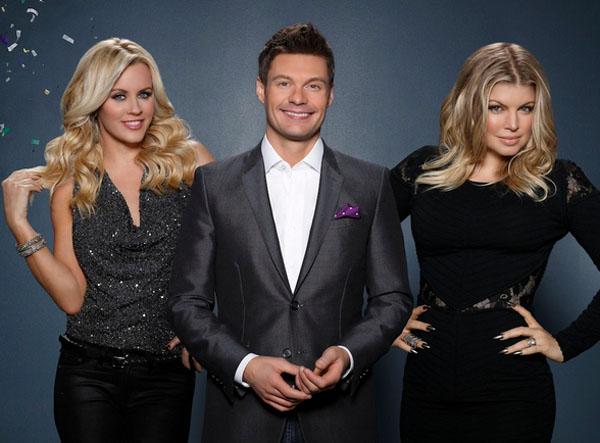 If tonight's New Year's Eve plans do not involve a sparkly dress and/or a crazy expensive party, you'll be plenty occupied between these 5 NYE specials airing across 5 major TV networks. And if you are going out? DVR them and watch them later while you're recovering from too much beer, duh! Here's the scoop!
Photos: The Best Celebrity Tweets of 2013
NBC New Year's Eve with Carson Daly. 10pm on NBC. Carson Daly and Jane Lynch team up to host NBC's special, featuring performances by Mariah Carey, Blake Shelton and more surprise guests.
Article continues below advertisement
Rockin' Eve With Ryan Seacrest. 10pm on ABC. Ryan Seacrest hosts live from Times Square with Jenny McCarthy while Fergie holds down the fort on the left side of the country. Ariana Grande, Capitol City, Daughtry, The Fray, Jason Derulo, Fall Out Boy, Florida Georgia Line, Jennifer Hudson, Enrique Iglesias and Robin Thicke perform.
OK! Exclusive: MTV's NYE Hosts' 2014 Predictions for Miley and Kimye
New Year's Code. 10pm on MTV. First they'll air an all new one-hour long NYE-themed episode of Girl Code, followed by a live telecast from Times Square hosted by the hilarious Carly Aquilino and Charlamagne the God. Get exclusive details on the hosts right HERE!
youtube=https://www.youtube.com/watch?v=o2gvvtAPitY&w=640&h=360
TeenNick Top 10 New Year's Eve Countdown. 11pm on Nickelodeon. If live telecasts are too cheesy for you, make sure you're watching Nickelodeon, where Nick Cannon will countdown the ten best music videos of the year, voted on by fans, in a pre-taped special. He'll perform, too.
Photos: 23 Dresses Perfect for New Year's Eve
New Year's Eve Live. 11pm on Fox. Mario Lopez hosts from Mandalay Bay in Las Vegas, while cameras in NYC simultaneously capture footage of the ball in Times Square. Also? Panic at the Disco, J. Cole, Krewella and New Politics will take the stage.