NEWS
The OK! Awards: Are the Pretty Little Liars or Zooey Deschanel Your Dream BFF of 2012?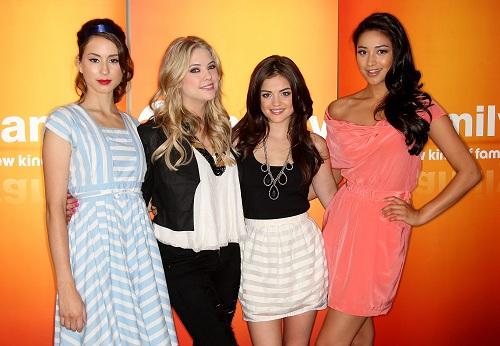 As another amazing year in pop culture comes to a close, we want to celebrate our very favorite moments! We bring you the OK! Awards. Nominations -- and arguments -- from our staff are below. We will be posting the nominations for a different category alll week at 12 pm, and we want you to vote for your favorites. Winners* will be announced Tuesday, Jan 1.
Category 6: Dream BFF of the Year (TV)
1) Ashley Benson, Troian Bellisario, Shay Mitchell and Lucy Hale (Hanna, Spencer, Emily and Aria on Pretty Little Liars)
Article continues below advertisement
Nominated by: Lauren Brown, Site Director
Lauren Says: "Those girls get stalked, arrested, accused of murder, kidnapped and they still always manage to make time for each other and have the best time. Friends like that are near impossible to find!"
2) Zooey Deschanel (Jess on New Girl)
Nominated by: Dee Clarke, West Coast Editor and Lauren Metz, Writer
Dee Says: "I think she would be fun to hang out with on a Saturday afternoon, just doing girly stuff."
Lauren Says: "Everyone needs an adorkable pal!"
3) Mindy Kaling (Mindy on The Mindy Project)
Nominated by: Kelli Acciardo, Deputy Editor
4) Kaley Cuoco (Penny on The Big Bang Theory)
Nominated by: Laura Sassano, Writer
Laura Says: "She's funny, she goes after her dreams, and she knows a bunch of guys who could fix my computer."
5) Casey Wilson (Penny in Happy Endings)
Nominated by: Lea Palmieri, Video Editor