NEWS
OK! Old School: Happy Birthday, Paige Davis! A Look Back At Her Amazing Home Makeover Show, Trading Spaces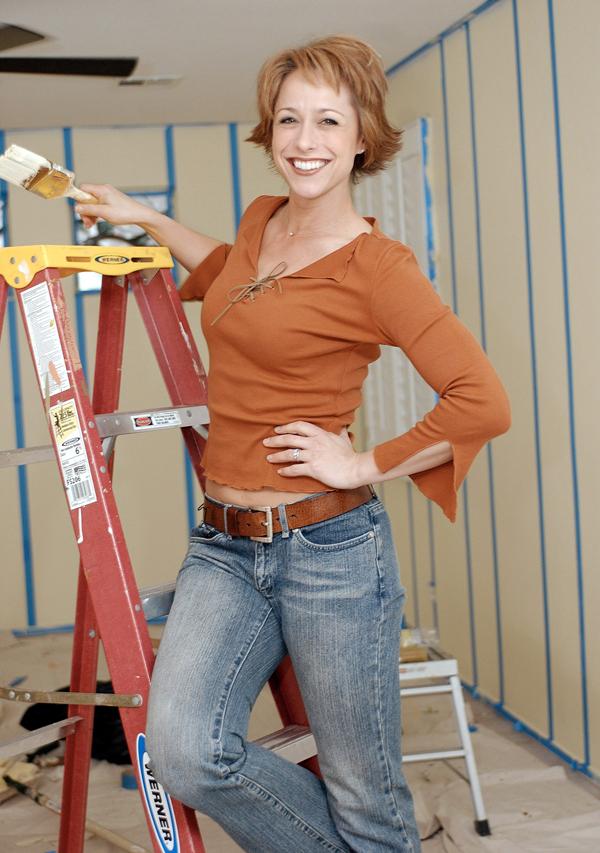 I've written many OK! Old School posts about some of my most favorite shows from the 2000's, like all those short-lived MTV reality series and such. But I can't believe it's taken me this long to write about TLC's Trading Spaces. It was the first-ever home makeover show I remember watching, and was also one of the only shows I remember watching with my family, which was a rare occurence because when the show was on I was an angsty teen, so...you know how that goes.
Article continues below advertisement
Photos: The Real Housewives Then and Now
And as we celebrate Paige Davis' birthday today (she hosted the show from 2001-2004 and then again in its final season in 2008), let's look back at the amazingness that was Trading Spaces. They don't make 'em like this anymore, kids...
Firstly, the premise of the show was that two sets of neighbors would go into each other's homes and redo a room with the help of one of the show's professional interior decorators. They'd also have help from one carpenter, a budget of about $1,000 dollars, and 2-3 days to finish the task. The kicker? The couple whose room was getting redone had no say in what it would look like whatsoever.
Watch: A Look Back at Bravo's Queer Eye for the Straight Guy
This was one of the issues with the show but also what made for great television. You didn't get to choose the designer or the design you wanted. Everyone's least favorite was Hildi Santo-Tomas, and watching the people learn that she'd be the one redesigning their room was a priceless moment. You felt for them. I forever have engrained in my mind that time when she literally glued straw to someone's walls. That couple wasn't happy.
Article continues below advertisement
And like, WTF was this? Oh you know, just another Hildi masterpiece.
Photos: 16 Things You Didn't Know About Roseanne
My personal favorite designer was Genevieve Gorder. Maybe it was because she was pretty and funny and really likeable on TV, but also her design aesthetic was really great too. I always was like, "If I ever go on this show, I want her." Which is funny because I was like 13 at the time and clearly didn't have my own home. (Oh and PS, that brunette in this clip is Alex McLeod, who hosted the show for only the first season. Doesn't she look like Robin from How I Met Your Mother?!)
youtube=https://www.youtube.com/watch?v=fIs57tGh7zk&w=480&h=360
Vern Yip was a good choice too. When you got both Vern and Gen in one episode, you were really excited. Those contestants were  the luckiest.
Sometimes the show would have celebrity guests, which was a nice twist too. Like this one episode with Natalie Maines from the Dixie Chicks.
youtube=https://www.youtube.com/watch?v=G-fYe3oZv4k&w=480&h=360
Article continues below advertisement
OK! Old School: Mya's Best Musical Moments Ever
And remember Ty Pennington, the hottest carpenter the world ever did see? This was his show before he was on Extreme Makeover: Home Edition!
youtube=https://www.youtube.com/watch?v=XSM2Xgji-UU&w=480&h=360
And let's not forget Paige Davis, the birthday girl. She was the show's host, but she helped out with painting and working on the rooms, too. Here's a few of her greatest moments. Oh, this just reminded me, remember designer Frank? He was so good too!
youtube=https://www.youtube.com/watch?v=CNOiCBaCyeE&w=480&h=360
Trading Spaces paved the way for other home makeover shows like  Bravo's Interior Therapy, ABC's Extreme Makeover: Home Edition, and Love it Or List It (and HGTV's entire catalog, basically). But let's never forget that the roots of those shows all started in 2001 with this TLC gem. Seriously, people. Never. Forget.
OK! Old School: The Best Moments from Chandler Bing and Uncle Jesse
What are your birthday wishes for Paige? Do you miss Trading Spaces too? Tweet us @OKMagazine.