NEWS
Prince Charles Is Still Paying Meghan Markle and Prince Harry's Bills After They Scored $150 Million Netflix Deal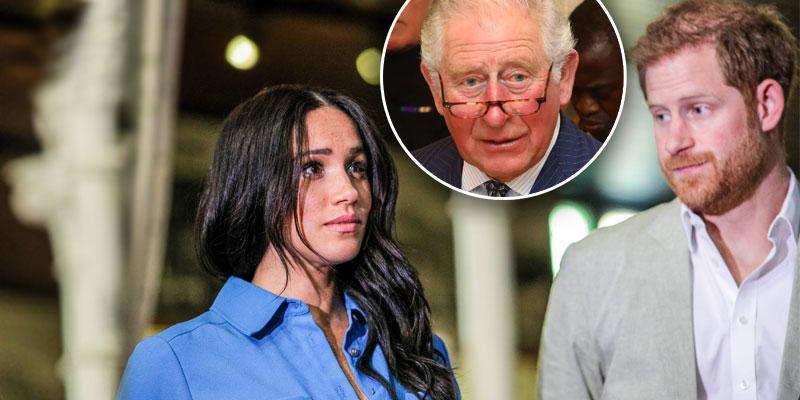 While Prince Harry and Meghan Markle are celebrating their $150 million production deal with Netflix, Prince Charles, who is still financially supporting his son and daughter-in-law, is not happy that he found about the staggering large deal like the rest of us — from the press.
"You would think Harry would give his dad the heads up that the deal was signed and that he wouldn't need family money anymore, but that didn't happen. After the couple made a big fuss about wanting to be financially independent and pay their own bills, neither one of them mentioned the deal, or the huge amount, to anyone in the royal family," sources tell OK!
Article continues below advertisement
PRINCE HARRY MAKES HIS NETFLIX DEBUT IN 'RISING PHOENIX' DOCUMENTARY FOLLOWING SANTA BARBARA MOVE
"One reason for all the secrecy is Harry and Meghan didn't want to be asked any questions about the deal. The family would have asked them, why is Netflix paying such a large amount to two people who have zero experience as producers? They also didn't want to hear the answer," adds a source.
"They are only being paid this massive amount of money because of their connection to the royal family. Meghan has always seen Harry's family as negative and controlling and so now does Harry. Although, there are a lot of good questions that should have been asked that probably were not. No company is going to pay $150 million to anyone without wanting something big in return. The fear amongst the family is Harry and Meghan might not realize it, but they are being paid to be ambassadors for the brand. The two of them will send up hosting cocktail parties for Netflix's show's like The Crown or their upcoming musical about Princess Diana. Plus, no one has mentioned to Prince Charles that he doesn't need to send those monthly checks anymore!"
PRINCE HARRY AND MEGHAN MARKLE ARE TRYING TO BUILD BRIDGES WITH THE QUEEN, REVEALS SOURCE
On September 2, The New York Times reported that the red-headed royal, 35, and the Suits alum, 39, recently signed a multi-year deal with Netflix, which will pay them to make various types of programming — documentaries, feature films, scripted shows, and more.
"Our lives, both independent of each other, and as a couple have allowed us to understand the power of the human spirit: of courage, resilience, and the need for connection," Markle and Harry said in a statement. "Through our work with diverse communities and their environments, to shining a light on people and causes around the world, our focus will be on creating content that informs but also gives hope."
Article continues below advertisement
PRINCE HARRY'ABSOLUTELY HATED' LIVING IN LOS ANGELES: 'THE TIMING WAS SO WRONG'
"As new parents, making inspirational family programming is also important to us, as is powerful storytelling through a truthful and relatable lens," they continued. "We are pleased to work with Ted and the team at Netflix whose unprecedented reach will help us share impactful content that unlocks action."
It's no surprise the pair want to branch out and try new careers ever since they stepped back from their royal duties earlier this year. In fact, the California native — who shares son Archie with Harry — was the narrator of the Disney+ docuseries Elephants, which premiered in April 2020, while Harry appeared in the Netflix documentary Rising Phoenix in August.