NEWS
Red Carpet Confidential: Melissa Joan Hart Relives Her Rebellious Stage And Offers Advice to Miley Cyrus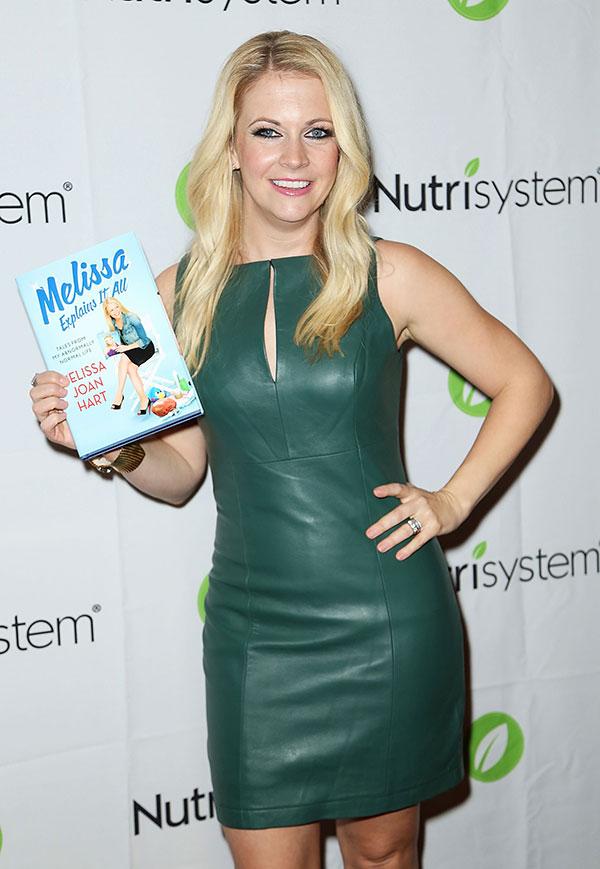 Melissa Joan Hart gives the headline-making antics of fellow former child star Miley Cyrus her stamp of approval.
"I think she's going to be fine," the actress, 37, tells me this week during her Nutrisystem-sponsored book party for her juicy tell-all, Melissa Explains It All: Tales From My Abnormally Normal Life held at Monkey Bar in NYC. "I think she's going through a rebellious phase, and we need to let it play out a little bit. She's very talented."
Article continues below advertisement
Of course, Melissa knows a thing or two about rebellious phases.
Poll: Would You Read Melissa Joan Hart's New Book?
She shot to fame on Clarissa Explains It All from 1991-1994 before heading onto Sabrina, The Teenage Witch from 1996-2003. (Psst! Her TV mom, Caroline Rhea, is here tonight, along with her real mom, husband, Mark Wilkerson, sisters and pal Nikki Blonsky.) After tying the knot with Mark in 2003, she had sons Mason, 7, Braydon, 5, and Tucker, 13 months, and now stars on ABC Family's Melissa & Joey.
In the book, Melissa admits to using Ecstasy before a party at the Playboy Mansion—and admits she was still high the following day when she shot the cover of Maxim in 1999. According to reports, she experimented with marijuana, Ecstasy, mushrooms and mescaline for over a year.
"I think everybody goes through that little rebellion phase," she says. "Whether you take that with you or you go on to another path, I think for me, I was able to navigate through it, and come out on the other end. I think it was a pretty normal rebellion, or as I put in the book, a careful rebellion."
OK! Exclusive: Melissa Joan Hart's Advice for New Moms
Any regrets?
"No," she says cheerily. "None at all, because I'm here today with the people I love and adore the most. I now added "author" to my list of accomplishments. I have three amazing kids, a strong marriage and a great career. I can't complain."
Here's my pic with Melissa from the event: