NEWS
Seth Meyers Reveals What He Doesn't Want To Happen His First Week Hosting Late Night!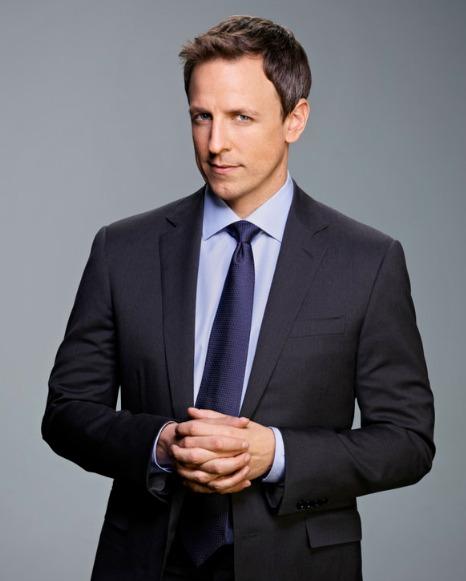 It's good to be Seth Meyers! He's moving from head writer/Weekend Update anchor at Saturday Night Live to take over as Late Night host beginning on Monday, February 24th. Perhaps you've heard that Jimmy Fallon is leaving to take over The Tonight Show? We kid, we kid. But, last month at NBC's Television Critics Association press tour, we were honored to get five minutes of Seth's time to find out how he's getting ready for his new job now that Jimmy has officially passed him the Late Night pickle!
Article continues below advertisement
OKMagazine.com: Do you have any rituals to help you get ready for your new job—and first show?
Seth Meyers: The nice thing is I have a full three weeks off before the first show because of the Olympics. But there are no real rituals. The big thing will be moving all my things from my Saturday Night Live office on the 17th floor to my new Late Night office on the 8th floor. I think that will be a way I find peace—just hanging pictures and just trying to make my new home feel like home.
Photos: Jimmy Fallon's Road to The Tonight Show
OKMagazine.com: Are you hoping for a crazy news story to break your first week so you have plenty to talk about?
SM: In a weird way, I wouldn't want the first week to be too easy because then you get off to a start and then everyone is like, 'OMG that's amazing!' If my first week at Saturday Night Live had been the Sara Palin stuff, I would never have lived up to it. I hope a big thing happens in like week four.
Article continues below advertisement
Photos: Seth Meyers Impossibly Fashionable Wedding!
OKMagazine.com: Have you thought about what you want your 'thing' to be—like your Top Ten List or Thank You Notes?
SM: We're developing potential staples. Obviously the 'Top Ten List' is the gold standard but I feel like you have to try 100 of those until you find one that hits and right now we're just trying to build up that 100. 'Thank You Notes' is such a great bit. That's one you never get jealous of and it never gets old. It's a perfect joke basket. And those are the sort of things you hope, over time, that you develop on your own.
5 Juicy Facts About Seth Meyers!
OKMagazine.com: You have an amazing first week of guests lined-up—we can't wait for Amy Poehler on night one—but do you have a dream guest?
SM: I want people from all walks of life but we'll see. I don't really want to list anybody because I don't want to jinx it!
Are you excited for Late Night with Seth Meyers? Tell us why by tweeting @OKMagazine or leave a comment below!