NEWS
Armie Hammer Exits Upcoming 'Godfather' Series 'The Offer' After His Alleged DMs Blew Up The Internet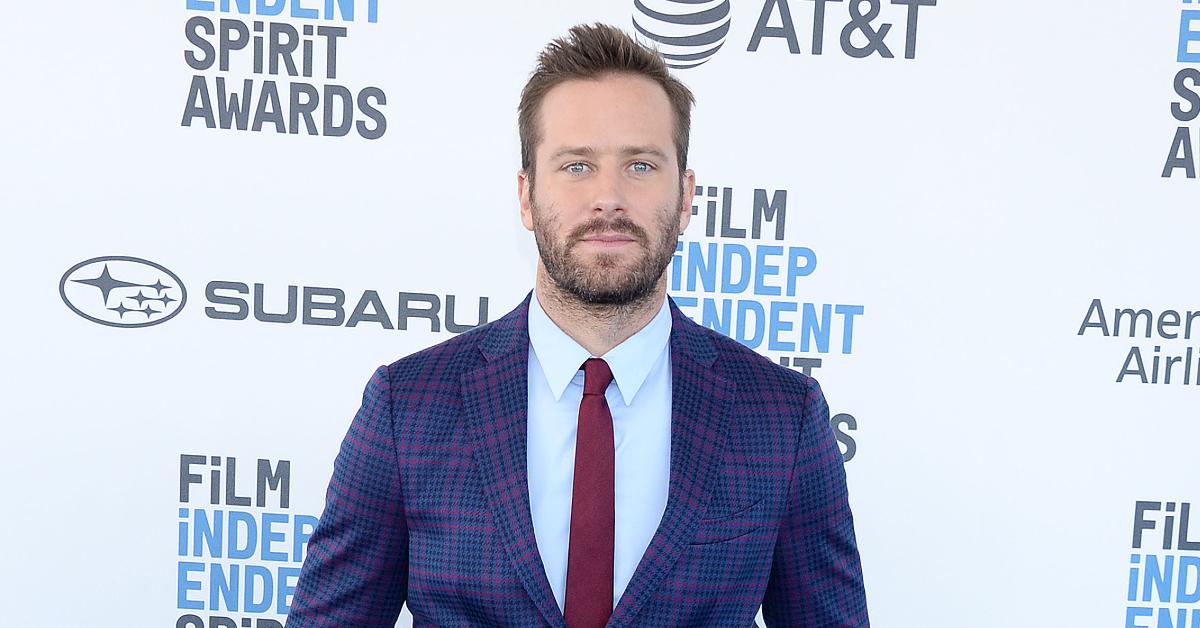 Armie Hammer has reportedly exited the upcoming Paramount+ The Godfather series, The Offer, amid his alleged DMs scandal.
Article continues below advertisement
Last month, it was announced that the 34-year-old would play main character producer Al Ruddy in the 10-episode series, which is about how the iconic 1972 flick was made.
This comes after Hammer stepped down from Shotgun Wedding.
Article continues below advertisement
"Given the imminent start date of Shotgun Wedding, Armie has requested to step away from the film, and we support him in his decision," a spokesperson for the upcoming Jennifer Lopez flick said.
Article continues below advertisement
Meanwhile, The Social Network star said he was "not responding to these bulls**t claims."
"But in light of the vicious and spurious online attacks against me, I cannot in good conscience now leave my children for four months to shoot a film in the Dominican Republic," he added. "Lionsgate is supporting me in this, and I'm grateful to them for that."
"These assertions about Mr. Hammer are patently untrue. Any interactions with this person, or any partner of his, were completely consensual in that they were fully discussed, agreed upon, and mutually participatory," Hammer's attorney stated.
"The stories being perpetuated in the media are a misguided attempt to present a one-sided narrative with the goal of tarnishing Mr. Hammer's reputation, and communications from the individuals involved prove that."
Article continues below advertisement
Article continues below advertisement
The Call Me By Your Name star found himself in hot water when Instagram user House of Effie posted screenshots from conversations that were allegedly between Hammer and an unidentified woman. In the messages, Hammer reportedly details killing a deer and eats its heart raw, in addition to other NSFW texts.
After the initial alleged DMs were leaked, several of Hammer's exes came forward with their own experiences, including Paige Lorenze, who claimed Hammer wanted to eat her ribs. Meanwhile, Jessica Ciencin Henriquez tweeted that the supposed messages are real.
Article continues below advertisement
Hammer landed himself in even more trouble when a leaked clip from his private Instagram account showed an unidentified woman — who he called "Miss Cayman" — in lingerie posing on his bed on all fours.
Later on, Hammer apologized for his actions. "I would like to clarify that the person in my video, which was stolen from my private Instagram, is not Miss Cayman," Hammer told the Cayman Compass. "I am genuinely sorry for any confusion my foolish attempt at humor may have caused."
"My deep sympathies to Miss Cayman, who I don't know, and to the entire organization as I had no intentions of implying she was actually Miss Cayman."
Article continues below advertisement
Hammer and his wife, Elizabeth Chambers, called it quits in July 2020 after 10 years of marriage. The former couple share children, Harper, 6, and Ford, 4.
Variety was the first to report that Hammer is reportedly exiting The Offer.