NEWS
'He Wanted To Find A Doctor To Remove My Ribs': Armie Hammer's Ex-Girlfriend Paige Lorenze Tells All About His Sick Fantasy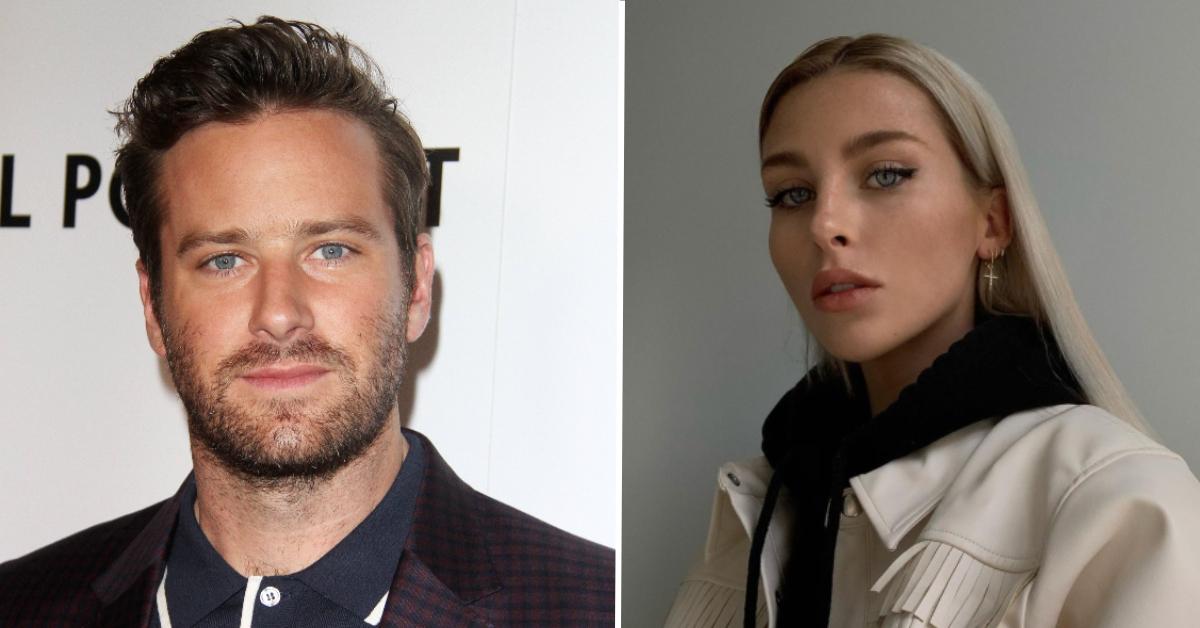 It's been a rough couple of weeks for Armie Hammer, as alleged messages from his past have resurfaced online. Now, Paige Lorenze, one of the actor's ex-girlfriends, is telling all about his apparent fascination with cannibalism.
The 22-year-old claims the Hollywood star, 34, brought up cannibalism on "multiple" occasions. "He said he wanted to find a doctor that would remove my ribs," she said. "He was telling me you can remove the bottom rib so he could smoke them, cook them and eat them. He kept saying, 'You don't need them.'"
Article continues below advertisement
Despite the weird — and unappealing — request, Lorenze said she ignored his remarks but had a bad feeling about the The Social Network star. "Armie made me feel anxious and confused," she said. "It was just icky, and my stomach was constantly in a knot. I knew I had to get out."
Lorezne had just gotten out of a relationship when the two struck up a romance in August 2020. "He tried to offer me comfort and said he wanted to make me feel safe," she revealed.
Article continues below advertisement
Soon after, Hammer — who split from his wife, Elizabeth Chambers, in July 2020 — used a knife to carved the letter "A" above her pubic area, according to Lorenze. "I felt like I was letting him down if I said no," she said. "It was extremely painful and traumatizing. He told me that he bragged about it to his friends."
Lorenze called it quits with Hammer in December 2020.
Now, the blonde beauty is in therapy and trying to comprehend how her relationship went from fun and exciting to downright scary. "Consent is really complex, and saying yes to something does not negate the trauma you might be burdened with after the fact," she said.
She added, "I have had to work really hard to come to terms with the fact that I am responsible for the trauma I experienced."
Lorenze is not the only past lover of Hammer's to come forward about his twisted fantasies.
Article continues below advertisement
"He said to me he wants to break my rib and barbecue and eat it," Courtney Vucekovich said about the dad-of-two. "He says, I want to take a bite out of you. If I had a little cut on my hand he'd like suck it or lick it."
Jessica Ciencin Henriquez tweeted, "If you are still questioning whether or not those Armie Hammer DMs are real (and they are) maybe you should start questioning why we live in a culture willing to give abusers the benefit of the doubt instead of victims. 🤔 TW// sexual violence."
Recently, Hammer made headlines after his alleged messages went viral. One supposed note read, "I need to eat your entire body. I need to touch every part of you, inside and out ... I want to bite pieces off of you," while another alleged message talks about Hammer killing a deer and then eating its heart raw.
INSIDE ARMIE HAMMER & ELIZABETH CHAMBERS'S $5.8 MILLION HOME: SEE PHOTOS
In another note — which has not been verified — Hammer referred to himself as a cannibal and told an unidentified woman he would "chase [her] down" and "pounce on [her] so fast."
Article continues below advertisement