COUPLES
'People Were So F**king Mean': Ben Affleck Recalls 'Sexist, Racist, Ugly, Vicious' Criticism About Ex Jennifer Lopez During Their Romance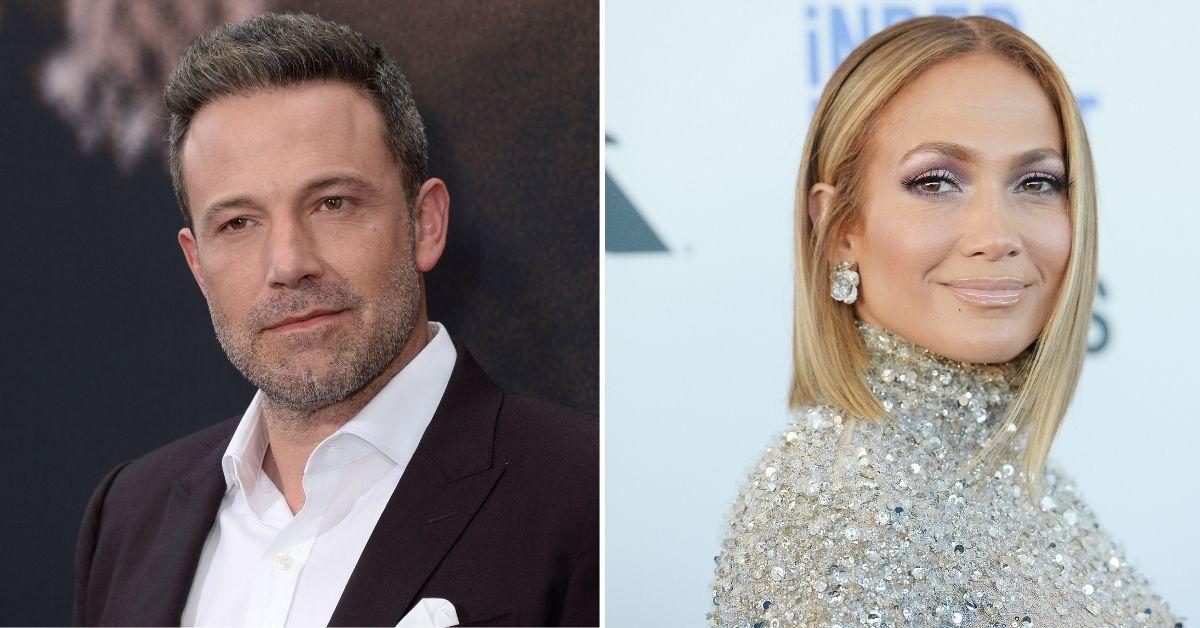 Although they broke up a long time ago, Ben Affleck still defended ex-girlfriend Jennifer Lopez and reflected on how poorly she was treated by the press when they were together.
Article continues below advertisement
"People were so f**king mean about her," Affleck said on The Hollywood Reporter's "Awards Chatter" podcast. "If you wrote it now you would literally be fired for saying those things you said."
"Now it's like, she's lionized and respected for the work she did, where she came from, what she accomplished — as well she f***king should be! I would say you have a better shot, coming from the Bronx, of ending up as like [Justice Sonia] Sotomayor on the Supreme Court than you do of having Jennifer Lopez's career and being who she is at 50 years old today."
Article continues below advertisement
The former couple had a high profile relationship from 2002 until 2004. They met while filming Gigli, but Lopez was still married to Cris Judd at the time.
Lopez later filed for divorce from Judd, and she and Affleck got engaged that same year. Affleck and Lopez famously postponed their wedding in 2003 days before the ceremony was scheduled to take place. They later split for good in January 2004 but maintained a friendship over the years.
Article continues below advertisement
"You know, there's always a story of the month, and me dating Jennifer Lopez happened to be that tabloid story at the time when that business grew exponentially," Affleck recalled.
"Still, to this day, [some] will go, 'I see you out there in the paparazzi and the pictures!' It's like, 'Yes, I left my house and took out the trash. It's not like I'm trying to—' And it's still like, 'You were taking a pap walk!' As if, if you leave your house, you're only doing so in the hope that you could be so lucky that you could end up as the sixth item in The Daily Mail. It's absurd!" he said.
Article continues below advertisement
Lopez appears to feel the same as her ex does about their relationship. "It was actually worse then," she recalled to InStyle in 2018.
"Now at least I can show you who I am a little bit. Back then you just believed anything you read on the cover of a tabloid. Many times it wasn't true, or it was like a third of the truth."
Article continues below advertisement
Meanwhile, Lopez is engaged to Alex Rodriguez and thinks that social media has improved their relationship.
"Now people get to see that this guy they thought was this hard-nosed athlete is, like, a goofy dad who loves his kids and celebrates his girlfriend," she said.
Article continues below advertisement
Lopez and Rodriguez had to postpone their wedding twice due to the coronavirus pandemic, but the good news is that they don't seem to be in any rush to tie the knot.
"Oh yeah, we've talked [not getting married] that for sure," Lopez said in December 2020. "I mean at our age, we've both been married before, it's like, do we get married? Do we not? What does it mean for us? And it's just, it comes down to like personal, like, what do you want to do?"