NEWS
Explosive Bombshells: Rachel Uchitel Details Tiger Woods Affair & Calls With His Ex-Wife In Part 2 Of HBO Documentary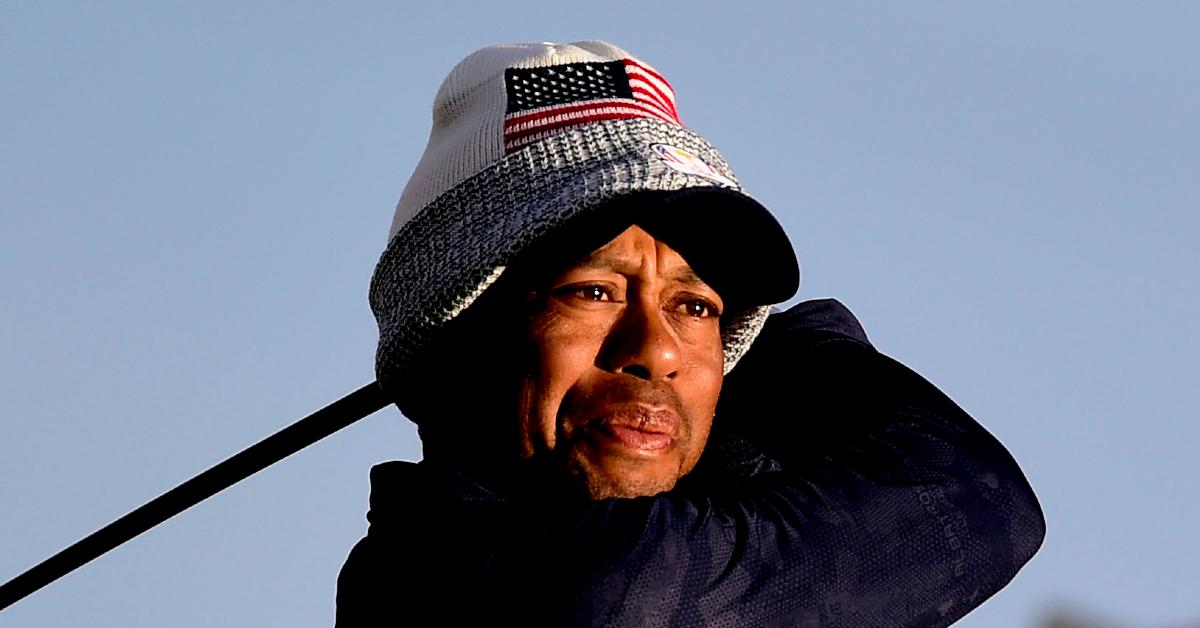 After the first part of the new Tiger Woods HBO documentary, Tiger, dropped major bombshells about the golfer — such as how he hypnotizes himself on the golf course and dumped his high school sweetheart by writing her a letter — part two was just as explosive.
Article continues below advertisement
The second part of the tell-all about Woods' rise and fall from fame begins with the athlete entertaining the prospect that he could have had a different career. 25 days after Woods buried his dad, Earl Woods, in 2006, he went to train with the Navy Seals at the Mountain Warfare Training Center in La Posta, Calif., ESPN's Wright Thompson recalled.
"Why is the greatest golfer running around playing G.I. Joe?" a navy seal asked.
Article continues below advertisement
The documentary also touched upon how Woods' career began in the first place.
"My name is Earl Woods," Earl told Jim Hill in 1978. "And my son Tiger is getting ready to revolutionize the sport of golf."
"He said, 'Before [Tiger's] through, he's going to rewrite all the record books … and I want you to come down and do an interview with him,'" Earl reportedly said, while Tiger was only two at the time.
Article continues below advertisement
"You don't get many phone calls that are like that," Hill recalled. "This wasn't a request. This was an order."
Hill visited the family the next morning and was surprised to see the child's impressive skills.
The same year, Woods appeared on The Mike Douglas Show and was only five when he was profiled by Golf Digest and featured on the Today show.
"I think the Tiger Woods story is a cautionary tale. Be careful about the image you create of yourself. Be careful to live lies. Be very, very careful because it can all come tumbling down," former National Enquirer editor Neal Boulton said.
Article continues below advertisement
"He was sick of trying to hide who he was, but he was so scared of the real Tiger not living up to the Tiger that everybody else thinks he is," pal Amber Lauria spilled.
Article continues below advertisement
Of course, Rachel Uchitel — Woods' former mistress — also shared her side of the story in the series.
"For the last 10 years, I have stayed quiet about this story, but at this point I have nothing left to lose," she began. "My name hasn't lost the stigma at all, it's always been, 'Rachel Uchitel, Tiger Woods' mistress.'"
The two met at a night club in New York City, and from there, their affair began. "One night I was working at the club and I saw Tiger sipping his drink, talking to nobody," she said.
"As I went to leave, he took my phone number and the car probably hadn't even gotten to the light at the corner, he started texting me," she added. "He said something like, 'When can I see you again?' It was intimidating, this was Tiger Woods. I knew he was married, I knew he had responsibilities. He said, 'I want you to fly to Orlando and I'll come see you there.'"
Article continues below advertisement
"That was the first night I had sex with him and I remember thinking with him, 'How am I ever gonna be with a mere mortal ever again?', because so many people put him on a pedestal and here he was in my bed and he was my Tiger," she said.
Uchiel apparently asked the sports star why he never checked in with his then-wife, Elin Nordegren. "He said, 'She doesn't ask questions like you, she's not like you,'" she claimed. "It occurred to me he wanted to have someone to check in with. I asked him a million questions and he wanted to give every single detail he hadn't been able to say in years or ever."
In order to get ahead of The National Enquirer printing a story about Woods' affair, Uchitel and Woods "had an extensive, 30 minute conversation" with Nordegren, "convincing her that I was not having a sexual relationship with Tiger."
"We talked about how I knew Tiger, how I knew his friends, how and why I was in Australia. The story came out and nobody looked at it. Between the stupid story and phone call with Elin, I remember thinking, 'Oh my god, we're gonna fly right over this,'" she said.
"Two days later, it was Thanksgiving, Tiger and I texted throughout the day saying we had a lot to be grateful for, we had gotten away unscathed in what could have been a complete nightmare and then I get this text message from Tiger saying you are the only one I ever loved," she added. "I remember feeling like things had never been better between us. Then he told me he was taking an Ambien and going to sleep."
However, when he phone rang later that night, it was Nordegren. "Instead of Tiger's voice, it was Elin and she said, 'I knew it was you,'" Uchitel recalled.
Article continues below advertisement
On top of that, Woods needed reconstructive knee surgery and had two fractures, Steve Williams recalled, but Woods played in the 2008 U.S. Open regardless and said, "Stevie f**k you, I'm winning this tournament" when the former caddie expressed concern.
The knee issues manifested into back problems, and Woods is said to have told Jack Nicklaus at the 2017 Masters champions dinner his career was likely done.
Article continues below advertisement
"I thought he was firing me as a golf caddie, not firing me as a friend," Williams recalled after Woods shut him out of his life. "To this day I find it a hard pill to swallow. Someone you spent 13 years with and gave all your time and all your effort."
Article continues below advertisement
Despite the ups and the downs, Woods managed to turn things around when he won the 2019 Masters and shared a hug with his son Charlie in what was a full circle moment.
"Just like the book it is based off of, the upcoming HBO documentary is just another unauthorized and salacious outsider attempt to paint an incomplete portrait of one of the greatest athletes of all-time," Woods' agent Mark Steinberg said last week.
The documentary was based on the 2018 biography written by Armen Keteyian and Jeff Benedict.