NEWS
Chelsea Handler Introduces 'The New Chelsea' As She Smokes A Joint Naked In Her Hot Tub: Watch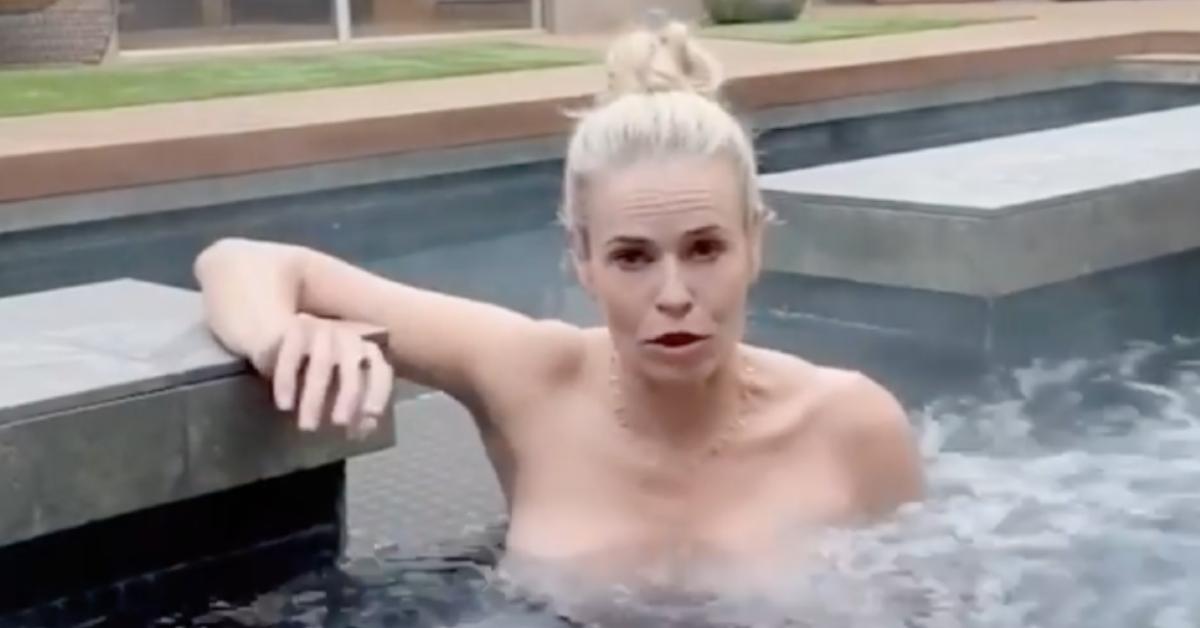 If there's one thing Chelsea Handler is good at, it's taking off her clothes to share a message. On Sunday, February 21, the comedian posted a video of herself completely naked in a hot tub while smoking a joint to promote her new stand-up special on HBO Max.
Article continues below advertisement
"There's a lot of differences between the old Chelsea and the new and improved Chelsea," she began to explain. "The old Chelsea used to find somebody annoying and then say to that person, 'you're so f**king annoying.' The new Chelsea doesn't. She takes a hit of her joint, takes a deep inhale and just breathes.
Article continues below advertisement
"The old Chelsea didn't like hot tubs, the new chelsea doesn't like them either. I'm just trying to be open minded. The old Chelsea didn't clean up after herself," she continued before telling her 4 million Instagram followers that they can find out more about the "new Chelsea" on her HBO Max "stand up special evolution."
The new Chelsea "does clean up after herself," Handler concluded before she got out of the hot tub. While making her way back into her house, a peach emoji covered her breasts and butt.
Article continues below advertisement
However, as she got farther from the camera, the emoji disappeared, displaying Handler's bare bum. Before the video cut off, Handler turned the corner, showing off her side profile and breasts, which were covered by the peach emoji once again.
"The new Chelsea just sold this house because the old Chelsea was getting a wee-bit too comfortable," the author, 45, captioned the nude video.
"The old Chelsea wouldn't have talked about herself in the third person and the new Chelsea doesn't want to either," she added before promoting her "special Evolution on @hbomax," which is "also available in Canada through @cravecanada."
As always, friends and fans took to the comments section to praise the blonde beauty. "I saw your butthole," author and comedian Sarah Colonna commented, to which Handler quipped: "@sarahcolonna1 and I haven't seen yours?"
Article continues below advertisement
Pussycat Dolls alum Nicole Scherzinger commented: "Omg I love u," while Patrick Schwarzenegger added: "Who videos this stuff," followed by laughing emojis.
Another user asked: "does weed give you this bod," to which Handler responded: "well, partially yes. Because I drink less. Except in Canada where I need margs after I ski!"
Handler certainly loves margaritas during her ski getaways. As OK! previously reported, she celebrated her birthday last year on the slopes while holding a margarita in one hand and a joint in the other without pants on.