EXCLUSIVE
'F*ck It, I Am Who I Am': By Putting Body Insecurities Over His Manhood On Blast, 'Dave' Star Lil Dicky Couldn't Be 'Happier'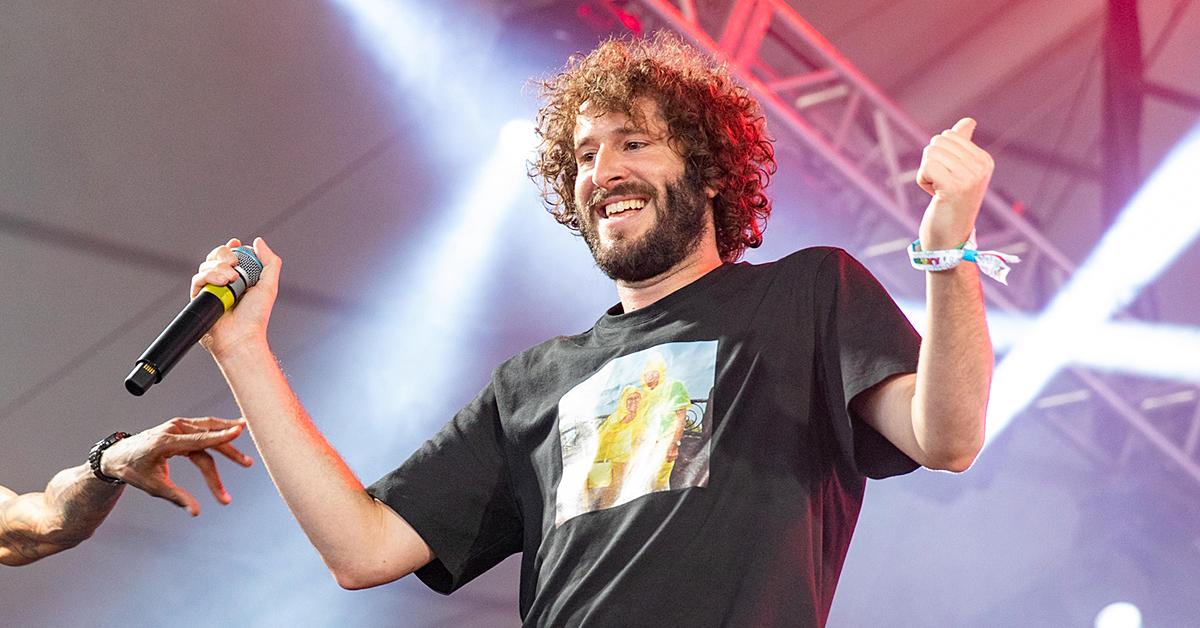 Dave Burd may go by the moniker Lil Dicky, but the rapper's range of talent — in addition to his ability to spread happiness through his work — is anything but minimal.
Article continues below advertisement
Burd skyrocketed to fame after he released his first single, "Ex-Girlfriend," on YouTube — the track garnered over one million views in under 24 hours — in 2013. Shortly after, he quit his job at an ad agency to pursue a full-time career in the music industry.
He dropped his first album, Professional Rapper, in 2015, and went on to collaborate with a slew of A-list artists, including Fetty Wap and Snoop Dogg, among many others, before creating his hit semi-autobiographical FXX show, Dave.
Article continues below advertisement
In the hilarious half-hour series, which premiered last year and became the most-watched season of a comedy series for FX Networks, Burd plays a fictionalized version of himself. The 10-episode season follows an extremely ambitious, relatable and goofy aspiring rapper's rise to fame. He faces both professional and personal challenges, including one of Burd's deepest real-life insecurities: a birth defect called Hypospadias — a rare condition in which the opening of the urethra is not located at the tip of the penis — which has plagued his relationship with women throughout his life.
While Burd — who co-created Dave alongside Seinfeld showrunner Jeff Schaffer — says he's very "open and vulnerable about body issues and all types of things as it relates to insecurity," he candidly admits to OK! that it took a while for him to get to where he is today.
Article continues below advertisement
"I'd be lying if I said it didn't take my full-on dreams to come true, and my life to be in the place where I felt I really had become who I always thought I was, before I was able to announce to the world my various issues," he dishes.
Article continues below advertisement
The "Freaky Friday" rapper explains that even though he had surgery on his penis as a baby, "body insecurity was truly top of mind at all times in [his] life." Let's just say, the lights were way down low when Burd invited others into his bedroom.
However, as he got older and "more comfortable" with his place in the world, he was able to "own up" to his birth defect and "not try to control the lighting when hooking up with a girl," Burd continues.
Article continues below advertisement
Still, he empathizes with men who struggle to get real about their own imperfections. "I would just say I've been both sides of the coin," he shares, explaining that he's "been the guy who had all these issues and just kept it to himself," and he's also "been the guy who like literately put it out on national television."
Burd was able to find inner peace once he accepted his most authentic self, flaws and all. "You only get happier the more you're like 'Okay, f*ck it. I am who I am, and this is who I'm going to be, and I'm going to not use my brain power to spend it worrying about X, Y or Z because I can't change that,'" he candidly tells OK!. "I feel like I just got happier."
Article continues below advertisement
He also became more successful. "[People ended up] relating to me more and enjoying me more interpersonally [and] probably enjoy[ed] my art more," the "$ave Dat Money" rapper continues.
Article continues below advertisement
"The show is my life story, and it's called Dave," he continues, adding that he feels "honesty" is the "best form of art." He also says he "would be selling a lie if [he] didn't mention this important aspect of [himself]."
Article continues below advertisement
"I feel like it was my destiny to inject as much joy and positivity and laughter into the world," he candidly shares. "All while somehow finding my own fulfillment and inner peace."
Article continues below advertisement
While the haters may call Burd "arrogant" for the way he exudes such confidence, the 33-year-old says that he simply has "a lot of self belief."
"If people ask me what I'm capable of, I'll say I'm capable of incredible things because I feel that way. I don't know why I'm capable of incredible things, but I'm lucky," he continues. "I have no idea why I am talented," he reiterates, "but I am, and I'm aware of it."
Article continues below advertisement
As he continues to promote self-acceptance through his work, Burd partnered with Dollar Shave Club for their #MenGetReal campaign, which Burd says is about men "being open and honest about things."
Article continues below advertisement
Burd realizes that flaunting your flaws on national television may not be for all men, but he says a great first step is investing in Dollar Shave Club's Oil-Free Moisturizer with SPF 30, or as he calls it: "the face moisturizer that has the sunscreen in it."
"I just realized later in life that I don't sunscreen, [and] I realized that you should be wearing sunscreen everyday, but I never think to put on sunscreen, so it's nice to have a moisturizer that just does that," the rapper said of his favorite product.
Talk about feeling as free as a Burd!