NEWS
N Magazine Cover Star Dave Portnoy Calls Publication 'Spineless' After They Apologize For Featuring Him, Barstool Boss Tells Haters To 'F**k Themselves'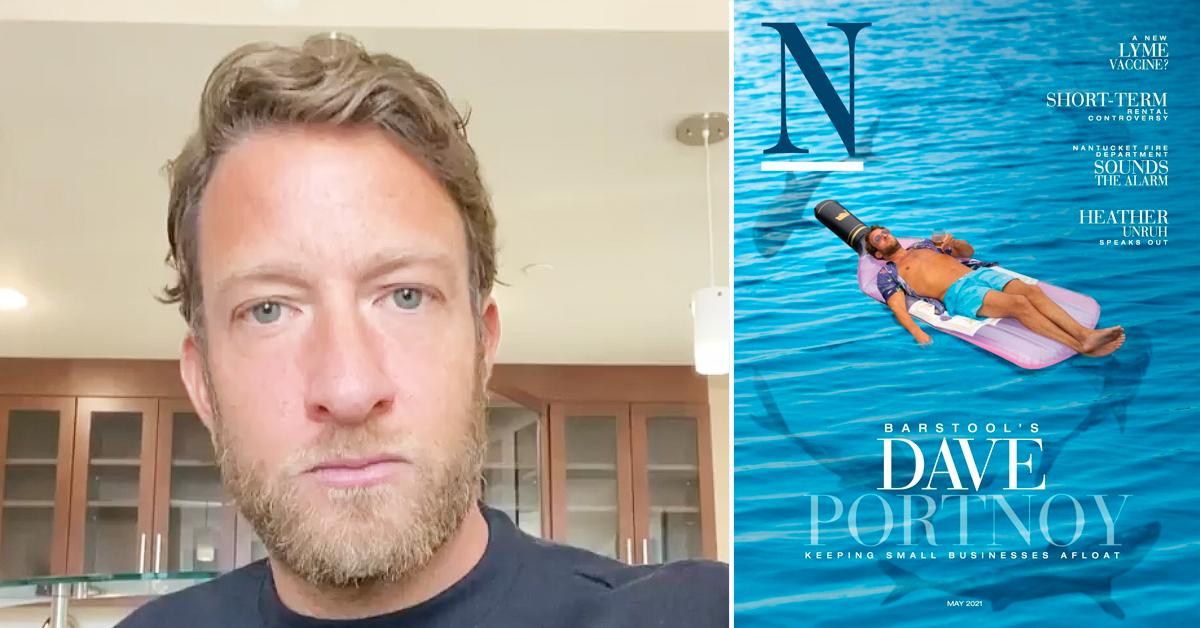 Dave Portnoy has a thing or two to say about Nantucket Magazine after they apologized to the public for their May cover story on the Barstool Sports founder.
Article continues below advertisement
Publisher Bruce Percelay and editor Robert Cocuzzo released a statement on Friday, April 30, to say they're sorry for the magazine's glowing profile on Portnoy's effort to raise money for small businesses. "Since releasing our May issue a week ago, we have heard from various members of our community who vehemently object to our current cover," the Facebook statement read. "[W]e formally apologize for any pain caused to those who have objected to this May cover."
The cover included a photo of Portnoy laying in a pool on a liquor bottle-shaped float.
Article continues below advertisement
Portnoy — who owns a $2 million home on the ritzy New England island — has since spoken out about the controversy, bashing all his haters while throwing shade at the outlet for succumbing to public opinion.
Article continues below advertisement
"Everybody who doesn't like me can go f**k themselves," he told Page Six of his thoughts on the situation. "If you took a poll on Nantucket of people who like me and hate me, I'd bet 99 percent like me.
"It's unfortunate that the powers that be at N Magazine are spineless jellyfish who are held hostage by the whims of the vocal minority," he continued, adding that he continuously tries to better the community of Nantucket.
Article continues below advertisement
"Meanwhile, I will continue to do my best to make Nantucket and America a better place while those who hate me can continue to throw cry parties for themselves about how I made a joke they didn't like 20 years ago," Portnoy concluded.
In the Facebook message, Percelay and Cocuzzo explained that while their piece on Portnoy was "intended to highlight" his work "in support of small businesses, a number of people in the community have taken issue with offensive remarks and actions he has made in the past."
Article continues below advertisement
They insisted they "never want to hurt, offend or disappoint any of our readers with the stories we publish." The magazine also clarified that their "stories are never endorsements of our subjects," but they "now recognize and acknowledge [their] oversight in how this story would be received."
Article continues below advertisement
Meanwhile, Portnoy, in his usual fashion, had more to say on the matter. He allegedly took to the comment section of the apology post, writing: "Everybody that doesn't like me should go f**k themselves." His remark and others on the post have been erased, and comments have been limited.
Article continues below advertisement
However, Portnoy continued to slam the magazine on his Instagram Story. The Barstool boss shared an old tweet of his from April 24, saying: "A lot of people are saying this is the greatest cover in the history of covers," alongside N magazine's cover of himself. At the time, N Magazine re-tweeted his post, adding "Can confirm," with the emoji with sunglasses.
Portnoy shared the Twitter interaction to his Story, writing: "How to be gutless in today's society displayed in 3 posts." The second photo was a story titled: "Nantucket Magazine apologizes for cover story featuring Barstool's Dave Portnoy." Lastly, Portnoy shared a quote he said, throwing shade at the magazine, to Page Six.
Article continues below advertisement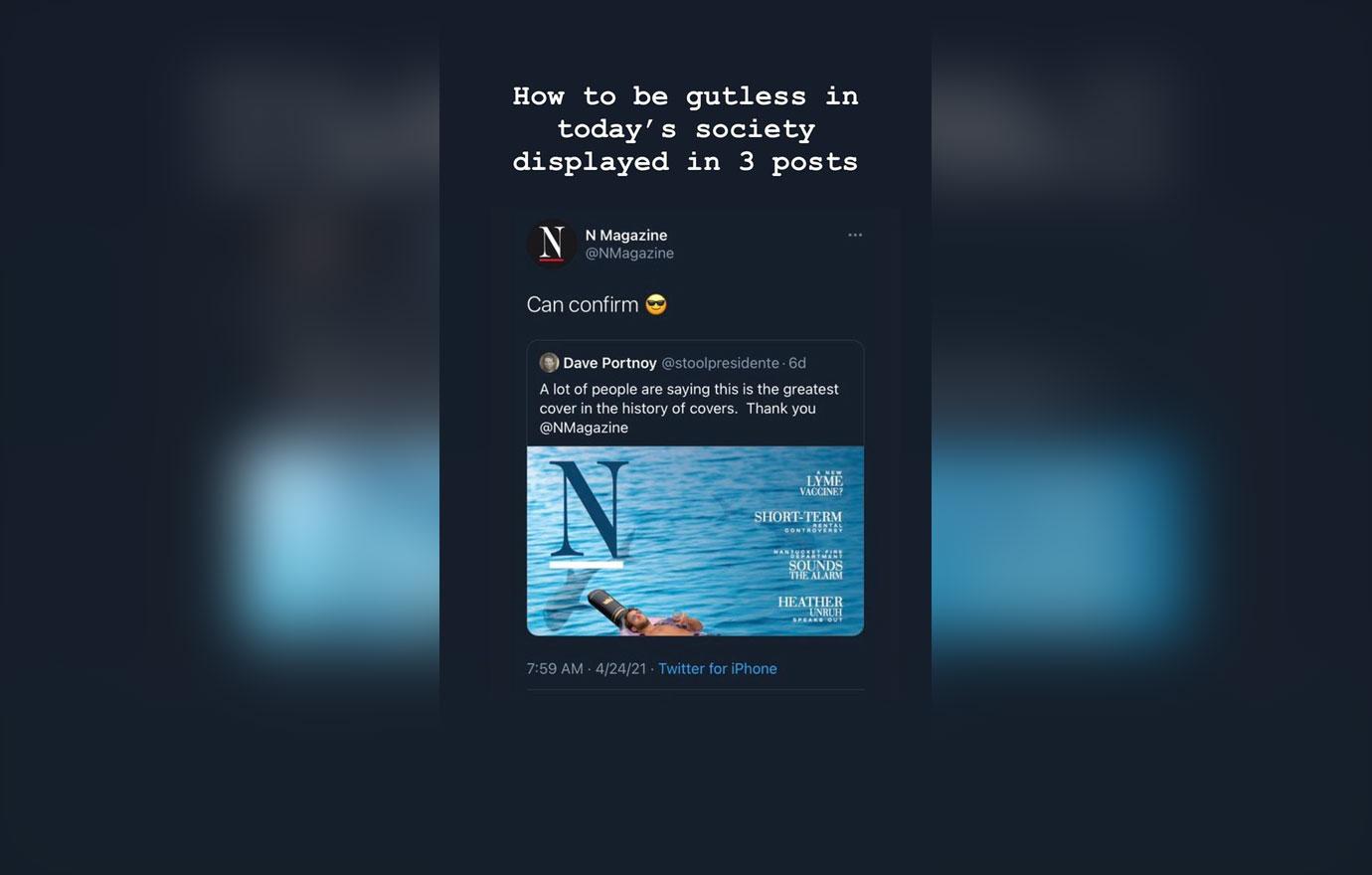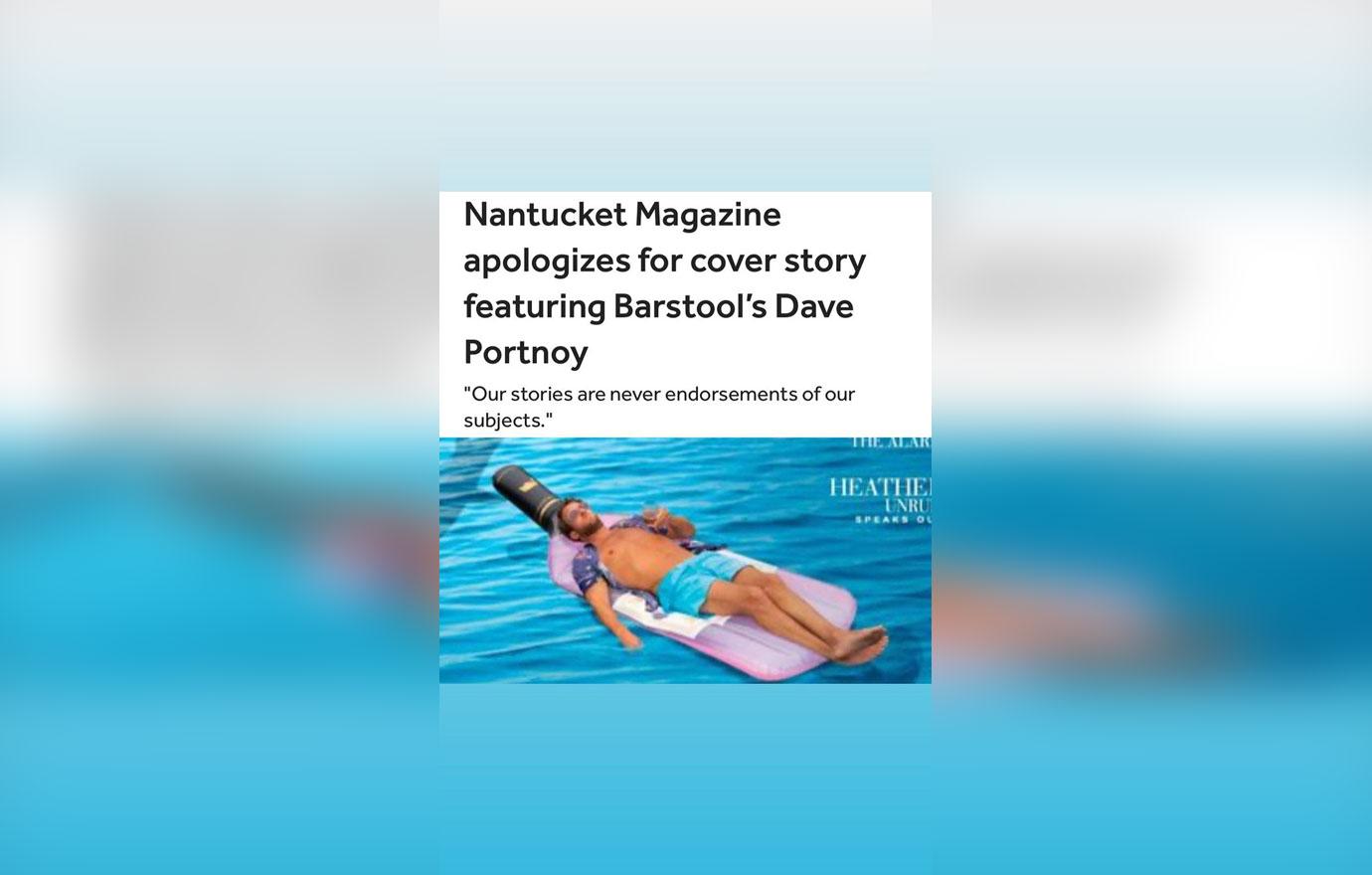 Article continues below advertisement
At the end of the day, Portnoy doesn't seem bothered by what other people think of him. "They've been trying to cancel me for two decades — I'm uncancelable," he told Variety last year.