EXCLUSIVE
Remembering Heath Ledger 13 Years After His Sudden Death: 'His Brilliant Life And Career Were Cut Short'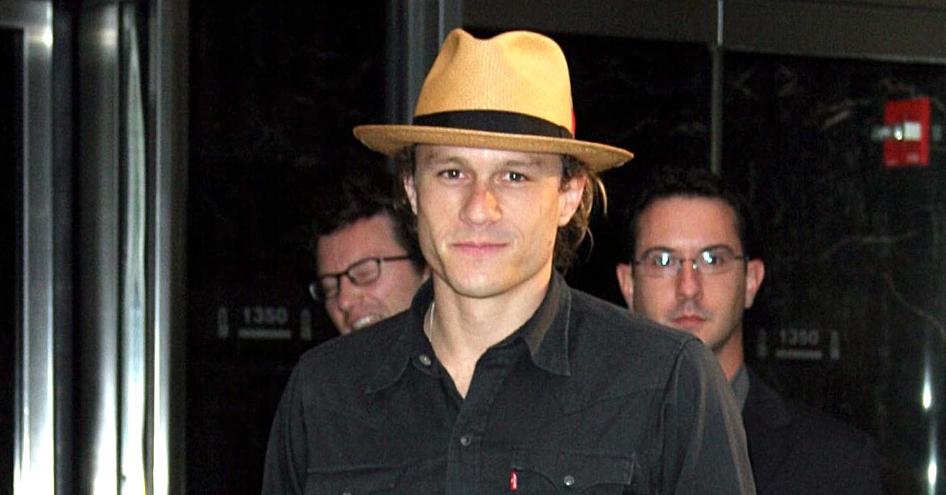 No one saw it coming. On January 22, 2008, Heath Ledger was found dead in his New York City apartment after an accidental overdose.
"There was a collective gasp of grief. His fans and loved ones were all completely shocked," a source recalls of the Aussie actor's sudden passing at just 28 years old. "He was someone who, from the outside, appeared to have it all."
Article continues below advertisement
But things aren't always what they seem. "Heath was a loving father and a very talented actor, but there was also a dark side to him that nobody really knew about," the source says of the handsome Oscar winner. "He suffered from terrible insomnia and reportedly relied on a cocktail of prescription medication to get through each day."
JOAQUIN PHOENIX & ZAZIE BEETZ SHOOT SCENES FOR 'JOKER'
"His mind was always turning, like the sun rotating around the earth," the source continues. "Nothing ever seemed to quiet the racket."
Ledger was just 17 when he and a pal moved from his hometown of Perth, Australia, to Sydney to pursue a career in acting. And while he quickly found success, landing parts in local TV series like Sweat and Home and Away, it wasn't until 1999's 10 Things I Hate About You that he became a bona fide movie star and heartthrob.
Article continues below advertisement
"That film was a gamble, but it paid off," the source notes. "It made both Heath and [his costar] Jake Gyllenhaal even bigger stars."
Ledger also found success in his personal life, enjoying incredibly deep relationships with actresses Heather Graham, 50, and Naomi Watts, 52. "Heath was nothing but a gentleman to Heather, and she cherishes their time together. But in the end, they were better off as friends," the source says of the pair, who split in 2001 after a year of dating.
Article continues below advertisement
The same can be said for Heath's romance with Watts, whom he dated from 2002 to 2004 after costarring in the action flick Ned Kelly.
JOAQUIN PHOENIX DRESSES IN FULL 'JOKER' MAKEUP DURING FILMING IN BROOKLYN
"Heath had a real impact on Naomi's life. They had each other's backs when times were tough. But they ended up breaking things off because neither of them was ready to be serious at that stage in their lives," adds the source. "They stayed in touch until Heath's death."
Some credit Graham and Watts as Ledger's true loves. But the source insists that spot is reserved for Michelle Williams, 40. After meeting on the set of Brokeback Mountain, the two fell hard for each other and soon welcomed their daughter, Matilda, now 15.
"Michelle and Matilda were everything to Heath. They were a family," says the source, adding that even after the Dawson's Creek alum and Ledger called it quits in September 2007, just four months before his death, "he never stopped loving her."
Article continues below advertisement
Being a father to Matilda brought so much joy to Ledger's life. However, she may not be his only child: For years, rumors have swirled that the Candy star fathered a secret love child with an older woman when he was just 17.
ROSE BYRNE SHARES SWEET THROWBACK PHOTO OF HER AND HEATH LEDGER
"There's buzz that Heath's family acknowledges it's a possibility, and if the time comes that the individual in question wants to check her DNA against his, then they welcome that," says the source.
"But they're also content to let fate take its course and not look to dredge up scandal or raise questions about Heath's past behavior," the source adds. "The notion that he'd turn his back on a child is insulting to his memory. And anyone who knew Heath would vouch for his integrity and morals."
Article continues below advertisement
"Plus, it's no secret he'd fallen into a bad crowd and succumbed to some really awful habits," the source continues. "He was cut off emotionally and very lost, a truly tortured soul who seemed like he was carrying the weight of the world on his shoulders."
Though Ledger always put on a brave face, his family was very worried about him. In fact, the night before he passed, Ledger had a haunting talk with his sister, Kate.
GONE TOO SOON! HEATH LEDGER'S DOCUMENTARY SHOWS NEVER-BEEN-SEEN PERSONAL FOOTAGE
Article continues below advertisement
"The last conversation Kate had with him was this discussion about his medications and she warned him, 'You can't mix drugs that you don't know anything about,'" Ledger's father, Kim, revealed. "He said, 'Katie, Katie, I'll be fine.'"
As the 13th anniversary of his passing approaches, Ledger's friends, family and fans are holding on to their memories of him closely. "He was such an amazing man, who left behind this incredibly legacy — which makes his death all the more tragic," shares the source.
"Everyone knows that he could've gone even further and done amazing things, but his brilliant life and career were cut short. The world hasn't been the same since he left it."
Article continues below advertisement