Jennifer Lopez & Ben Affleck Go PDA Official — Bennifer Caught Kissing At Miami Gym, They Look 'In Love'
PDA official! Jennifer Lopez and Ben Affleck apparently couldn't keep their hands off each other during their day at the gym.
Article continues below advertisement
Weeks after OK! was the first to exclusively report that Bennifer was "talking in private" amid the downfall of J.Lo and Alex Rodriguez's relationship, Lopez and Affleck were seen engaging in PDA in Miami. (Lopez and Rodriguez broke up in April, explaining that they're "better as friends.")
According to an insider at Anatomy Fitness, Lopez, 51, and Affleck, 48, "shared a kiss in between sets," while working out on Monday, May 24. Despite walking into the building separately and using separate trainers, they "were not trying to hide their relationship" once inside, the source added.
Article continues below advertisement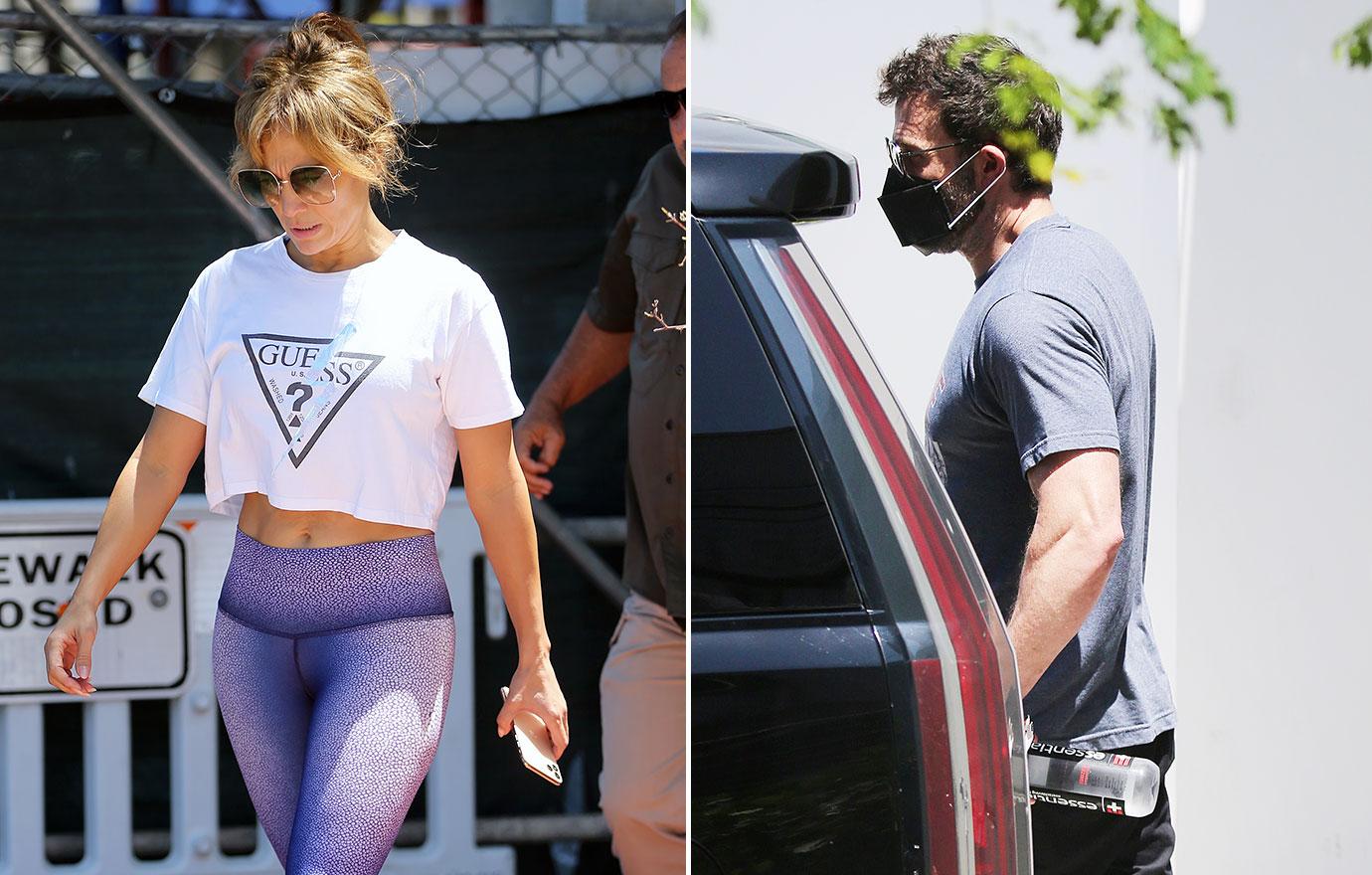 Article continues below advertisement
It seems the power couple certainly wasn't shy when it came to mixing work and play, as the duo "stayed close to each other while working out and were hugging," according to the source, adding that the A-listers were "being playful together." And while they haven't publicly confirmed their relationship, the insider noted: "It was clear to everyone that they have intense chemistry and were having fun together."
Article continues below advertisement
Their obvious connection shouldn't come as a surprise since the Hollywood actors were engaged for two years before calling it quits in 2004. And despite reconnecting after 17 years apart, it seems the Gigli costars didn't lose their spark.
"They were having a good time," the source added of their gym day, noting that Affleck seemed happy to be accompanying his hard-working woman. "Jennifer works out every day and it's part of her routine and it seemed like Ben really wanted to be there too with her."
Article continues below advertisement
Prior to spending the weekend together in Miami, the Justice League star and "Ain't Your Mama" singer jetted off to Affleck's home in Montana over Mother's Day weekend. "It was Ben's idea to go to Montana, a place he absolutely loves," an insider shared, "and they had a wonderful time there just snuggling up and being together without any pressure."
Article continues below advertisement
From the looks of it, Affleck finally got the reconciliation he had been looking for. As OK! reported, "Ben always felt like [Jennifer] was the one who got away," a source admitted. "He regrets the way their relationship ended and feels that he could've been better."
And when Lopez's relationship with the baseball icon began to crumble, Affleck took it as the perfect opportunity to swoop in and try his luck. The handsome hunk reportedly reached out to his former flame over email prior to J.Lo and A-Rod calling it off. "She was touched and charmed by the things he wrote," and insider dished of Affleck's emails. "Jennifer is someone who has always been on Ben's mind."
Think JLo and Ben will breakup before July 2021? Play on OK! Magazine's Versus Game channel now here, answer correctly, and win money!