J.Lo The Spy: Jennifer Lopez Caught Peeking Through A Curtain To Catch A Glimpse Of Ben Affleck In Miami
She's taking a good look at him! Jennifer Lopez has been spotted sneaking a peek of her new/old boyfriend Ben Affleck on a balcony of their rented Miami home on Tuesday.
Article continues below advertisement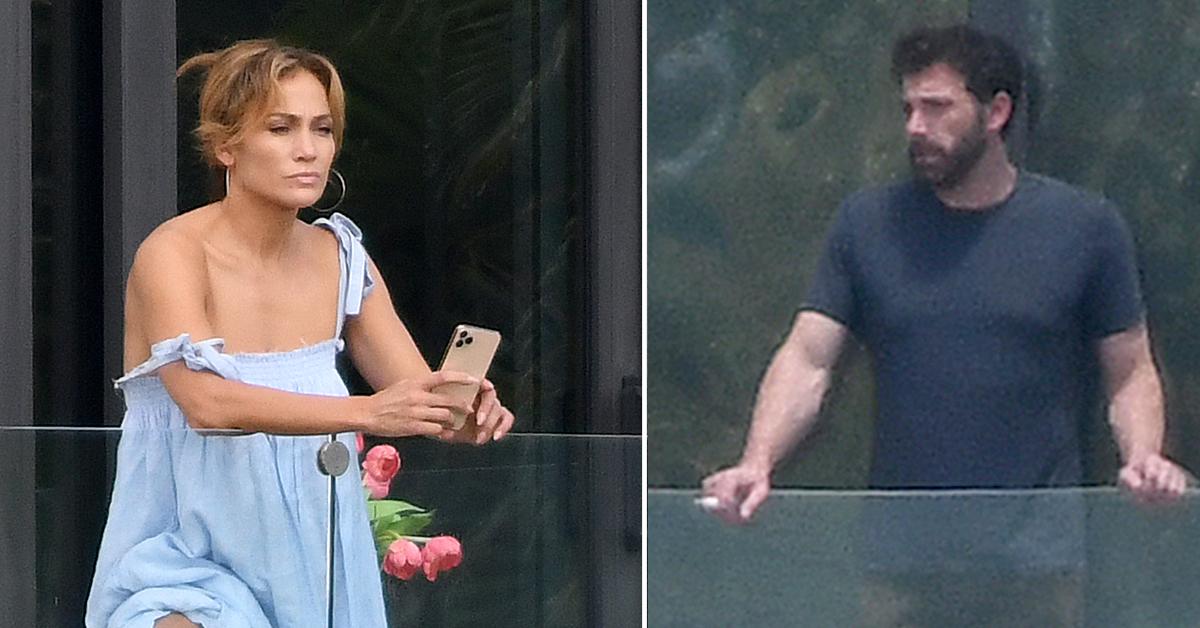 The Selena actress was seen lifting the side of a beige curtain to catch a glimpse of her Boston native beau who was seen kicking back and and enjoying a cigarette and some type of beverage from a can with a huge smile plastered on his face.
Article continues below advertisement
Lopez, 51, dressed in a pink top and grey shorts, appeared to be sneaking up on her re-found love, 48, who seemed to be taking a minute to himself to relax as he rested his leg up on a table clad in a green T-shirt and a pair of grey shorts.
Article continues below advertisement
As the latin superstar returns to Miami to continue working on more projects, the Argo actor has decided to join her for a romantic rendezvous. The two were spotted on Sunday kissing at the gym during a work out.
Previously, OK! exclusively reported, the singer is encouraging her boyfriend to "stop smoking" and to "start hitting the gym." A source explains "Jennifer is a fitness frantic. You don't get to look as great as Jen at 51 without extreme discipline. A healthy lifestyle isn't just a part of her life, it is her life — and any man who wants to be part of her world needs to join her, or kiss her goodbye."
Article continues below advertisement
With a deal breaker like that, cigarette and booze loving Affleck will have to really get his act together with a source saying "Let's be honest, Ben is going to have to work very hard if he wants to keep up with Jen."
The stunning duo, who were in engaged from 2002 to 2004, have been making headlines since reuniting in April after Lopez's very public spilt with Alex Rodriguez. The two have taken a romantic trip to Montana and it has even been revealed that Affleck was sending the superstar "love notes" for months prior.