Jennifer Lopez To Transform Ben Affleck Back Into Six-Pack Hunk: Actor Will Have To 'Work Hard' To Keep Up, Source Spills
It looks like Jennifer Lopez is building herself a dream man. OK! has exclusively learned that the Latin pop star is turning her rumored new beau, Ben Affleck, back into the hunky man he once was. Sources say she's getting him to hit the gym and quit smoking.
Article continues below advertisement
"Jennifer is a fitness fanatic. You don't get to look as great as Jen at 51 without extreme discipline. A healthy lifestyle isn't just a part of her life, it is her life — and any man who wants to be part of her world needs to join her, or kiss her goodbye," an insider tells OK!.
"Most new couples' idea of a romantic date is going for dinner or the movies, but Jen's is going to the gym," the source adds. "She works out every single day for at least two hours, which is what she had in common with Alex Rodriguez."
Article continues below advertisement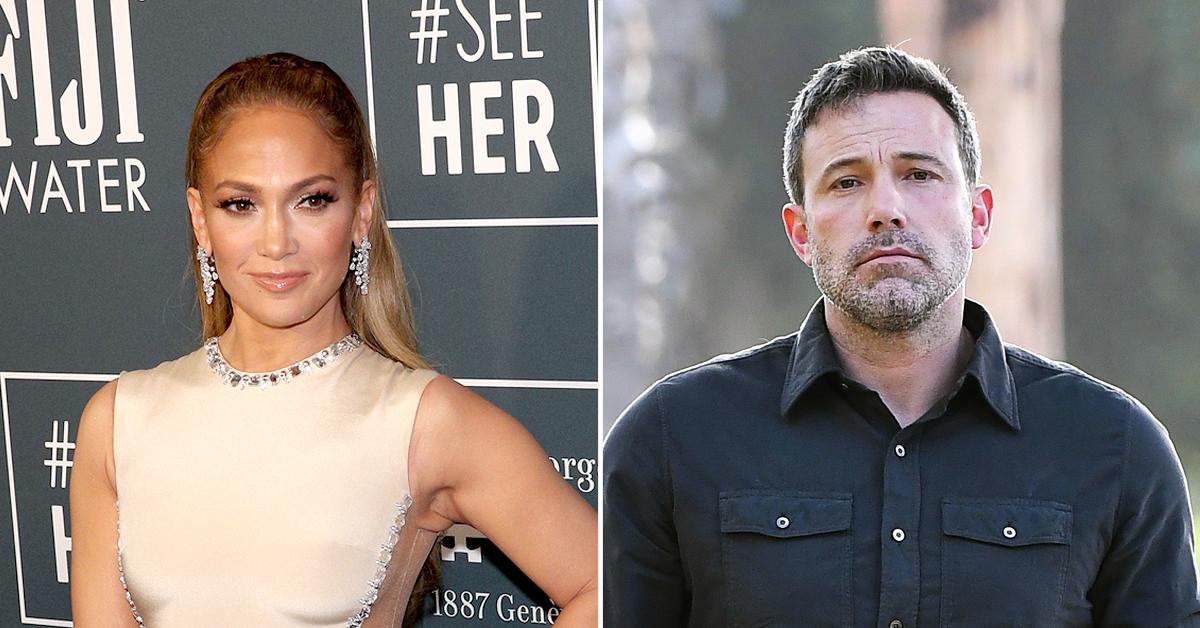 Lopez and Affleck have been spending time together in Miami after they took a getaway trip to the actor's home in Montana over Mother's Day weekend. Most recently, Lopez, 51, and Affleck, 48, hit the Miami Anatomy Fitness gym on Monday, May 24, where they were seen kissing and cuddling in between sets.
Article continues below advertisement
"The gym is Jen's happy place. While the two of them sweated together inside, one of them had a huge smile on their face — and it wasn't Ben," a witness tells OK!. "Let's be honest, Ben is going to have to work very hard if he wants to keep up with Jen."
Article continues below advertisement
Insiders add that the "Ain't Your Mama" singer's next project is making sure Affleck throws away the cigarettes. "Jen doesn't allow smoking in her house or around her," a friend reveals. "Give Jen six months, and Ben will have his old six-pack back and be in the best shape of his life."
And while Affleck may not have been thrilled to be breaking a sweat, he seemed happy to be spending time with the brunette beauty. "Jennifer works out every day and it's part of her routine and it seemed like Ben really wanted to be there too with her," another insider claimed, as previously reported by OK!.
Article continues below advertisement
The gym onlookers also dished that the Hollywood couple was not "trying to hide their relationship" inside the gym. Despite working out with separate trainers, the pair "stayed close to each other while working out and were hugging," according to the source, adding that the A-listers were "being playful together."
Article continues below advertisement
OK! was the first to exclusively report that the Gigli costars began "talking in private" while Lopez's relationship with A-Rod began to crumble. The former flames officially called off their relationship in April following their two-year engagement.
Article continues below advertisement
"It's very clear they've fallen for each other again in a very intense way, but they don't want to jinx anything by attaching labels or putting themselves under too much pressure," an insider explained. "When the time is right and assuming things continue to evolve romantically between them, likely a month or two, they'll probably go Instagram official or step out hand in hand at a restaurant somewhere."
Think JLo and Ben will breakup before July 2021? Play on OK! Magazine's Versus Game channel now here, answer correctly, and win money!