EXCLUSIVE
Kelly Clarkson 'Stunned' That Messy Divorce With Brandon Blackstock Has 'Taken Such A Nasty Turn,' Source Spills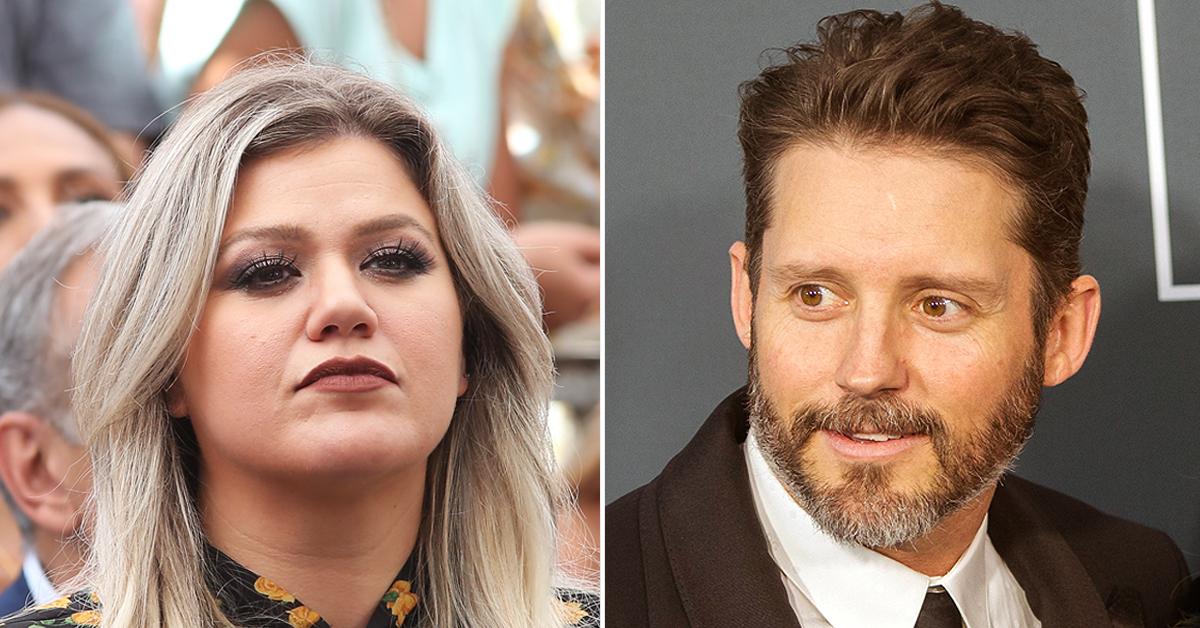 Tune into The Kelly Clarkson Show any day of the week and you'll see the effervescent host doing what she does best — making guests and viewers smile with her upbeat personality, trademark Texas twang and silly sense of humor.
In the six months since her divorce from her former manager, Brandon Blackstock, Clarkson's been a pillar of strength and an inspiration to fans everywhere. But sources tell OK! that underneath her bubbly demeanor, the 38-year-old star is secretly falling apart at the seams.
Article continues below advertisement
"She's not in the best place emotionally," shares one insider, who says the heartbreak of her split from Blackstock (with whom she shares daughter River Rose, 6, and son Remington, 4), turmoil over their ongoing legal battles and the stress of filming her chatfest during a pandemic is taking a major toll.
*GRABS TISSUES*: CELEB COUPLES WHO CALLED IT QUITS IN 2020
"One day, she just started crying uncontrollably," says a second source of the songstress. "She felt so lost, so alone. That's when she knew she'd hit rock bottom."
Things between Clarkson and Blackstock, 44, have gotten increasingly worse since announcing they were calling it quits after seven years of marriage in June. Blackstock requested $436,000 a month in child and spousal support from Clarkson, who's worth an estimated $45 million.
Then, in September, Clarkson's former management firm — owned by Blackstock's father Narvel — sued her, claiming she owed them $1.4 million in unpaid commissions from 2020. She clapped back with a countersuit stating all of their agreements should be voided.
Article continues below advertisement
"She's stressed to the max," notes the source. "She's worried about how much the divorce is going to cost her while trying to keep the kids shielded from all the explosive family drama." (In November, a court ruled that Clarkson and Blackstock will share joint physical and legal custody, with the American Idol alum holding primary physical custody of them in Los Angeles.)
On February 9, she revealed co-parenting with her ex has been "tough," and the source says they've been at each other's throats more often than not. "It's shocking to those who knew them as a couple, but it's hard for them to be civil. Relations between Kelly and Brandon have gotten even more bitter since the lawsuits. She doesn't trust him, and he feels she's thrown him to the wolves."
Article continues below advertisement
According to the insider, Clarkson is finally admitting she needs help — and has been leaning on a small and trusted group of friends. "Kelly keeps a tight circle and doesn't like to burden anyone with her problems, but she definitely needs support."
KELLY CLARKSON SHOWS OFF HER *REVENGE BODY* ON 'THE VOICE' AMID MESSY DIVORCE: PHOTO
Longtime pals Blake Shelton (Clarkson and Shelton are both currently starring on season 20 of The Voice) and country music superstar Reba McEntire (who was married to Blackstock's dad Narvel for 26 years prior to their 2015 split) have been rallying around her.
"Blake will cheer her up by telling one of his goofy stories that don't ever seem to have a point, or humming a tune he just thought up," reveals the source.
McEntire, meanwhile, "is like a mother to Kelly and she's told her in no uncertain terms that things will get better and not to lose hope," says the source, adding that Clarkson knows she can talk to McEntire about anything. "Nothing is off-limits. It helps that Reba's known Brandon since he was a kid, so she has a unique insight on the situation."
Article continues below advertisement
BACK TO BASICS
Clarkson's real saving grace has been her two children. "Hard as it may be, Kelly's finding strength doing mundane things at home with River and Remington," says the source. "She bakes cookies, draws with them, reads them bedtime stories — those moments remind her that there's a lot of good in her life, and she's holding on to that with everything she has."
HOW YOUR FAVORITE TALK SHOW HOSTS STAY FIT: DREW BARRYMORE, JEANNIE MAI & MORE
Loved ones have been assuring her she'll get through this tough time. (Even First Lady Dr. Jill Biden is cheering her on: During a February 25 appearance on Clarkson's show, Dr. Biden told her, "I really think things happen for the best... over time, you heal.")
Says the source: "Kelly knows they're right, and she is so thankful for her friends and her children right now. She doesn't know what she'd do without them."