EXCLUSIVE
Mario Lopez Admits 'It's A Trip' That 'Saved By The Bell' Is Still Relevant, Says He Still Feels 'Very Immature' While Shooting The Reboot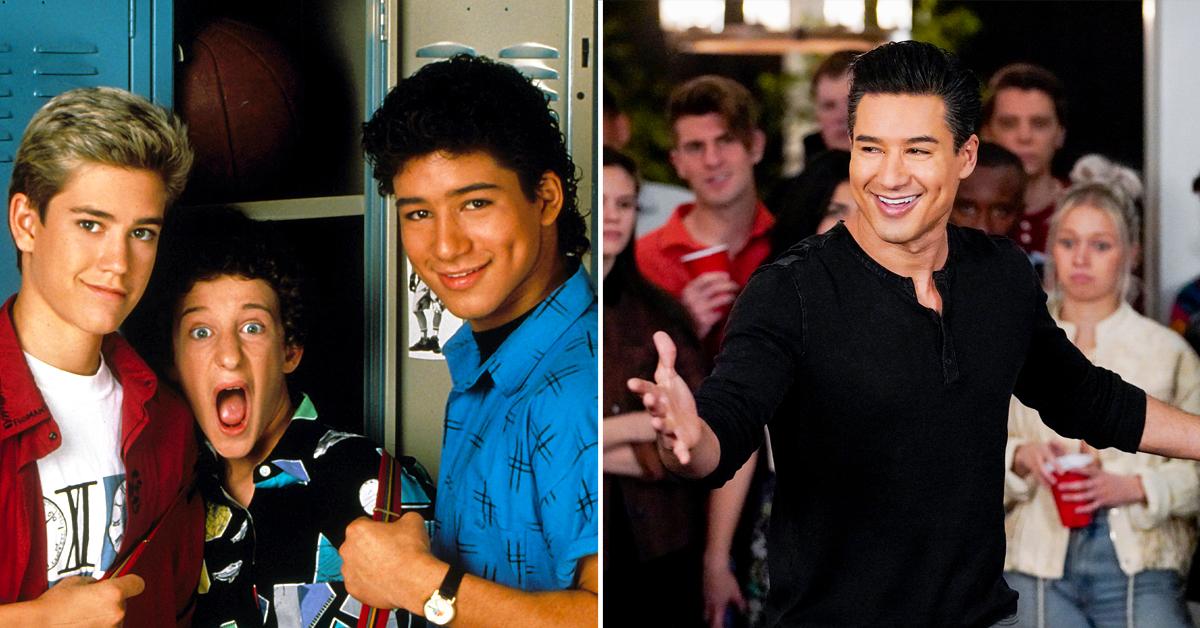 Article continues below advertisement
"It's a trip, you know. The fact that it's still around, and now I am the older guy. I still feel very immature, though. It's a lot of fun," Lopez, 47, exclusively tells OK! while talking about United Airlines and Chase's new partnership for the launch of their United Quest Card, which surprises travel experiences through the "Questination Unknown" campaign. "I just got the script for the second season and I am glad the first one was received well, and hopefully people will dig this one."
Article continues below advertisement
When the cast reunited, the Access Hollywood host was overjoyed to be with his pals again. "It's fun, you know. It's kind of like people you went to high school with, and you kind of pick up where you left off," he explains of their close bond. "I still keep in touch with them though even outside of the show. Mark-Paul and I will train together, and I will see Tiffani — our kids get together once in a while. I still have a great relationship with them – even outside the show."
Article continues below advertisement
Lopez was also floored when he arrived at work for the first time to shoot the reboot. "They did a good job of emulating the original set, so it's kind of a pick up where you left off," he says. "I got so much going on – bouncing around from radio to Access Hollywood, Saved by the Bell is there, so I will just kind of go from thing to thing and sometimes I have to stop and process what is going on, but it's been great. The team has been great."
Article continues below advertisement
An added bonus is that Lopez also gets to work alongside budding actors and actresses. "They are pretty mature, and they are really talented," he gushes. "They are very nice kids, so they will ask me some stuff once in a while. I will share whatever I can, but they are great kids, and we are lucky to have them."
MORE ON:
saved by the bell
This time around, the dad-of-three plays a gym teacher who mentors the students, which was different than the original show where he was the hunky wrestler vying for Jessie Spano's heart. Though A.C. may still be interested in Jessie, Lopez isn't sure what the future holds for their characters just yet.
Article continues below advertisement
"I literally just got the first script, and I haven't read it, so even if I knew – I don't know," he says while laughing.
In the meantime, the Husband for Hire star has been cooped up at home with his three kids — Gia, Dominic and Santino — and wife Courtney Lopez amid the pandemic but is hoping they can jet off somewhere soon.
Article continues below advertisement
"Well, if it was me and the whole family – somewhere tropical, I think it would be great," he shares of his next destination while discussing the new "Questination Unknown" campaign. "The kids can play on the beach. If it's just the wife and I, then we've got to take advantage of just being alone and taking a long trip, because any parent can tell you, a long trip with kids is challenging. We'd want to go somewhere to Europe or something."
Article continues below advertisement
"I love to travel, it's a big part of my life, and I love to explore new places – especially with my family. There's nothing better than seeing the kids experience things for the first time," he adds. "I am excited to partner with United Quest for their 'Questination Unknown' campaign, where you can Pack Up + Go together with the United Quest card. They are offering this promotion called Quest, which can be used to receive 50 percent off your next Pack Up + Go surprise plane trip, where they totally surprise you, which I think is the coolest thing."