NEWS
'It Wasn't A Secret': Controversial Congresswoman Marjorie Taylor Greene Reportedly 'Openly Cheated' On Husband With Polyamorous Tantric Sex Guru & Gym Manager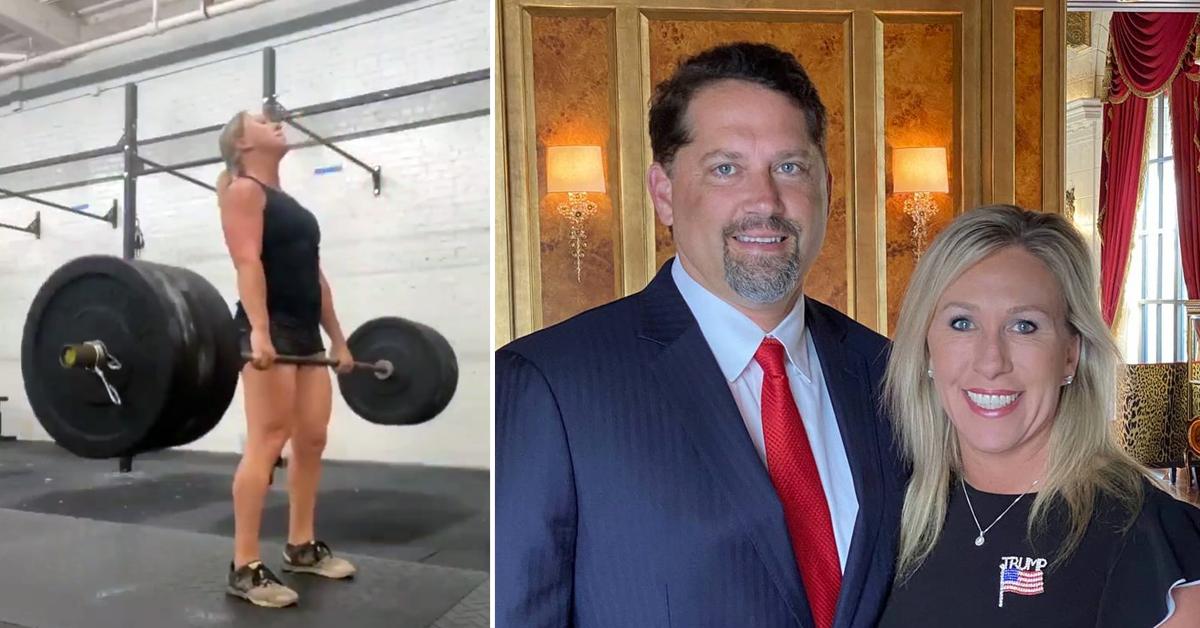 Congresswoman Marjorie Taylor Greene has come under fire for supporting the conspiracy theorist group QAnon and other far right-wing rhetoric, but now, it's her personal life that's raising eyebrows.
Article continues below advertisement
The controversial political figure from Georgia's 14th Congressional District reportedly "openly cheated" on her husband Perry of 25 years with multiple men, including Craig Ivey, a polyamorous tantric sex guru, and Justin Tway, a manager at the gym she worked at.
The extramarital affairs allegedly took place a decade ago while the boisterous blonde was working in gyms in Alpharetta, Ga., about 35 miles north of Atlanta.
MEGHAN MCCAIN'S 'THE VIEW' COHOSTS ARE REPORTEDLY NOT SPEAKING TO HER
Instead of trying to keep her indiscretions a secret, Taylor Greene was said to be brazen in her actions.
"It wasn't a secret," said one man who worked closely with her. "Everyone who moved in her circles knew about both the affairs."
Article continues below advertisement
Taylor Greene's billionaire boss' grandson Jim Chambers also seemingly knew something was up.
"She socialized a lot with us," he recalled. "I remember one particular pool party where she was lying draped over Craig's lap drinking a beer.
"She was quite open about it," he continued. "We all thought her marriage was falling apart. But then I took my son to her son's birthday party and things seemed totally normal between her and her husband — even if they were a little lukewarm."
Article continues below advertisement
But this isn't the first time cheating rumors have circled Taylor Greene. After winning the Republican primary for her congressional seat last summer, a profile in the New Yorker said a reporter had seen texts in which Taylor Greene admitted sleeping with one man outside her marriage.
Chambers also called her out on Twitter ahead of the election.
"@mtgreenee so when you worked for me at CrossFit Alpharetta in 2012, the extramarital affairs you had with Justin and Craig, those were Jesus-approved, right?" he questioned in a tweet. "I would never choose to doc someone's infidelities...unless they're this person," he added, and linked to a Marjorie Taylor Greene for Congress page.
Article continues below advertisement
Chambers, whose grandmother Anne Cox Chambers was the richest person in Georgia until she died last year, bought two gyms in the early 2010s.
"She was part of the staff I inherited," Chambers explained on how he came to work with Taylor Greene. "She wasn't someone who needed a paycheck. She was working as a trade — she got free membership and access and the opportunity to learn the business."
CELEBS REACT TO JOE BIDEN & KAMALA HARRIS' WIN: OBAMA, CHRISSY TEIGEN & MORE
It became apparent to other gym members that she and Ivey allegedly started an affair.
"Certainly she was screwing around," said a source. "Guys talk and I know there was definitely sex involved. People don't make up stuff like that. They were spending a lot of time together, turning up at the gym in the same car. When I would suggest going out, Craig would say he had things to do with Marjorie."
Article continues below advertisement
Soon after, Chambers brought in Tway as a new manager for his Alpharetta gym, and Taylor Greene reportedly set her sights on him.
"This seemed much more serious than the affair with Craig," said Chambers. "That was more of a flirty thing. But with Justin she seemed to have designs on a more long-term relationship. My impression is that she knew he might take over the gym and she wanted to be there right alongside him."
Another source said: "With Marjorie it always seemed to be a power thing. If anyone was a leader or in a position of power, she would gravitate to them, and that is what it was like with Justin."
Neither of the men denied the affairs when asked about the allegations.
Tway said: "I have no interest in talking about anything to do with that woman. Everything with her comes to no good."
Article continues below advertisement
Since the alleged affair, which Ivey also refuses to speak about, Ivey has moved to Washington State and set up a gladiator bootcamp called The Ludus. On Instagram, he calls himself The Tantric Warrior, describing himself as "Living a warrior lifestyle while finding tantric love." He recently bought a house an hour south of Seattle, which he says he wants to turn into a polyamorous commune.
SEE PHOTOS OF HISTORIC INAUGURATION OF PRESIDENT JOE BIDEN & VICE PRESIDENT KAMALA HARRIS
Taylor Greene, 46, has recently become the most-talked-about Republican in Washington, D.C. She calls herself a "strong conservative Christian," who planned to take her "family values" to Washington when she took office in January. But the mom-of-three has faced criticism for her belief in conspiracies linked to the group QAnon.
She has also said that the Parkland and Sandy Hook school shootings were "false flag" operations, harassed Parkland survivor David Hogg on the streets and questioned whether the September 11 terrorist attacks were real and accused The Clintons of killing John F. Kennedy Jr.
Congress voted last week to strip her from her committee assignments due to her outrageous beliefs and actions.