NEWS
'People In The Black Community Don't Trust You': Watch The View's Sunny Hostin Slam Van Jones For Defending Donald Trump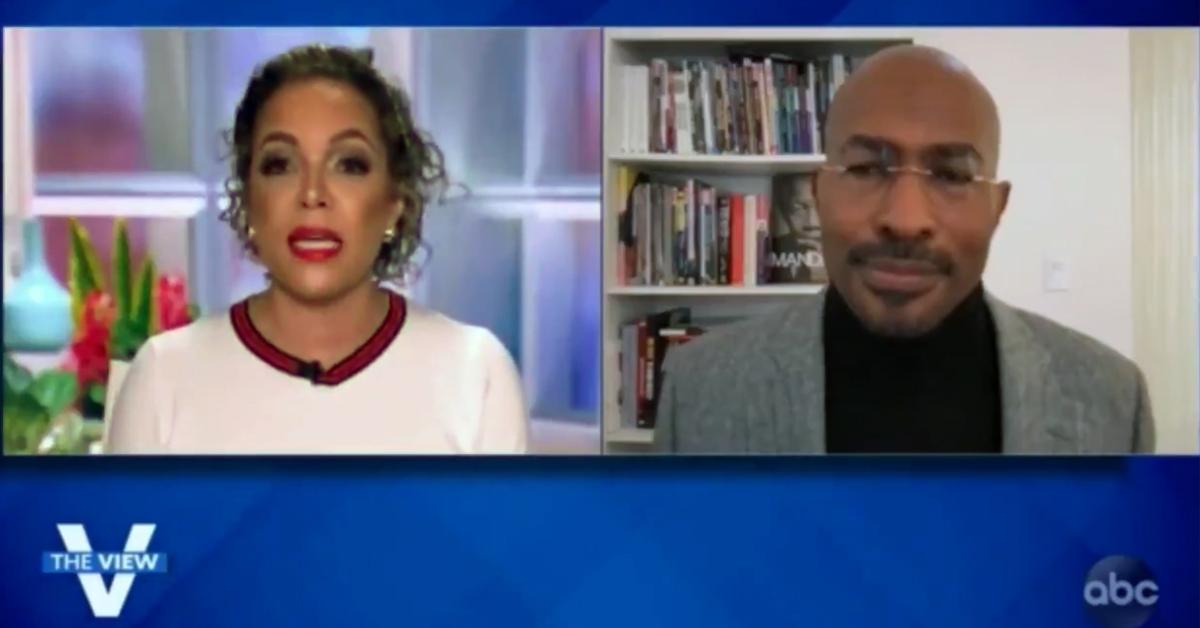 Smackdown! Sunny Hostin didn't hold back while speaking to Van Jones about his hypocritical views on the Friday, February 5, episode of The View.
"Now, Van you do spend a lot of time threatening the middle and trying to unite people, but there are those that really accuse you of being the political opportunist — chameleon, so to speak — who provided racial cover for former, disgraced, twice-impeached President Trump," Hostin, 52, began.
Article continues below advertisement
"You said this, 'Donald Trump, and I get beat up by liberals every time I say this, but I am going to keep saying it has done good stuff for the Black community, opportunity zone stuff, Black college stuff, there's a side to Donald Trump that I think he does not get enough credit for,'" she continued.
Article continues below advertisement
She added, "Yet, just recently you cried on CNN when Joe Biden was elected the 46th President, and you said it's easier to be a parent now, truth matters. You even mentioned George Floyd and even mentioned that a lot of people couldn't breathe. People in the Black community don't trust you anymore. What is your response?"
"Well, I don't think that's true," Van Jones replied.
Article continues below advertisement
"People may not like everything I've said on television and I try to be balanced," the CNN commentator added. "But look at what I have done. Who among my critics have been able to get people together to help folks at the bottom? When we fight like this about everything and you can't give anybody even a little bit of credit for anything, who it hurts is not the politicians, it's not the pundits, it's regular folks who don't have anything."
Ultimately, Jones said he was "never going to apologize for putting the interest of people at the bottom first."
"People need champions. Whoever is in that White House, you have a responsibility to go in there and advocate and try to get people home out of prison. I'm going to keep doing it, whoever is in that White House," he concluded.
Article continues below advertisement
Meghan McCain tried to defend Jones, but Ana Navarro chimed in and said, "You've lost a lot of people who trusted you and who saw you as a voice because of the positions you took during Trump."
Navarro noted that Jared Kushner wanted Jones fired from CNN during the 2016 campaign, but then he was seen "working with nepotism Barbie and nepotism Ken," referring to Kushner and Ivanka Trump.
Article continues below advertisement
"So I think there are people who wonder, and I'm one of them, how did that evolution happen?" Navarro asked. "How did you go from being this very principled critic of the Trump administration as I was to, all of a sudden, being in the White House celebrating with them?"
Jones defended himself for the second time, saying he was "proud" of the work he did with the Trump administration and has no "regrets."
Following the heated conversation, fans took to Twitter to share their feelings. "And Anna, the Cubanita sister from another mother, took care of him too. It was a good talk," one person wrote, while another added, "Everything Sunny said was absolutely spot on!"
A third user added, "Yes @sunny So glad to see people be held accountable for what they say and do."