Naomi Osaka Claps Back At Megyn Kelly On Twitter After Being Criticized For Magazine Appearances
Naomi Osaka and Megyn Kelly butt heads on Twitter after Kelly criticized the athlete for appearing on magazine covers.
Article continues below advertisement
The spat began when the 50-year-old chimed in on conservative commentator Clay Travis's comments about Osaka's recent appearance in the press, not too long after the athlete, 23, sparked controversy for not wanting to do press after tennis games. "Since saying she's too introverted to talk to the media after tennis matches, Naomi Osaka has launched a reality show, a Barbie, and now is on the cover of the SI swimsuit issue," Travis said.
"Let's not forget the cover of (& interview in) Vogue Japan and Time Mag!" Kelly added.
Article continues below advertisement
Article continues below advertisement
"Seeing as you're a journalist I would've assumed you would take the time to research what the lead times are for magazines, if you did that you would've found out I shot all of my covers last year," Osaka shot back at the former Fox host. "Instead your first reaction is to hop on here and spew negativity, do better Megan."
Osaka later removed the tweet, but screenshots continued to circulate.
Article continues below advertisement
"Poor @naomiosaka blocked me while taking a shot at me (guess she's only tough on the courts)," Kelly responded. "She is apparently arguing that she shot her many covers b/4 publicly claiming she was too socially anxious to deal w/press. Truth is she just doesn't like Qs she can't control. Admit it."
Article continues below advertisement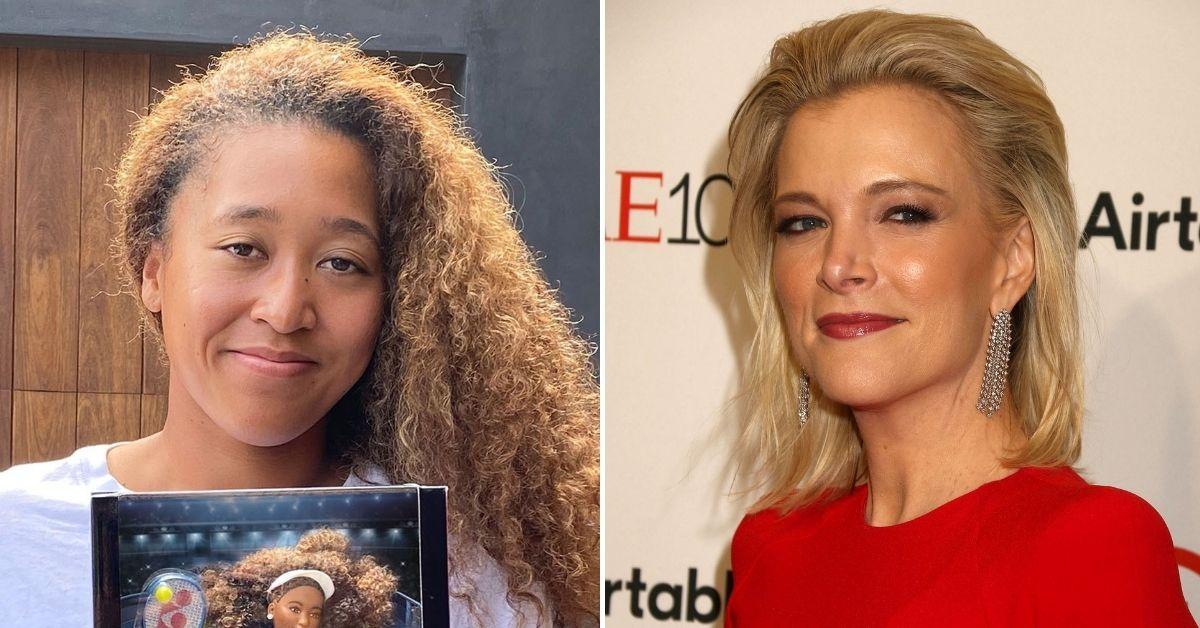 Article continues below advertisement
Piers Morgan weighed in and claimed that the "only media Ms Osaka wants to tolerate are sycophantic magazine editors telling her how perfect she is." He also alleged to Kelly that Osaka had blocked him too.
Article continues below advertisement
Earlier this year, the Grand Slam champion announced that she would not do press days before she was set to compete at the French Open. She then withdrew amid the backlash and announced that she has suffered with depression since the 2018 U.S. Open.
Ahead of the Tokyo Olympics, Osaka withdrew from Wimbledon to take "some personal time with friends and family."
Article continues below advertisement
Osaka is one of three cover stars of this year's SI Swimsuit Issue. She also landed the cover of Vogue Japan's August issue as well as Vogue Hong Kong's July 2021 digital issue. Earlier this month, she graced the cover of Time and penned an essay about why she decided to withdraw from Roland Garros, after she was fined for not taking part in mandated news conferences. Her docuseries, Naomi Osaka, was released on Netflix on July 16.
"I hope there are pieces that people can relate to and maybe other pieces that would help people understand why I make the choices I make. If it doesn't that's cool too, it took me a while but I realize that I can't please everyone and I'm really not trying to. When I go to sleep at night I can only hope I am at peace with myself and I hope the same thing rings true for anyone reading this. I'm excited/nervous for you guys to see it and I hope you enjoy it lol," the tennis pro wrote on Instagram ahead of the release.