Prince Charles 'Can't Deal' With Prince Harry's Claims Because He's 'Immensely Sensitive,' Says Royal Expert
Blood may be thicker than water, but it seems nothing can ease the anger Prince Charles feels towards Prince Harry following the Duke of Sussex's never-ending accusations against the royal family.
Article continues below advertisement
And while Harry has apparently been trying to mend his relationship with his father — by talking about the father-son duo's troubles so publicly — following his and Meghan Markle's royal exit, dubbed Megxit, Charles' sensitivity makes the situation more difficult, according to Princess Diana's pal Stewart Pearce.
Pearce — who wrote the new book Diana, The Voice of Change — alleged that Charles is very shy and sensitive, which makes him avoid any altercations and conflicts. "Prince Charles is a very, very shy man, a very sensitive and delicate man, but we see his public personality, but in private, he's immensely sensitive," Pearce claimed.
Article continues below advertisement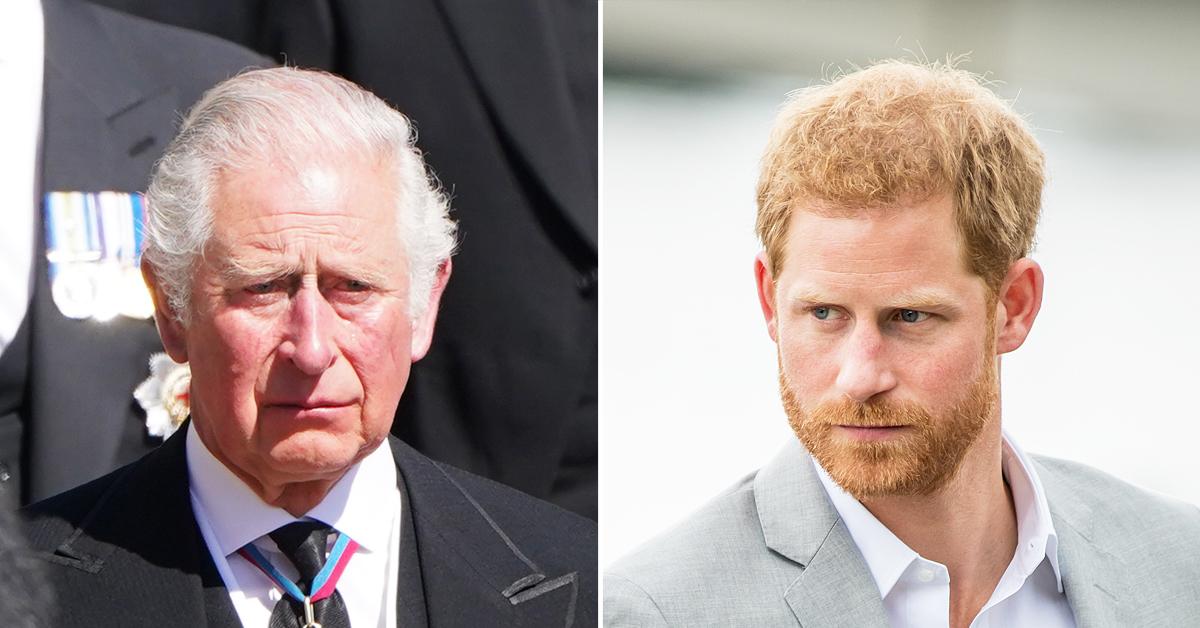 "When we're sensitive, if we're dealing with very strong, combustible emotion on the outside of us," people tend to go with a fight or flight response, the voice coach explained. And when it comes to Charles, Pearce alluded that he chooses flight.
Article continues below advertisement
His avoidant behavior has been described throughout Harry's public statements, according to Pearce, about the royal family. The 36-year-old previously revealed the Prince of Wales "stopped taking" his calls after he and Meghan detailed their plan to exit their senior royal duties last year.
Article continues below advertisement
"That's what Charles does. … He can't deal with it because of his sensitivity, so he hides," the author insisted, according to UsWeekly. "And what Harry's trying to do is to heal that. Not out of umbrage, not out of anger or revenge or criticism or accusation. … I felt that he was just somebody saying, 'This is the way that it is, and this is why we want to make change.'"
In Harry and Oprah Winfrey's AppleTV+ series, The Me You Can't See, he discussed his mental health and opened up about how being raised by Charles impacted his anxiety and depression.
Article continues below advertisement
"My father used to say to me when I was younger, he used to say to William and I, 'Well, it was like that for me, so it's gonna be like that for you.' That doesn't make sense," Harry said in one episode.
Article continues below advertisement
According to the red-headed prince, Charles should have tried to bring more joy and happiness into his own kids' lives. "Just because you suffered, it doesn't mean that your kids have to suffer. In fact, quite the opposite. If you suffered, do everything you can to make sure that whatever experiences, negative experiences that you had, you can make it right for your kids," the Duke insisted.
Article continues below advertisement
An insider told the outlet that Harry's claims have made Charles livid, saying: "Charles is boiling with anger and feels tortured by Harry with his constant digs. He wishes he'd just let it drop."
While the entire royal family is reportedly choosing to ignore the power couple's accusations, the 72-year-old is having trouble biting his tongue. "The general consensus within the royal family is to ignore Harry's behavior, to avoid fanning the flames," said the source, "but Charles is finding it hard to hold back. He really wants to defend himself."