ROYALS
Prince Philip Said Prince Harry & Meghan Markle's Oprah Interview Was 'Madness,' They're Vying For 'Popularity': Royal Biographer
Article continues below advertisement
Only days after the Duke passed away on Friday, April 9, writer Gyles Brandreth — a longtime friend of Philip — claimed the late royal was sympathetic towards the couple's struggles, but felt them airing out their dirty laundry with the royals was the wrong thing to do. 
"I know from someone close to him that he thought Meghan and Harry's interview with Oprah Winfrey was 'madness' and 'no good would come of it,'" Brandreth — the only journalist to ever be granted a full-length interview with the Duke — said. 
Article continues below advertisement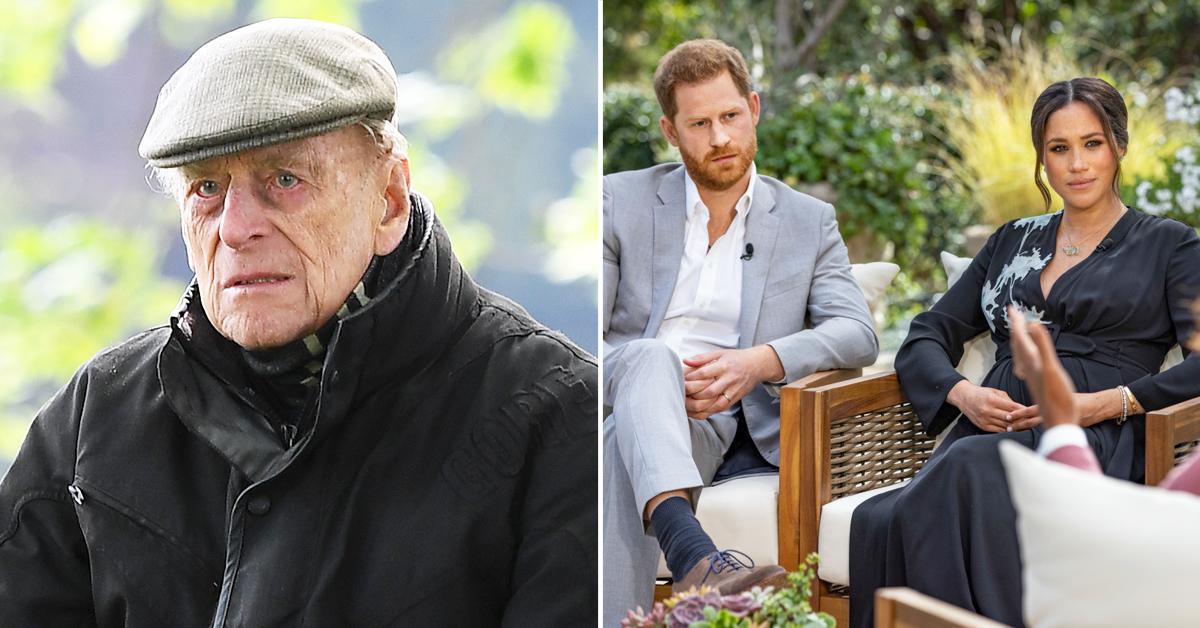 Article continues below advertisement
Harry and Meghan's interview aired on Sunday, March 7, while Philip was severely ill in the hospital. Prior to the release, the couple was criticized for going ahead with the interview despite Philip's ongoing health battle.
Article continues below advertisement
And while Brandreth said Queen Elizabeth II's late husband didn't mind that Harry and Meghan's interview aired during his lengthy hospital stay (he remained in the hospital for 28 days and underwent a heart surgery), the biographer explained: "What did worry [Philip] was the couple's preoccupation with their own problems and their willingness to talk about them in public."
According to Brandreth, Philip strongly felt that royal members should keep their personal lives out of public talk.
Article continues below advertisement
Philip advised his children — and most likely his grandchildren, Brandreth speculated — to not talk about themselves, as the public cares about their titles rather than the individual behind the title, according to Brandreth.
"It's a big mistake to think about yourself. No one is interested in you in the long run. Don't court popularity. It doesn't last," Brandreth added of what Philip said to him. "Remember that the attention comes because of the position you are privileged to hold, not because of who you are. If you think it's all about you, you'll never be happy."
Article continues below advertisement
In regards to Harry and Meghan's decision to step back from royal life, Philip tried to remain supportive although he didn't necessarily agree with their choice, Brandreth claimed.
Their decision to ditch their senior royal duties and move to the U.S. was "not the right thing, either for the country or for themselves," Philip felt, according to Brandreth, but he accepted it.
Article continues below advertisement
"It's his life," Philip apparently told Brandreth, noting that he understood Harry's frustration with the media. "People have got to lead their lives as they think best."
Article continues below advertisement
Harry has since returned over the pond — for the first time in over a year —  ahead of the 99-year-old's funeral on Saturday, April 17. He will not be joined by his wife, as OK! previously reported, since Meghan was "advised by her physician not to travel," due to her pregnancy.
The Daily Mail first reported Brandreth's revelations of Philip's thoughts on Harry and Meghan.