The Queen 'Doesn't Want History To Repeat Itself' With 'Spare' Sibling Prince Harry After Watching Own Sister Struggle In Royal Life, Says Expert
Article continues below advertisement
After the Queen saw sister Princess Margaret's experience as the younger sibling to the royal who was set to take the throne, she has a lot of empathy for the red-headed prince, royal biographer Andrew Morton alleged.
In addition, Morton claimed that seeing Margaret's difficult time as the "spare" sibling shaped the Queen's response to Harry and Meghan Markle's exit from their senior royal duties.
Article continues below advertisement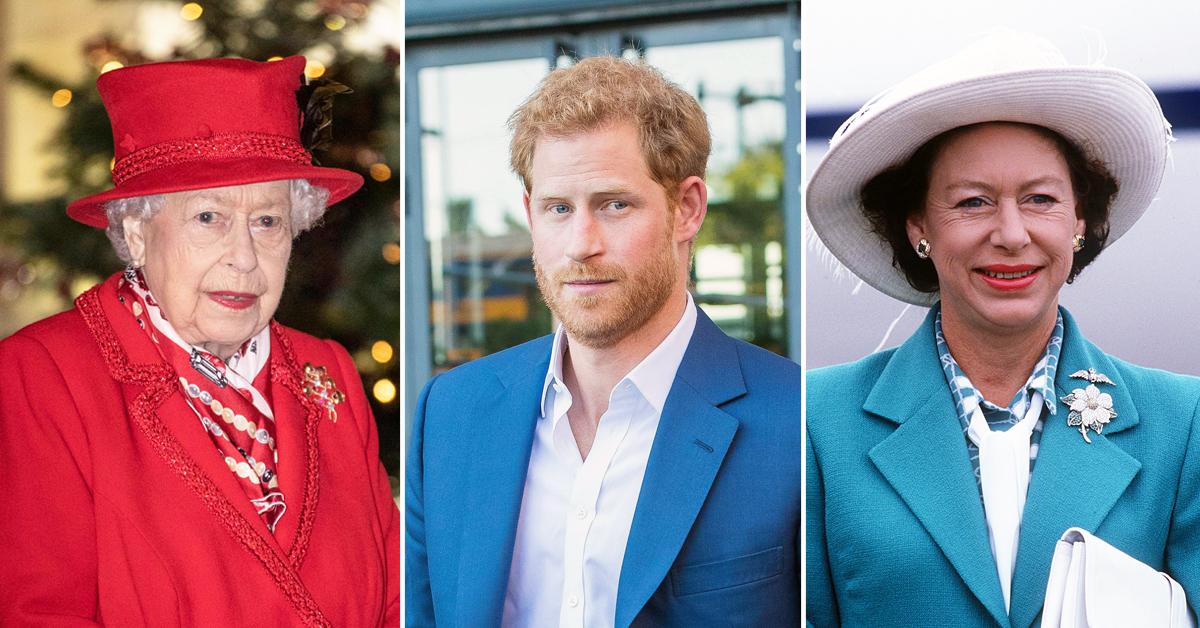 Article continues below advertisement
He added that Her Majesty's concern over Harry stems from seeing "Margaret fall victim to the system." She saw that "shutting out Margaret didn't help, and the Queen has learned from that. She didn't want history to repeat itself with Harry."
Article continues below advertisement
The princess — who was second in line to the throne — often made headlines for her party-girl lifestyle and was known for her forbidden romance with Britain flying ace and royal equerry, Peter Townsend. At the time, parliament gave her an ultimatum of remaining a royal member or marrying Townsend and being stripped of her royal rights, privileges and income. She chose to remain a royal.
As the "spare" siblings in the royal family, Harry and Margaret — dubbed the "royal rebel" — share similar personality traits, according to Morton.
Article continues below advertisement
"Harry is like Margaret, a royal rebel," the biographer explained. "Margaret once said 'disobedience is my joy' and you see some of that in Harry."
After seeing Margaret struggle with royal life, knowing how she "sometimes felt like an outsider," Queen Elizabeth has taken steps to ensure the 36-year-old knows "the door is always open for Harry to return to the royal fold," Morton told the outlet, noting that she has an unconditional love for her grandson.
Article continues below advertisement
"She has a lot of affection for Harry. She was there the day Harry lost his mother and has been there for him ever since," Morton added. "She has deliberately taken him under her wing. I think as a grandmother she has been far more understanding than as a mother at times."
Article continues below advertisement
Since stepping away from the royal fold, the Queen has made sure to keep in touch with her grandson and Meghan — Her Majesty was even invited to join Meghan's baby shower, via a Zoom call, upon the arrival of the couple's second child, OK! learned.
In fact, the Queen and Harry have been in "quite regular contact" with each other, as the couple also discusses "their plans" with Her Majesty. "Harry has always seen his grandmother as a mentor," royal expert and author Katie Nicholl explained.