ROYALS
Love At First Sight? Prince Philip Used As 'Trojan Horse' To 'Take Over' Royal Family By Marrying Queen Elizabeth II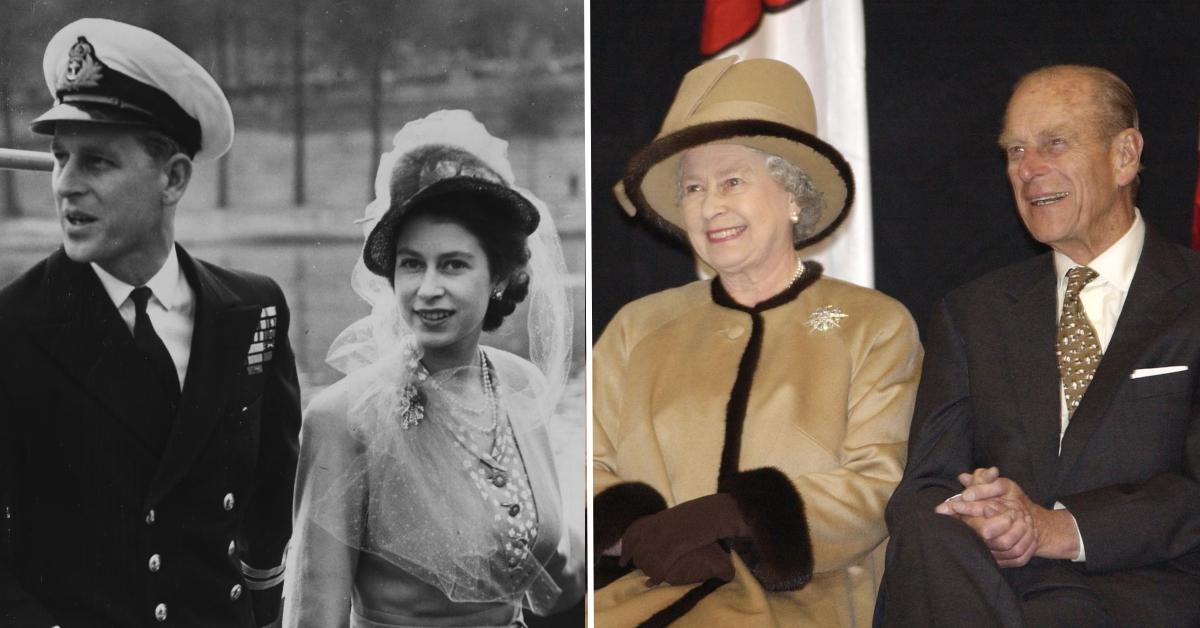 Tainted love... or true love? It looks like Queen Elizabeth II and Prince Philip's fairy-tale romance may not have been as glamorous as one would think after it was alleged that Philip was orchestrated to marry the Queen in order to "take over" the monarchy.
Article continues below advertisement
According to narrator Jane Whittenshaw from the new royal documentary Queen Elizabeth: Love, Honour and Crown, Philip and Elizabeth's "meeting was likely orchestrated by Philip's uncle, Lord Mountbatten, a friend of King George VI," Her Majesty's father.
"He had dynastic ambitions of his own," Whittenshaw claimed of Mountbatten.
Article continues below advertisement
Backing Whittenshaw's allegations, historian Dominic Sandbrook said, "there was always this sense that Mountbatten was trying to take over the Royal Family."
Article continues below advertisement
Sandbrook theorized that Philip was Mountbatten's "weapon," claiming "Philip was the sort of Trojan horse through which Mountbatten's influence would become felt."
Author Clive Irving added: "Mountbatten set out very early on to engineer the meeting of Philip and Elizabeth."
Article continues below advertisement
And, luckily, Mountbatten's efforts paid off. The documentary obtained politician Sir Henry Channon's diary, which revealed that Philip was touted as a royal husband as early as 1941 after his trip to Greece.
MORE ON:
Queen Elizabeth II
"Philip of Greece was there," Sir Henry's diary read. "He is extraordinarily handsome. He is to be our Prince Consort, and that is why he is serving in our Navy."
Article continues below advertisement
The Duke of Edinburgh briefly stayed in Greece after he graduated from Gordonstoun School in 1939. Later that year, he returned to the U.K. to attend Dartmouth Royal Naval College — where he met his future wife.
And while it might not have been love at first sight, Her Majesty and the Duke have remained by each other's side for 73 years. As OK! previously reported, Philip has likely returned to his long-time wife at their Windsor Castle home after being discharged from the hospital earlier this week.
Article continues below advertisement
Philip was first admitted to King Edward VII's Hospital on February 16 as "a precautionary measure" after "feeling unwell" and was "expected to remain in hospital for a few days of observation and rest," the Palace reported at the time.
Article continues below advertisement
Earlier this month, Buckingham Palace revealed the 99-year-old was transferred to St. Bartholomew's Hospital to undergo treatment and testing for a pre-existing heart condition. After undergoing a successful heart surgery, Philip returned to King Edward VII Hospital for "rest and recuperation" before he was discharged on Tuesday, March 16.
"It's a lot to take on. But as usual, Elizabeth is handling the stress and sadness with great dignity," an insider dished of the Queen's past turbulent month amid her husband's hospitalization and the aftermath from Prince Harry and Meghan Markle's explosive interview with Oprah Winfrey.