NEWS
'Actions Speak Louder Than Words': Rachel Lindsay Slams Hannah Brown For Removing Problematic Southern Belle Photo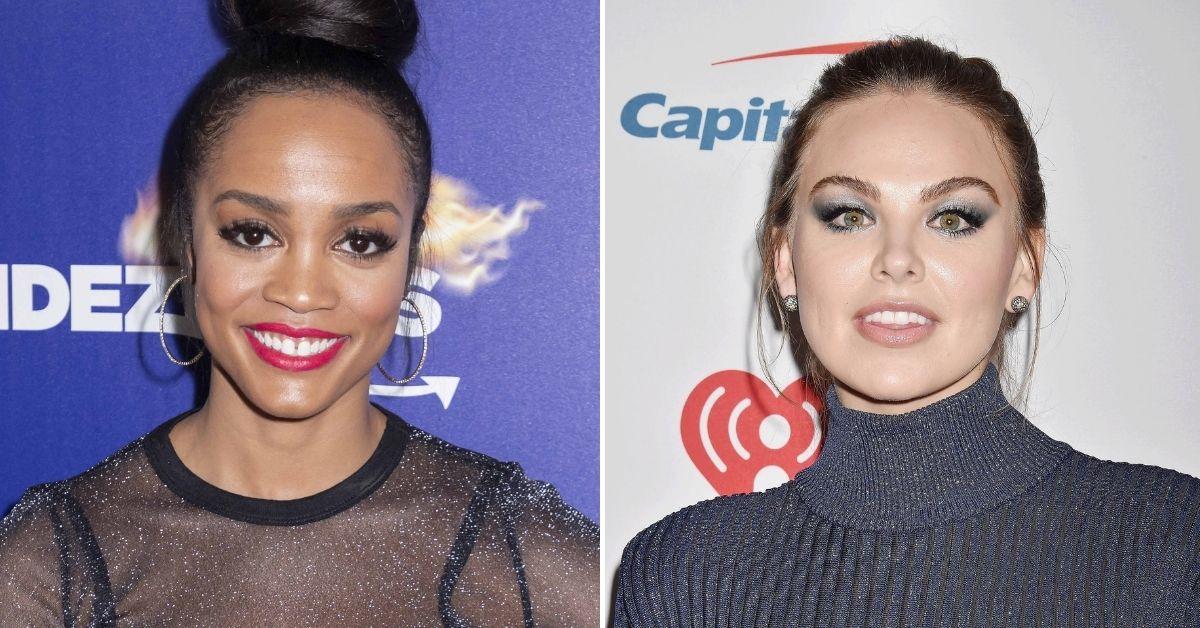 After Chris Harrison temporarily stepped aside from The Bachelor after asking for "grace" for Rachael Kirkconnell amid racism allegations, Rachel Lindsay and her "Higher Learning" podcast cohost Van Lathan held an Ask Me Anything session on Reddit on Monday, February 15, where Lindsay slammed Hannah Brown for deleting a Tuscaloosa Belles photo.
Article continues below advertisement
Kirkconnell was called out when alleged photos of her at a plantation-themed party and dressed as a Native American resurfaced last week as well as old social media posts from the 24-year-old. The season 25 frontrunner issued an apology for her "racist" and "offensive" actions.
Brown's photo — which has been compared to Kirkconnell's — has also been deemed as problematic.
Brown was previously criticized when she sang the "N-word" during an Instagram Live last summer.
Now, an alleged photo of Brown at a party with an antebellum ball theme resurfaced, which has since reportedly been deleted. The Tuscaloosa Belles is "a service organization that encourages a 2-year commitment of young women to learn and become involved in the various preservation opportunities."
Article continues below advertisement
"Wait seriously? This is why actions speak louder than words," Lindsay noted when a user said the picture was apparently gone. "This is why we have uncomfortable conversations and this could have really been a big teaching moment. We can't continue on a path of pretending things did not happen or running away from them. We do not 'learn and grow' from that.
"I think there is a reason that her comments on the situation lacked substance."
Article continues below advertisement
Lindsay also called out Brown last year and was unimpressed by her apology.
"It's easy to make a statement, it's easy to hide behind words, but when you're bold enough to say the N-word on camera, on your platform ... then you need to be bold enough to use your face on camera and apologize in the same way that you said the word," Lindsay said via Us Weekly. "I'm not discrediting the apology, I'm just saying we can't give people a pass for this. You have to hold people accountable for what they're doing."
"I would basically consult with the Bachelor Diversity Campaign creators," Lindsay replied when asked what she would do as a producer. "They seem to really get it and be on top of the change the fans want to see in the franchise."
Article continues below advertisement
However, it's unlikely that the 35-year-old will take on a new role within Bachelor Nation, as she expressed on her podcast last week that she has contractual duties but may not renew her contract once it expires.
"My contract with BHH. I was already considering leaving but I love Becca [Kufrin]," she added on Reddit. "Now I am just exhausted and really need to separate myself from direct affiliation with the franchise. I don't want to be a part of something that is representative of the franchise at the moment."
Article continues below advertisement
During the Q&A, Lathan said that Lindsay would be the best candidate to replace Harrison but said he would also be open to hosting the Bachelor or The Bachelorette.
Lindsay was the first Black Bachelorette in 2017 while current Bachelor Matt James is the first Black male lead.
"I have to see some type of change. It's ridiculous. It's embarrassing. At this point, it's embarrassing to be affiliated with it," the former lawyer told AfterBuzz TV's Bachelor A.M. last summer.