NEWS
Rita Moreno Apologizes For 'Dismissive' Comments About 'In The Heights' Casting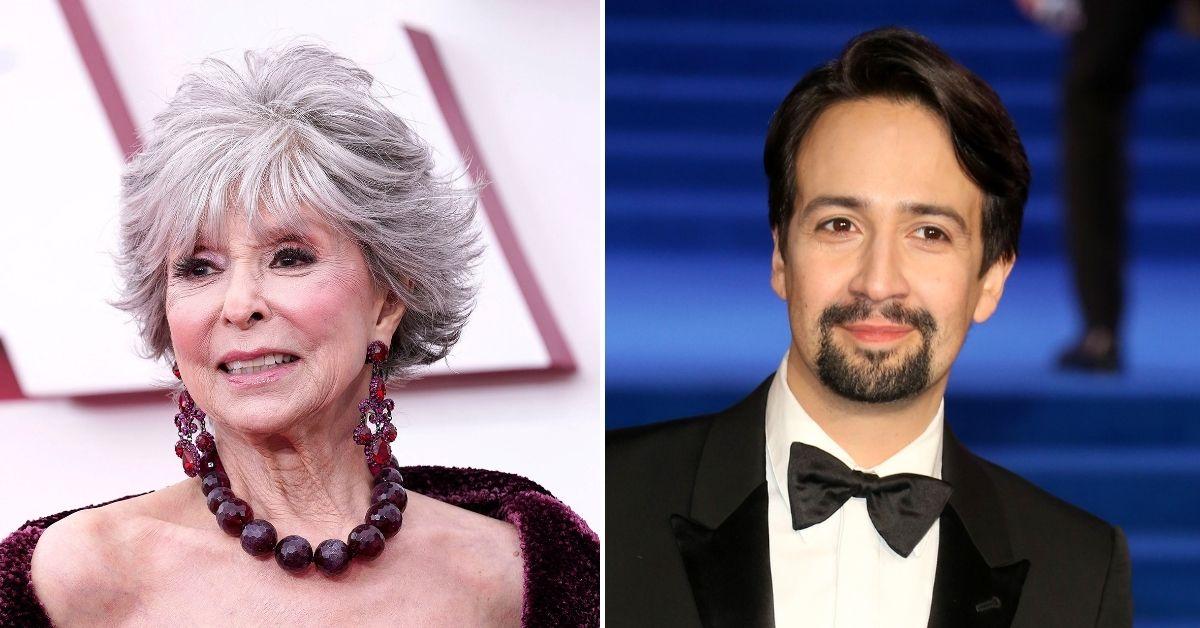 Rita Moreno is rethinking her stance after coming to Lin-Manuel Miranda's defense in the wake of the Hamilton playwright being criticized for his lack of casting dark-skinned Afro Latinos in In The Heights.
Article continues below advertisement
The 89-year-old appeared on The Late Show With Stephen Colbert on Tuesday, June 15, to promote her documentary Just a Girl Who Decided to Go for It, and discussed the In the Heights controversy.
"You can never do right, it seems," the West Side Story actress said. "This is the man who literally has brought Latino-ness and Puerto Rican-ness to America. I couldn't do it."
Article continues below advertisement
Article continues below advertisement
"I would love to say I did, but I couldn't," she continued. "Lin-Manuel has done that really singlehandedly, and I'm thrilled to pieces. And I'm proud that he produced my documentary."
When Colbert, 57, asked Moreno whether she "understands where people's concern comes from, but perhaps [believes] its misplaced in criticizing" Miranda, she responded, "Well I'm simply saying, can't you just wait a while and leave it alone?"
Article continues below advertisement
"There's a lot of people who are Puertorriqueños, who are also from Guatemala, who are dark and who are also fair. We are all colors in Puerto Rico," she continued. "And this is how it is, and it would be so nice if they hadn't come up with that and just left it alone, just for now. I mean, they're really attacking the wrong person."
However, the Singin' in the Rain star came around on Wednesday, June 16, and issued an apology on Twitter.
Article continues below advertisement
Article continues below advertisement
"In addition to applauding Lin for his wonderful movie version of In The Heights, let me add my appreciation for his sensitivity and resolve to be more inclusive of the Afro-Latino community going forward," she added, before joking, "See, you CAN teach this old dog new tricks."
Article continues below advertisement
"Thank you for this. Thank you so much. I needed this statement from you. It has settled my heart. You are a legend. We have always loved you and always will... but this makes much more sense and gives me some peace. Abrazos," one fan responded to the statement.
"You've done right by your clarification and correction of your words. Kudos to you !, ¡Siempre en Victoria !" another wrote.
Article continues below advertisement
"I was disappointed, too, and appreciate your apology. I hope you use your clout and put in the work to back it up," a third fan commented.
The criticism surrounding Miranda's film adaption of the Broadway musical heightened when The Root published a series of interviews with the director, Jon M. Chu, and stars Leslie Grace, Melissa Barrera and Gregory Diaz IV, in which journalist Felice León asked about the casting decisions.
Article continues below advertisement
"That's a fair conversation to have. Listen, we're not going to get everything right in a movie. We tried our best on all fronts of it," Chu responded when asked about "folks who say that In the Heights privileges white-passing and light-skinned Latinx people."
The criticism inspired Miranda, 41, to issue a statement himself, in which he admitted, "In trying to paint a mosaic of this community, we fell short."