NEWS
Rudy Giuliani's New York Home And Office Searched By Federal Agents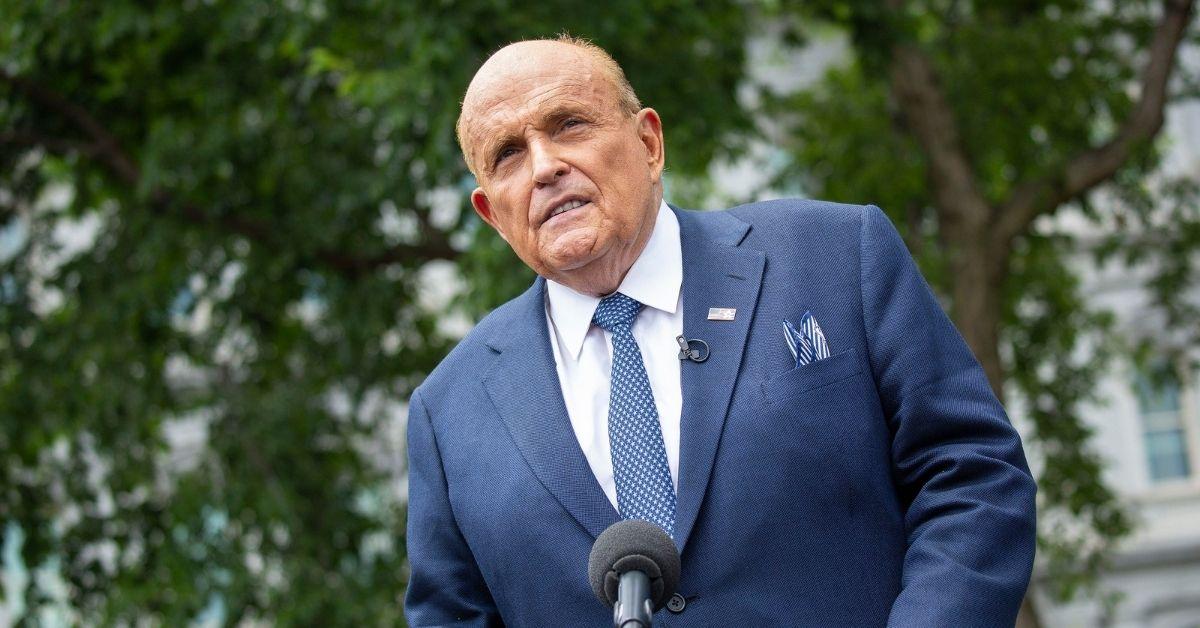 Federal agents raided Rudy Giuliani's home on Wednesday, April 28, amid an ongoing investigation into the former New York City mayor's dealings in Ukraine, according to multiple reports.
Article continues below advertisement
Article continues below advertisement
"This is disgusting. This is absolutely absurd and it's the continued politicization of the Justice Department that we have seen," the 76-year-old's son, Andrew Giuliani, said outside of his father's home on Wednesday.
Article continues below advertisement
Prosecutors have reportedly been watching Giuliani since 2019 amid an investigation into whether or not he broke lobbying laws in his dealings with Ukraine while he was former president Donald Trump's personal attorney. In October of that year, investigators were said to be looking into his business dealings with two associates who pleaded not guilty to campaign finance violations, CBS New York reported.
Article continues below advertisement
Giuliani was also a key figure when it came to finding out information on Joe Biden and his son Hunter, who was on the board of a Ukrainian energy company during Biden's time as former president Barack Obama's vice president, the outlet reported.
Article continues below advertisement
Giuliani has denied any wrongdoing. According to reports, sources said that electronic devices, including Giuliani's cell phone, were confiscated by authorities.
Article continues below advertisement
"The Biden department of justice has completely ignored clear evidence (which the FBI has had for over a year) in texts and emails on Hunter Biden's hard drive of failing to register numerous times as a foreign agent, child pornography, money laundering, and 30 years of the Biden Crime family taking millions and millions in bribes to sell his public offices," Giuliani's team said in a statement.
Article continues below advertisement
The statement claimed that the search warrants only involved "one indication of an alleged incident of failure to register as a foreign agent. Mayor Giuliani has not only denied this allegation, but offered twice in the past two years through his attorney Bob Costello to demonstrate that it is entirely untrue. Twice the offer was rejected by the SDNY by stating that while they were willing to listen to anything Mr. Costello had to say, they would not tell Mr. Giuliani or Mr. Costello, the subject matter they wanted him to address."
Costello told CNN that Giuliani's assistant Jo Ann Zafonte's computer was seized and she had been given a subpoena to appear before a grand jury next month. Costello also said he had offered to assist in any investigation twice to the Justice Department but they did not issue a subpoena or request any information from Giuliani's employees.
Article continues below advertisement
On the same day, agents reportedly executed a search warrant at lawyer Victoria Toensing's home but a spokesperson clarified that a phone was handed over and the home itself was not searched. According to CNN, Toensing and her husband, Joseph diGenova, had signed an agreement with a prosecutor in Ukraine to collect information on Biden's activities when he was vice president, per a House Democrats' 2019 impeachment report.
"Ms. Toensing is a former federal prosecutor and senior Justice Department official. She has always conducted herself and her law practice according to the highest legal and ethical standards. She would have been happy to turn over any relevant documents. All they had to do was ask. Ms. Toensing was informed that she is not a target of the investigation," a spokesperson for Toensing said in a statement.