NEWS
Flaunting Their #Pride... And More! Wilson Cruz, Colton Underwood, Gus Kenworthy Are Some Of The Sexiest LGBTQ+ Male Celebs Out There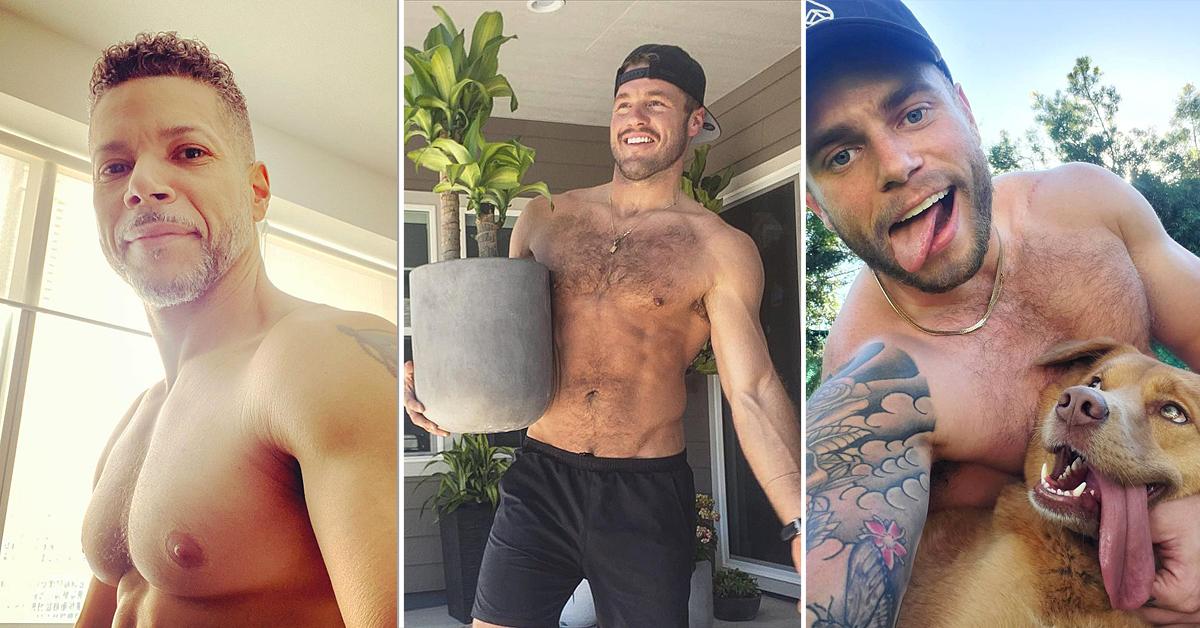 June is Pride month, and every year, millions of queer people flock to festivals — in-person or virtually — to see their favorite artists perform and to frolic with their LGBTQ+ pals and allies.
Article continues below advertisement
Hollywood is chock-full of beautiful men, but Tinseltown's gay elite are the cream of the crop. After all, nothing is sexier than owning who you are and living your best life.
Whereas, 26-year-old pop singer Troye Sivan has been fabulously dancing and proudly flaunting his flamboyance for years.
"I'm Troye Sivan," he began a 2013 video entitled "Coming Out," where he bravely declared he was a member of the LGBTQ+ community. "And this is probably the most nervous I've been in my entire life." Sivan was met with praise from his millions of fans following his revelation and continues to perform for sold-out audiences around the world.
From chart-topping pop stars to Olympic athletes to award-winning actors, these hunky men are bravely celebrating their #Pride every day.
Scroll through the gallery below to see some of Hollywood's sexiest gay men.
Colton Underwood
The 29-year-old Bachelor hottie came out earlier this year in an intimate chat with GMA's Robin Roberts. Since he proudly declared who he was, he's consistently flaunting his rock-hard abs on the 'gram (and we approve).
Article continues below advertisement
Ricky Martin
The Latin singing sensation has proudly been living his truth since coming out in 2010. Martin has been married to artist Jwan Yosef since 2017, and the duo share four children: twin boys Valentino and Matteo, daughter Lucia and son Renn, who were all born via surrogate.
Article continues below advertisement
Jonathan Bennett
Mean Girls star Jonathan Bennett is gearing up for his wedding with equally hot Celebrity Page TV host Jaymes Vaughan next spring, which he exclusively told OK! was guaranteed to be "drama free."
Article continues below advertisement
Luke Evans
Evans celebrated Pride month as most gay men do... shirtless on the 'gram. Posing in a just-visible pair of rainbow-striped Versace underwear, he wrote: "Wear your pride. Live your pride. Be your pride. And be kind. Everyone deserves to have happiness. Human rights belong to everyone. #happypridemonth and every other month of the year!"
Article continues below advertisement
Troye Sivan
Sivan has captivated the hearts and minds of millions with his flamboyant dance moves and over-the-top catchy tunes.
Article continues below advertisement
Wilson Cruz
Cruz is most known for playing heartthrob Ricky Vasquez on the hit series My So-Called Life. The 47-year-old actor continues to be an inspiration to millions of queer people of color around the world by living his truth.
Article continues below advertisement
Karamo Brown
The Queer Eye hottie is usually reserved and covered up on the makeover series, but when he takes it off, underneath is a killer bod. Brown continues to slay the 'gram with some delicious snaps.
Article continues below advertisement
Gus Kenworthy
In 2019, Olympic skier Gus Kenworthy exclusively told OK! that although he was in a relationship, pop star Shawn Mendes is his "free pass." The 29-year-old athlete notoriously posts adorable snaps with his four-legged friend, melting hearts around the world.