NEWS
Explosive Claims: Soulja Boy's Former Assistant Sues Rapper For Sexual Battery & Assault, Alleges She Was Held Hostage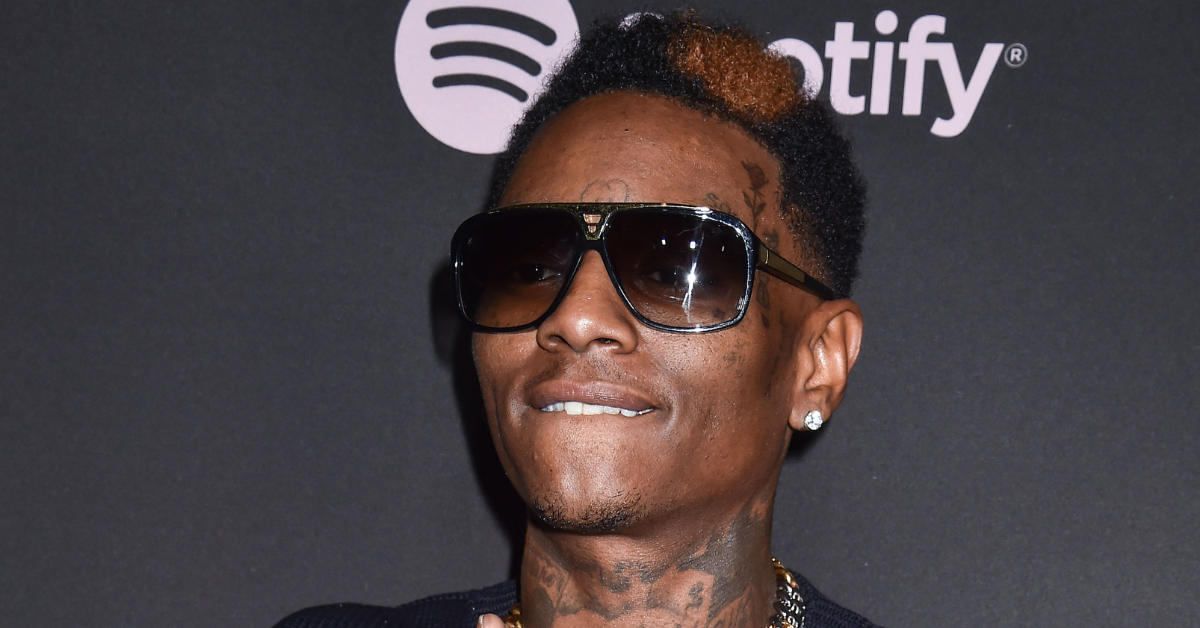 Rapper Soulja Boy has been accused of sexual assault by a former assistant, who is now pressing charges against him.
Article continues below advertisement
The woman is suing for sexual battery, assault, false imprisonment, infliction of emotional distress, and she is also seeking damages, as she said she was not paid properly for her work.
The woman, who filed as "Jane Doe," claimed that the singer sexually assaulted her for the first time in February 2019 and then "expressed remorse" by paying her $1,000.
Article continues below advertisement
She started working for Soulja Boy — whose real name is DeAndre Cortez Way — in December 2018, according to the suit obtained by PEOPLE. However, when she wanted to quit in May 2019, the rapper spit on her.
The "Crank That" hitmaker reportedly sent her "unsolicited pictures of his penis" within the first month of her employment, but soon the pair had entered a consensual relationship, and she moved in. Things between the duo reportedly got violent in January 2019 after an argument they had while driving. Soulja Boy allegedly pushed her out of the vehicle, and she had to walk five miles to where she was staying.
Article continues below advertisement
Soulja Boy was said to be extremely jealous whenever the woman would receive phone calls or comments on social media. The 30-year-old allegedly would "punch, kick and body slam" the woman due to his jealousy, and he even said, "I should have killed you."
She also alleged that on multiple occasions she was locked in her room with no mattress, food or water.
In the filing, the woman wrote that she was sometimes sexually assaulted twice a day, but after one violent attack in August 2020, she moved out after she thought she would die. She then returned a month later to pick up her belongings, and Soulja Boy allegedly raped her again.
Article continues below advertisement
Soulja Boy allegedly agreed to pay her $500 a week for her services, but those services often entailed being available all the time to cook, clean, chauffeur him around, style his hair, and do personal assistant tasks, which often went on for 20 hours a day, seven days a week.
Article continues below advertisement
The woman's lawyer, Neama Rahmani of West Coast Trial Lawyers, said the alleged treatment has "traumatized and filled her with fear."
"His abuse imprisoned her physically, mentally and emotionally," Rahmani said in a statement. "When she mustered the courage to flee, he impoverished her. His exploitation severely hampered our client's ability to re-establish herself in the workplace and in society. We believe he should be held accountable."
Article continues below advertisement
Last year, a different woman sued Soulja Boy for assault, battery and false imprisonment.
Kayla Myers said she was partying with Soulja Boy in Malibu in February 2019 when she left the party at 2 a.m., but her car went off the driveway. The car ordeal made one of Soulja Boy's female assistants angry, and Myers claimed she was knocked to the ground. According to the lawsuit, Soulja Boy kicked Myers in the stomach and told her she was going to die, as he held a gun to her head.
Myers claimed Soulja Boy told the assistant to bring her to the garage, where she tied her up with duct tape. Later on, Myers claimed she was held captive and tied up with an extension cord in the garage. A male assistant allegedly told her he would release her if she performed oral sex, which she felt she had to do.
Myers was released at 8 a.m., and Soulja Boy allegedly said: "Now get this b**ch outta here before I knock her down the stairs."
Cops raided Soulja Boy's house after Myers reported the incident to the police, and they allegedly found ammunition, which violated his probation. He was arrested in March but released several hours later. In April 2019, he was taken into custody again and was sentenced to 240 days in jail and given 265 days of community service.